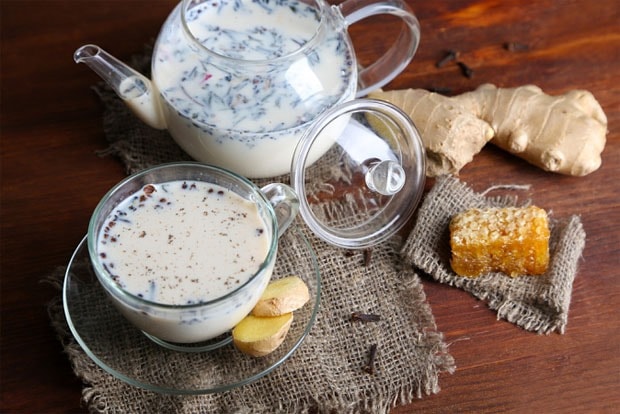 Considering how cold it's been this month, it's no surprise that January is National Hot Tea Month. In honor of the month, Veria.com, an online extension of the national health and wellness TV network Veria Living, provides tasty, healthy and medicinal tea recipes that can be consumed at various times of the day. 
One of the ones that caught my eye was a Chai Ginger Tea recipe. I love chai tea and I love ginger, so why not combine the two? Ginger is a great remedy for your digestive system and many people feel that if you use honey from a local bee keeper, it helps you build up immunity against local pollens, grasses, and other hay fever triggers.
Since I have an problem with a whey food sensitivity, I like to make my chai with either rice or coconut milk. This is also a great recipe to use up leftover spices from all that holiday baking and mulled wine making in December!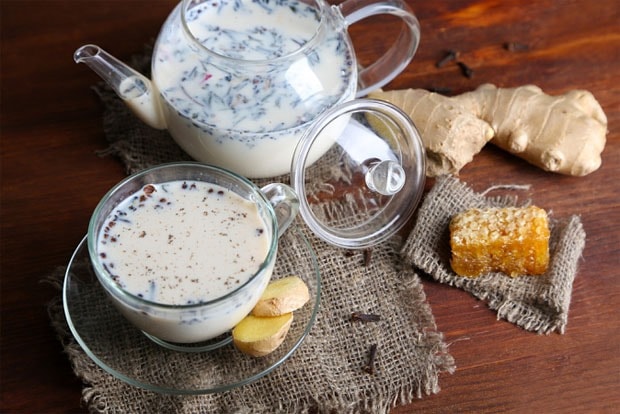 Chai Ginger Tea
This easy-to-make chai tea – spiked with fragrant spices and sweetened with honey – is a terrific winter warmer. And the addition of fresh ginger offers delicious protection from the common cold.
Ingredients
4 cups

water

4

cloves

2 pinches

ground nutmeg

2 pinches

ground cinnamon

2 pinches

ground cardamom

1/2 inch piece

fresh ginger

1 teaspoon

black tea

2 teaspoons

honey

1 cup

milk (optional)
Directions
Boil water with cloves, ground nutmeg, cinnamon, cardamom and fresh ginger for 5 minutes.
Add black tea and simmer for 5 minutes.
Add 1 cup of milk (optional) and heat.
Add honey.
Strain into cups and serve hot.
Picture and recipe used with permission.