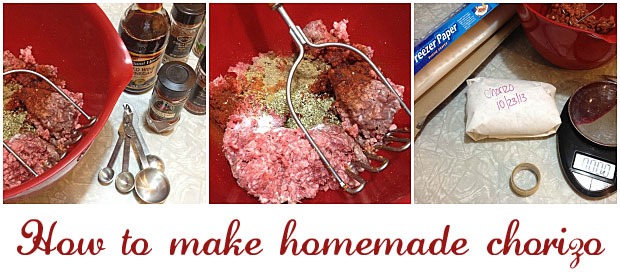 I'm going to be making a few recipes next week that feature chorizo, so I thought I'd share my recipe for homemade chorizo in case you can't find it at your local grocery store. You can also use chorizo in eggs, burritos, tacos and even Thanksgiving stuffing. Here are a few recipes I've used it in so far at This Mama Cooks! On a Diet:
I made three versions of the chorizo since I had a lot of ground venison to work with – spicy, medium spicy, and mild. Adjust the spiciness (the chile powder and cayenne pepper) according to your personal preference and how you're going to use chorizo in your cooking.
Traditionally, chorizo is made with pork. However, you may want to use something leaner, like ground venison or buffalo. I used half ground venison and half ground beef, because you do want some fat content when it comes to sausage. Also, since I tend to use chorizo in recipes or mixed in with scrambled eggs, so I didn't bother stuffing the meat into sausage casings.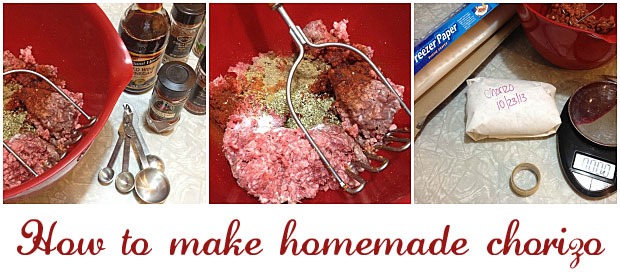 Ingredients
2 pounds

ground meat of your choice (pork is traditional)

1 teaspoon

sea salt

4 teaspoons

ground chipotle chile powder

1 teaspoon

smoked paprika

1 teaspoon

cayenne pepper

1 teaspoon

dried oregano

1 teaspoon

ground cumin

1 teaspoon

ground coriander

2 tablespoons

red wine vinegar

1 teaspoon

garlic powder
Directions
Place all the ingredients in a large bowl.
Take an old fashioned potato masher and mix ingredients until well combined. Better yet, use your hands!
Weigh out sausage into one pound portions. Wrap in freezer paper, label, and freeze until needed.
Serving size:

1 pound of sausage