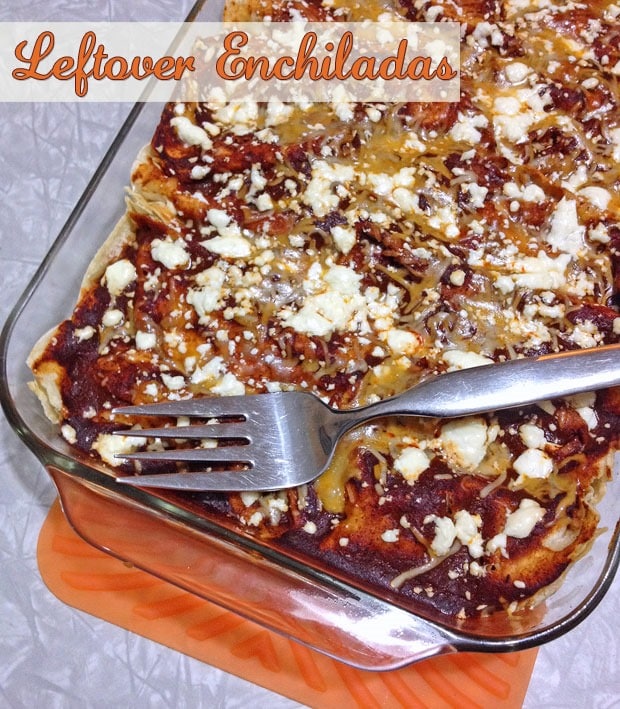 Got leftovers? This recipe works great with leftover turkey from Thanksgiving, leftover pork from my Slow Cooker Spicy Pulled Pork Tacos, leftover chicken or even some shredded beef – whatever you have on hand including a combination of two or more meats if you're adventurous.
Believe it or not, I never made enchiladas before! Not a problem, as this leftover enchilada recipe was easy to make. I even made my own enchilada sauce from scratch using Emeril Lagasse's Easy Enchilada Sauce recipe. (I substituted all purpose gluten free flour mix for the flour.)
If you're using store bought, check the ingredients to make sure it's gluten free. To keep my leftover enchiladas on the healthy side, I kept the cheese to a minimum, too - just 1 cup total. I also used corn tortillas to make sure it was gluten free as well.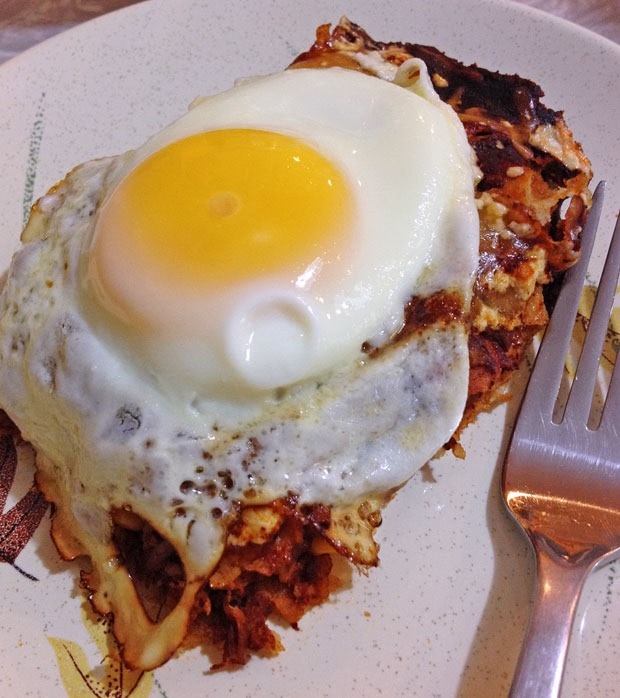 And the verdict from the family? Two thumbs up and no complaints about the lack of cheese! I liked it so much I even ate it for breakfast with a fried egg on top!
My Leftover Enchiladas recipe is for a double batch – one to eat now and one to freeze for later. Feel free to cut the recipe in half if you wish and use the half the can of corn and tomatoes in chili or soup.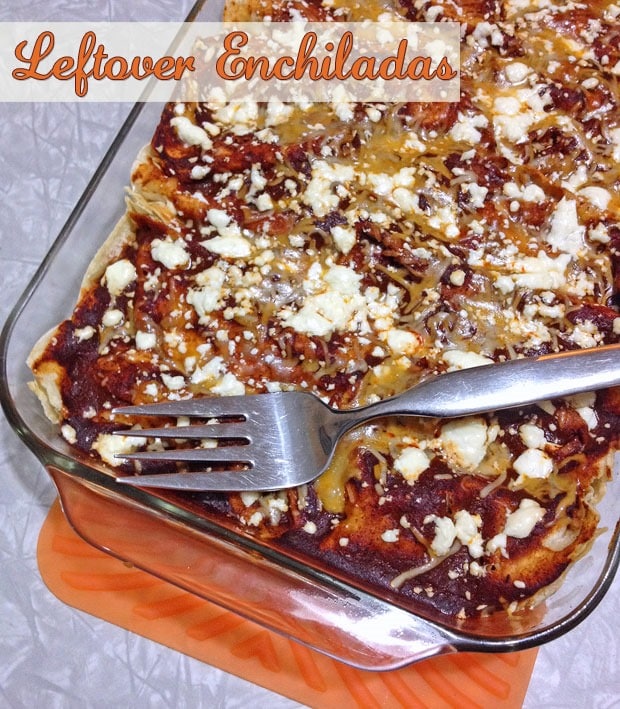 Ingredients
4 cups

shredded turkey, pork, chicken, or beef

3 cups

enchilada sauce

1 (15.25 ounce) can

corn, drained

1 (14.5 ounce)

can diced tomatoes, drained

26-30

small corn tortillas

1/2 cup

shredded cheddar cheese

1/2 cup

queso fresco, crumbled
Directions
Place shredded meat, 1 1/2 cups enchilada sauce, corn, and diced tomatoes in a bowl. Mix thoroughly.
Spray two 9 × 13 pan with cooking spray.
Fill tortillas with about 2 generous tablespoons of filling , roll up, and place in pan. (You'll need to have two enchiladas per horizontal row.) When you've used up half the tortillas, start on the second pan. If tortillas break, patch with an extra tortilla if you wish, but don't worry about it.
If you have leftover filling, add remaining 1 1/2 cup enchilada sauce to it. Then pour half the sauce over one pan, then the remaining enchilada sauce over the other dish.
Lightly sprinkle each dish with half the grated cheese and half the queso fresco.
Bake at 350 degrees F for about 20 minutes until edges are crispy.
Servings
:
Double batch - serves 16
Serving size:

1/16 of recipe