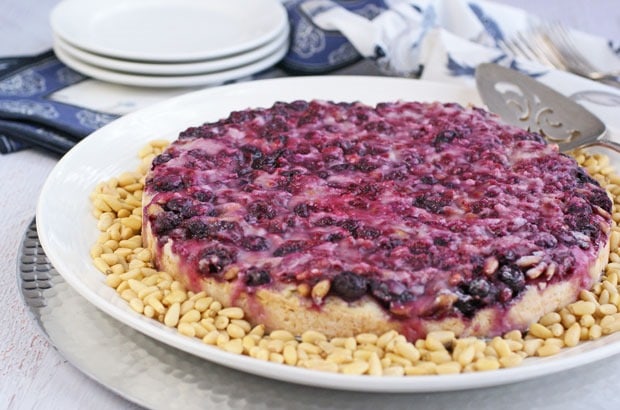 Do you have a baking fantasy? I do! Mine has to do with Payton Manning showing up at my door with a box of my favorite Rainbow Seven Layer Cookies and a couple of tickets to the Super Bowl. 
Seriously though, my down to earth baking fantasy has to do with the recipe turning out right in the first place. That's why I rely on mixes and premade gluten free pie crusts.
Those type of products help take all the stress out of baking. Or I try to find fool proof baking recipes like Gluten Free Pumpkin Bread, Gluten Free Coconut Macaroons, or Easy Bread Pudding Recipe with Bourbon Sauce.
Luckily, gluten free baking has become so much easier thanks to all the great all purpose gluten free baking mixes on the market. They make my baking fantasies a reality.
And without getting a gluten headache or any tummy pain, too!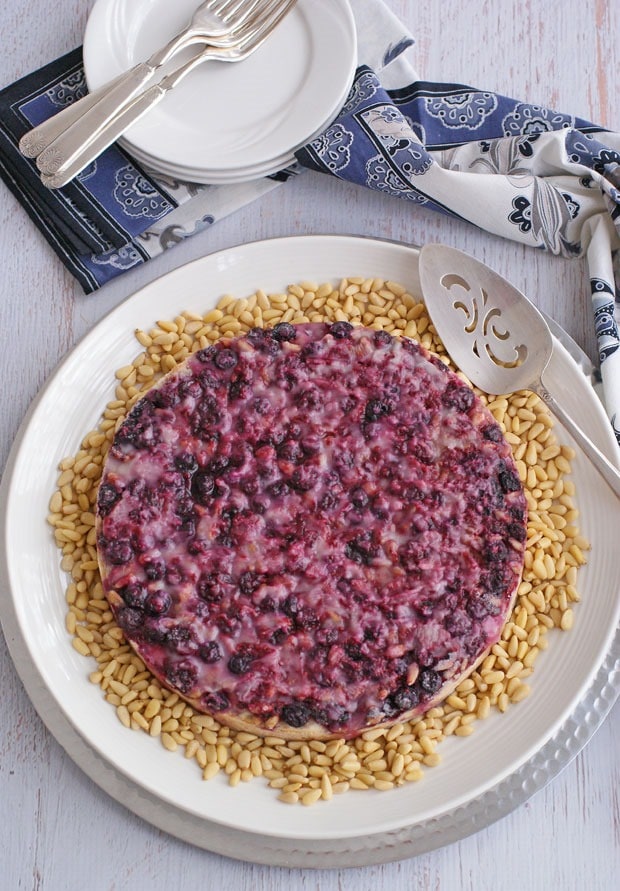 Speaking of which, do you know what a pain it is being unable to make delicious nut laden recipes because you have a child with nut allergies?
That's why pine nuts are such a wonderful thing! They're seeds, not nuts, and can be substituted for nuts in many recipes.
(However, they may be processed on the same machinery as other nuts, so if you're hyper-allergic to nuts, best to avoid them altogether.)
So here's to baking fantasies coming true with my Gluten & Dairy Free Coffee Cake Topped with Berries & Pine Nuts!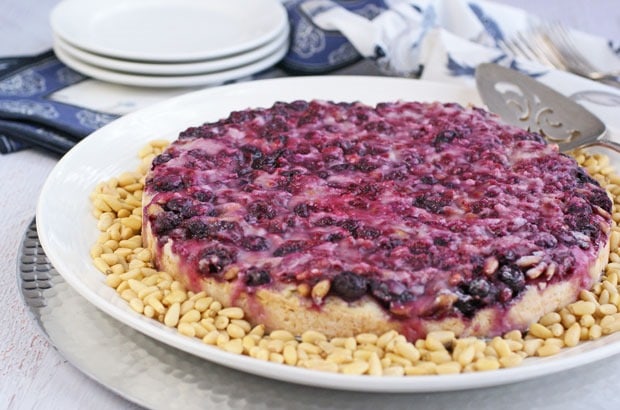 Gluten & Dairy Free Coffee Cake Topped with Berries & Pine Nuts
Inspired by
this recipe
Ingredients
Coffee Cake
3 tablespoons

shortening

3 tablespoons

all-purpose gluten free rice flour blend

3/4 cup

sugar or sugar substitute

1/4 cup

buttery spread, softened

1

egg

1/2 cup

rice milk

1 teaspoon

vanilla (gluten free)

1 1/2 cups

all-purpose gluten free rice flour blend

2 teaspoons

baking powder (gluten free)

1 teaspoon

xanthan gum

1/2 teaspoon

salt

2 tablespoons

sugar or sugar substitute

1/2 teaspoon

ground cinnamon

1 1/2 cups

frozen berries, thawed and drained of juices

1/3 cup

pine nuts
Glaze
1/2 cup

powdered sugar or sugar substitute (confectioners style)

1/4 teaspoon

vanilla (gluten free)

1 tablespoon

rice milk
Directions
Heat oven to 375 degrees F.
Grease and flour the bottom and side of a 9-inch round springform cake pan with shortening and gluten free rice flour blend.
In a large bowl, beat 3/4 cup sugar, softened buttery spread, and egg with electric mixer on medium speed until fluffy.
Beat in 1/2 cup rice milk and 1 teaspoon vanilla until just blended.
Using a spatula, stir in flour blend, baking powder, xanthan gum and salt.
Evenly spread batter, which will be the consistency of dough, in the pan with a spatula.
In medium bowl, stir together 2 tablespoons sugar and the cinnamon. Sprinkle half of the sugar mixture over batter.
Add berries and pine nuts to remaining sugar mixture and toss until well coated.
Spoon berry and nut mixture over batter. Press lightly into batter.
Bake 35 minutes or until toothpick inserted in center of cake comes out clean.
In a small bowl, combine glaze ingredients until thin enough to drizzle. Drizzle over warm coffee cake. (If your berry layer is still very moist after baking, the glaze will spread out and cover the entire coffee cake. If so, you may want to use a pastry brush to gently even out the glaze.)
Let coffee cake sit for 10 minutes. Place cake pan on a decorative platter and gently remove springform ring from cake pan.
Serve warm or at room temperature.
Serving size:

1/8 of cake