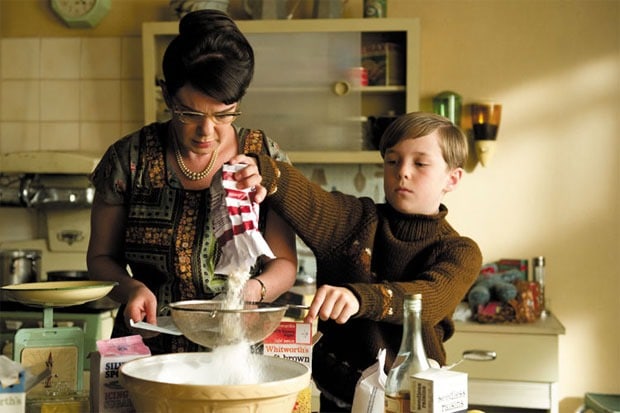 This month I had the pleasure of hosting Food 'n Flix, where bloggers watched Toast – The Story of a Boy's Hunger and then blogged a recipe inspired by or featured in the movie.
You can learn more about the movie in my review of Toast (and get the original Lemon Meringue Pie recipe developed just for the movie) that I posted back in 2011 when the DVD came out.
Here's a roundup of posts from all the bloggers who participated in this month's Food 'n Flix in no particular order!
Camilla from Culinary Adventures with Camilla made a Roasted Fennel Pollen Salmon.
She recounted all the horrible meals (including food poisoning!) that she experienced in England. Even so, she gave it a try and made the first dish that Nigel attempts for his dad, after his mom's death.
While Nigel broiled the fish beyond recognition, Camilla stuck with roasting at a lower heat and said it was delicious.
Heather from girlichef made a British classic, Beans on Toast.
Of course, being the foodie she is, Heather had to make both her beans and bread from scratch. Looks totally worth the effort, don't you think?
Elizabeth from The Law Student's Cookbook made Spaghetti Bolognese.
Spaghetti Bolognese was Nigel's first foray into cooking. His mother was so intimidated by it that she decided to eat toast instead.
Nowadays most kids would think this was regular spaghetti with meat sauce. We've come a long way since the '60s when it comes to what is considered exotic food!
Deb from Kahakai Kitchen made Nigel Slater's Hot Cheese Muffins and Apples with Butter & Brown Sugar.
In Nigel Slater's cookbook, Real Fast Food: 350 Recipes Ready-to-Eat in 30 Minutes, he writes that his dad came up with the recipe for Hot Cheese Muffins, because Nigel was such a picky eater.
Along with the apples and tea, I think any child (or grownup) would love this after school, don't you?
Tina at Squirrel Head Manor made English Muffin Toasting Bread and Grilled Fish.
Yes, that's right, she made both toasting bread and grilled fish (grouper not haddock).
I was amazed that Tina like so many bloggers participating in the Food 'n Flix challenge finds that toast is as comforting as the characters in the movie did. (Me, too, even though these days, mine is gluten free!)
Caroline at Caroline Makes cooked up (hooray!) a Lemon Meringue Pie.
Nigel's father's favorite dessert is lemon meringue pie, so when he finally presents a perfect lemon meringue pie to his father, Joan throws a slice onto the floor, hissing "I do the lemon meringues around here!"
Well, Caroline does a nice job showing step by step directions of how she does it on her blog. So there!
Evelyne from Cheap Ethnic Eatz cooked up Lemon Tarragon Cod with Toast.
Inspired by the scene where Nigel attempts to cook a meal for his father on his own and burns the fish, Evelyne based her fish recipe on Nigel Slater's Lemon Tarragon Cod.
Debra from Eliots Eats made Chickenburgers-in-a-Basket.
Inspired by all the retro recipes in Toast, Debra got out her vintage Betty Crocker's Party Book from 1960 and adapted a recipe from it.
She also scanned a few pages from the cookbook. If you're like me and collect vintage cookbooks, you'll get a kick out her post!
Thanks all for participating! Next month's Food N Flix is hosted by Squirrel Head Manor. We'll be watching A Good Year!