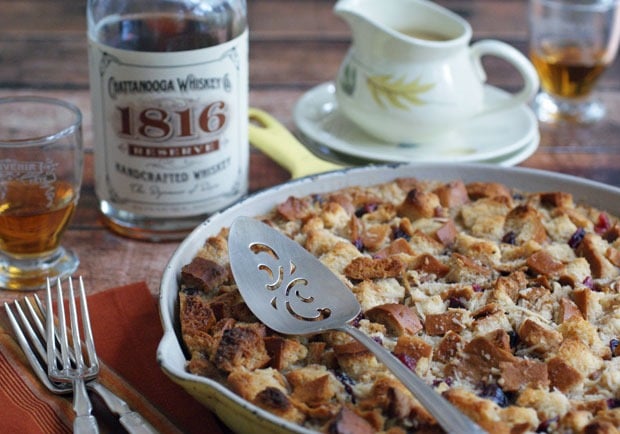 This month's Secret Recipe Club assignment was A Spoonful of Thyme. Like me, Kathy's a big fan of bread pudding and features several versions of it on her blog – San Francisco Bread Pudding, Apple Cinnamon Bread Pudding with Creamy Bourbon Sauce and  Bread Pudding with Brandy Sauce. Frankly, I couldn't decide which version to tackle. Instead, I took elements of two – the San Francisco Bread Pudding and the Bourbon Sauce from the other.
Then I made it both dairy free and gluten free since that much cream, milk and gluten would send me to bed with a tummy ache for a week. Inspired by Kathy sneaking in shredded coconut into her bread pudding recipes, I used canned coconut cream instead of cream and rice milk instead of milk. In the sauce, instead of butter, I used a vegan buttery spread, too.  I also used leftover gluten free hot dog buns from the summer I had in the freezer – waste not, want not!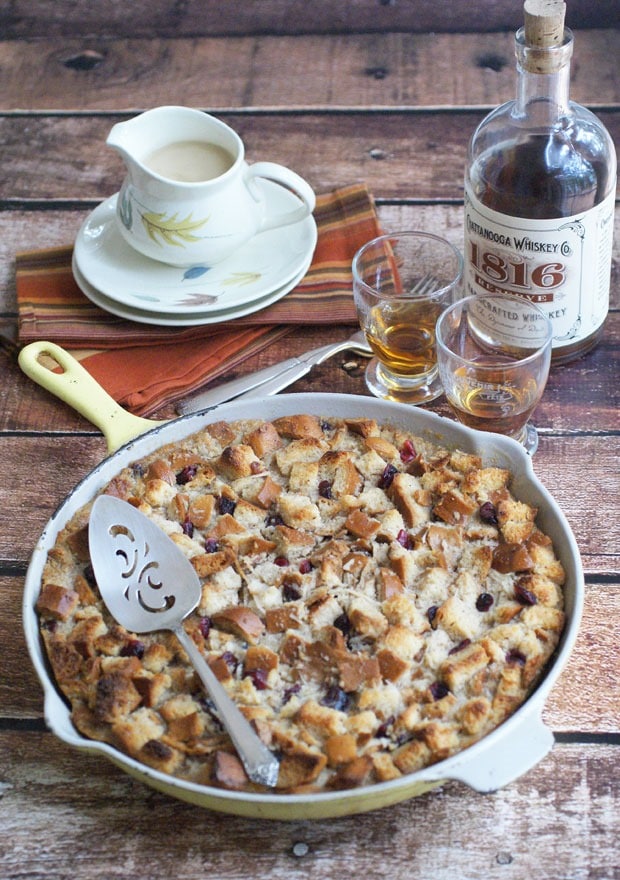 Even though it's perfect for folks with food sensitivities to dairy, whey and gluten, my Cranberry & Coconut Bread Pudding with Chattanooga Whiskey Sauce is by no means a healthy dessert. It's full of coconut cream, eggs and booze! So keep it for special occasions like Thanksgiving, Christmas, or other family celebrations. And watch your portions!
Since I was using Chattanooga Whiskey that I bought on my trip to Chattanooga, Tennessee last spring, instead of sugar I decided to sweeten the bread pudding and sauce with sorghum syrup, another southern staple. If you don't have access to sorghum syrup, you can use honey, maple syrup or dark agave nectar instead.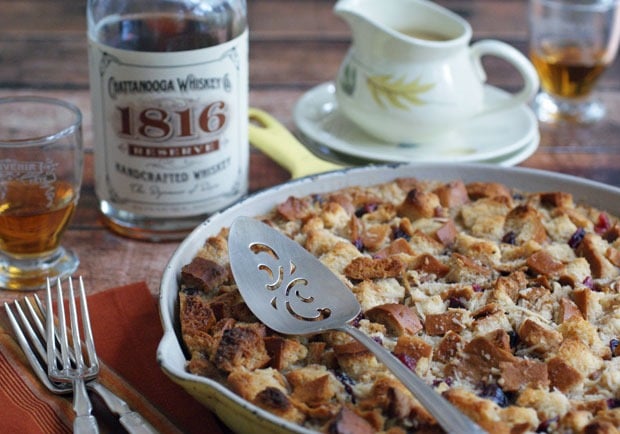 Ingredients
For the pudding:
8 cups

gluten free bread, cut up into 1/2 inch cubes

2 cups

rice milk

1 (14 ounce) can

coconut cream

1 cup

sorghum syrup

4

eggs

1 cup

orange flavored dried cranberries

1/2 cup

sweetened shredded coconut

2 tablespoons

gluten free vanilla

1 teaspoon

cinnamon

1/2 teaspoon

nutmeg
For the whiskey sauce:
1 (14 ounce) can

coconut cream

1/2 cup

rice milk

1/2 cup

sorghum syrup

2 tablespoons

rice starch

1/2 cup

Chattanooga Whiskey, divided

Pinch

salt

2 tablespoons

buttery spread
Directions
For the pudding:
In a large bowl, combine all ingredients and blend well. Let sit for 20 minutes so bread absorbs liquid.
Preheat oven to 350 degrees.
Pour into a greased 11 3/4 inch oven safe skillet or similarly large baking dish.
Bake for 50 minutes until set. The pudding is done when it is puffy and golden brown. Serve warm with the whiskey sauce.
For the whiskey sauce:
Combine coconut cream, rice milk, and sorghum syrup in a one quart saucepan and set over medium heat.
In a small mixing bowl, blend the rice starch and 1/4 cup of the whiskey to make a slurry.
Pour the slurry into the coconut cream and rice milk mixture and bring it to a boil.
Reduce the heat and simmer, stirring occasionally, for 5 minutes.
Remove the sauce from the heat, add the salt, buttery spread, and the remaining whiskey.
Serve warm.
Total Time:
1 Hour 30 Minutes
Servings
:
Makes 16 servings
Serving size:

1/16 of recipe
More from the Secret Recipe Club!
Want to join the Secret Recipe Club? You can sign up here.