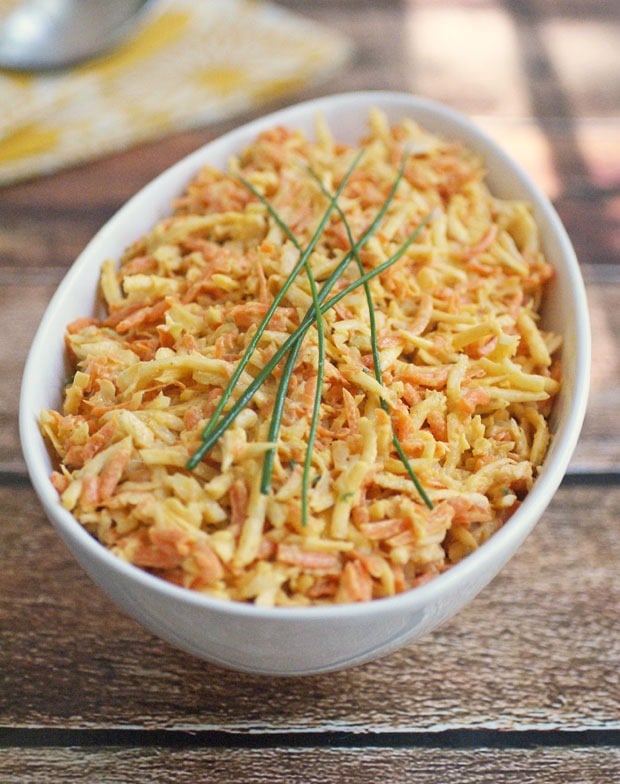 Now that fall's here, it's time to embrace root vegetables once again! How about some Curried Sweet Potato & Fig Soup, Gluten Free Pumpkin Bread, or Vegetarian Borscht with Kale? However, when it comes to root vegetables, we rarely think of cold salads or slaws. That's why I was intrigue by my friend, Robyn Webb's recipe for Celery Root Salad at Diabetes Forecast, the magazine put out the American Diabetes Association. It seemed like a root vegetable version of a coleslaw type salad using celeriac (celery root), fennel (anise), and a little bit of carrot. Plus the photo by Kyle Dreier and food styling by Whitney Kemp (the online thumbnail shot doesn't do it justice) was gorgeous and inspiring.
Unfortunately, going over the recipe, I found a few things I needed to change. First, I couldn't eat it due to my food sensitivity to sour cream. Second, a lot of people don't like the taste of fennel/anise, so I'd have to disguise it or play it down somehow. (Fennel has a black licorice taste, which I love but many people hate.)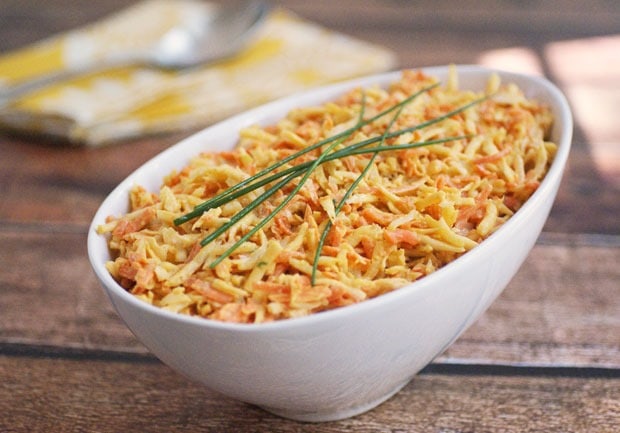 Third, when you buy celeriac, it's usually a huge bulb, so either you have to make a double batch or throw half of it into the compost. So, I had to increase the ratios so you wouldn't have to waste food. Fourth, I wanted more of a "bite" to the sauce and felt adding some NAKANO rice vinegar and ground chipotle chile pepper instead of cayenne would do the trick. Fifth, I wanted to add more carrot to it for sweetness and color.
In addition to all my changes, I wanted to make this as allergen friendly as possible – gluten free, egg free, milk free, etc. To do this I used a dairy and egg free no fat mayonnaise from Trader Joe's and a Tofutti Sour Cream. In addition, I used NAKANO rice vinegar since all their vinegars are gluten free. It's naturally nut free, too. However, this vegetarian slaw salad is not soy free. That was one allergen I couldn't avoid.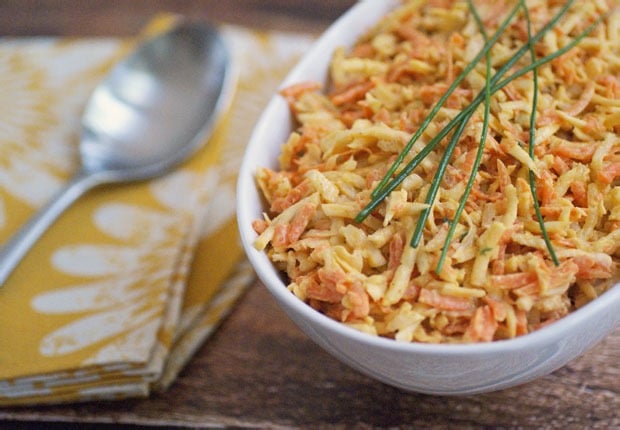 While Spicy Celery Root & Carrot Slaw Salad is a great on it's own, I liked serving it up in a brown rice tortilla wrap. But the best way was with grilled fish tacos with some avocados and salsa – delicious. This would make a great tailgate party or potluck slaw salad, too!
Finally, celery root is rather tough to grate – too tough for a box grater in my opinion unless you're a lineman for the Denver Broncos with big, strong hands. I highly recommend using a food processor to shred it. Using a good processor for the fennel and carrots will make things much easier, too.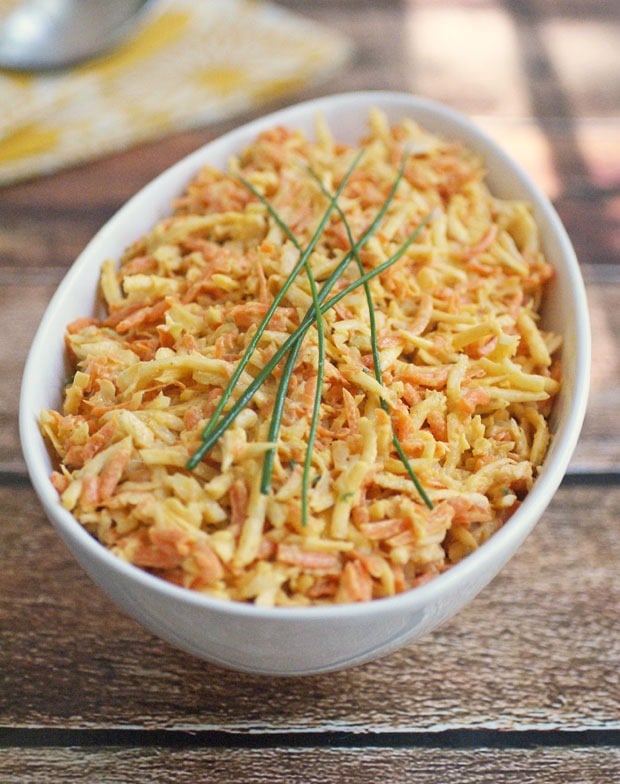 Spicy Celery Root & Carrot Slaw Salad
Ingredients
2 3/4 cups

peeled and shredded celery root (celeriac)

1 cup

shredded fennel bulb

5

large carrots peeled and shredded

2 tablespoons

fresh lemon juice

1/2 cup

Tofutti sour cream

1/4 cup

no eggs, no dairy, no fat mayonnaise

1 tablespoon

spicy mustard

2 tablespoons

olive oil

2 tablespoons

NAKANO Natural Rice Vinegar

1/4 teaspoon

sea salt

1/8 teaspoon

black pepper

1/4 teaspoon

ground chipotle chile pepper

1 teaspoon

minced green onions (white bulb ends only)

1 teaspoon

minced chives

whole chives for garnish (optional)
Directions
In a large serving bowl, combine the shredded celery root , fennel, and carrots.
Toss well, then add the lemon juice and toss again. While tossing, pick out any large pieces of root vegetables that weren't shredded by your food processor.
In a small bowl, gently whisk together Tofutti, mayonnaise, spicy mustard, olive oil, NAKANO Natural Rice Vinegar, sea salt, black pepper, and ground chipotle chile pepper.
Fold the minced green onions and chives into the Tofutti dressing.
Add the Tofutti dressing to the celery root slaw salad and toss well. Cover with a lid or plastic wrap, and refrigerate for 20 to 30 minutes before serving. Garnish slaw salad with whole chives, if desired.