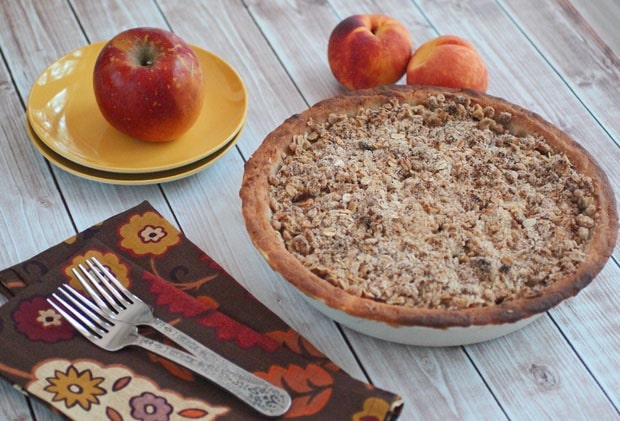 After being out for a couple of months due to my brain surgery, I'm glad to join back up with the monthly Secret Recipe Club event.
This month's assignment was to pick a recipe from Flavors by Four, a mother-daughter team of foodies who have been blogging since the end of 2010. I wanted to try a pie recipe using the Pillsbury Gluten Free Dough that was recently sent to me.
So I chose their recipe for Oatmeal Crumb Apple Pie. I really like how Flavors by Four explain things step by step with pictures, making it easy for even the most inexperienced cook.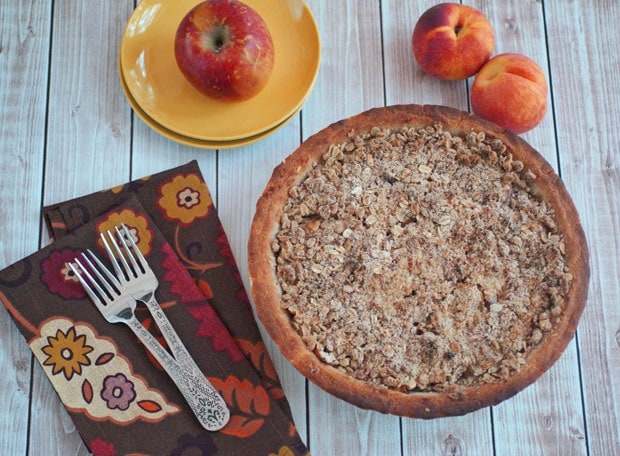 In addition, what I liked about their Oatmeal Crumb Apple Pie recipe was that it was very easy and quick to make because you could use a store bought frozen pie crust, and that it was Weight Watchers friendly.
I had originally wanted to make their Strawberry Rhubarb Pie, because it looked so delicious, but since rhubarb is out of season I couldn't find any at the store.
Wanting to change things up a bit, I decided to substitute one of the apples with a couple of small peaches as well as make the dessert totally gluten free.
However, I found that using Pillsbury Gluten Free Dough and other gluten free ingredients caused the pie to cook much faster even though I baked it at a lower temperature.
If you're not using gluten free ingredients and sticking to Flavors by Four's original ingredients, make sure to use her temperatures and times. Also,if you don't have access to coconut palm sugar, you can use brown sugar. Instead of rice starch, you can use corn starch.
For the buttery spread, you can use I Can't Believe it's Not Butter or Earth Balance.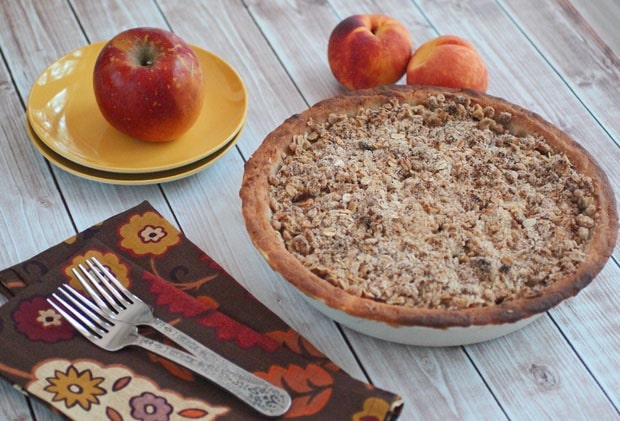 Gluten Free Oatmeal Crumb Apple Peach Pie
If the crust starts to get too brown, tear aluminum foil into strips and carefully cover the crust while rest of pie continues to bake.
Ingredients
1

gluten free pie crust - frozen, store bought or from your favorite recipe (I used Pillsbury Gluten Free Dough.)

3

medium Fuji apples, cored, peeled, thinly sliced

2

small peaches, thinly sliced

1/2 teaspoon

cinnamon

1/4 cup

coconut palm sugar

1 tablespoon

rice starch

1/2 cup

gluten free old fashioned oatmeal

1/3 cup

gluten free all purpose baking mix

3 tablespoons

coconut palm sugar

3 tablespoons

buttery spread, melted
Directions
Preheat your oven to 375 F. Take your premade pie crust and set it aside.
Wash, peel, core and slice your apples. Wash, pit, and thinly slice peaches. Set aside in a large bowl.
In a small mixing bowl add the 1/4 cup of coconut palm sugar, cinnamon and rice starch. Mix well. Add the sugar mixture to the bowl with the apples and peaches. Toss to coat the fruit and set aside for now.
To make the crumble, combine the flour, oatmeal and remaining coconut palm sugar in a bowl. Then melt the buttery spread on a low power in your microwave for 15 seconds at a time until totally melted. Pour the melted spread into the bowl of dry ingredients and mix until combined.
Put the fruit in the pie crust and spread evenly. Then top the fruit with the crumb mixture making sure to spread it out over the entire pie.
Bake the pie until the apples and peaches are tender and the crumb topping is golden brown, about 30-40 minutes.
Total Time:
1 Hour 10 Minutes
Serving size:

1 slice (1/8 of pie)