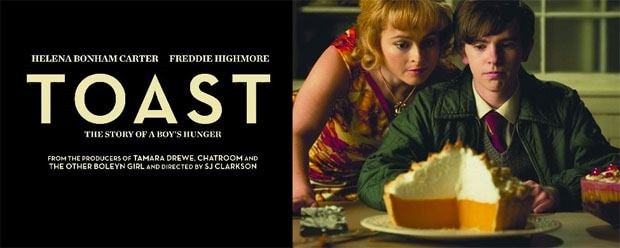 This month I'm hosting Food 'n Flix! It's where bloggers watch a movie and then cook up something inspired by the movie. This month, we're watching Toast – The Story of a Boy's Hunger [affiliate link]. It's based on a the book, Toast
[affiliate link] by Nigel Slater, a British celebrity chef, food writer and television personality. It's worth a read not only for the food, but for his touching coming of age story and culinary journey. You can read my review of Toast (and get the original Lemon Meringue Pie recipe developed just for the movie) that I posted back in 2011 when the DVD came out.
For foodies and food bloggers Toast is a visual treat just for the marvelous retro '60s and '70s foods created for the movie by food stylist Katherine Tidy. You can read an interview with Katherine in the LA Weekly on British food. It may give you some ideas for the Food 'n Flix challenge!
How to participate in Food 'n Flix
1. Watch the chosen film Toast – The Story of a Boy's Hunger. Taking inspiration from the film, head into the kitchen and cook, bake or make something. Toast is available on Netflix, Amazon Instant Video (for $3.99), and on DVD. Since it's been around a few years, try your local library and independent video store, too!
2. Post about it on your blog with a link back to THIS post and a link to Food 'n Flix.  Use of the Food 'n Flix logo is optional.
3. You must post must be current (done during September 2013). And of course we don't mind if your post is linked to other events. The more the merrier!
4. Have fun with it!
5. Email your entries to me at: mama (at) thismamacooks (dot) com and include:
Your name
Your blog's name and URL
The name of your dish and the permalink to the specific post you're submitting
Attach a photo of any size, though 500 to 620 pixels is ideal (or just give me permission to "grab" one from your post)
Indicate "Food 'n Flix Submission" in the subject line
Deadline for submission is: September 30, 2013.
Watch for the roundup to be posted shortly after this deadline!