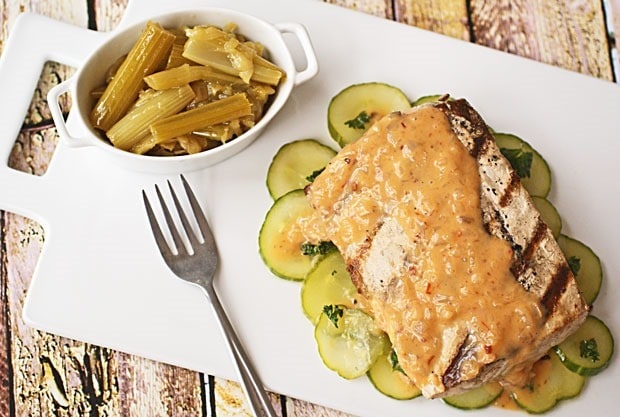 This month I have two selections from Hugh Acheson's cookbook, A New Turn in the South: Southern Flavors Reinvented for Your Kitchen – Grilled Fish with Hot Sauce Buerre Blanc and Saffron Braised Celery.
My husband, Paul, came back from a fishing trip in Mexico with nearly two coolers worth of California yellowtail (also called amberjack). For those of you who never had yellowtail grilled (most of us probably have tried it as sushi), it tastes a bit sweet and isn't fishy at all. It's the perfect fish to grill since it stands up to the high heat without falling apart. And it's mild enough to go with just about any type of sauce or seasonings. Since Hugh's original recipe in A New Turn in the South, calls for mahi mahi, I figured yellowtail was a good substitute. You can use either or another mild white fish like tilapia.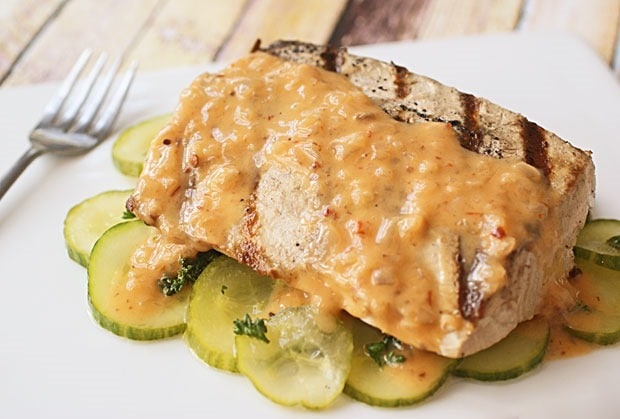 I included a side dish this time – Saffron Braised Celery. I don't know about you, but I have a little teeny bottle of saffron in my spice rack that I rarely use. This recipe was a good way to use some of it along with the leftover celery I had in my refrigerator.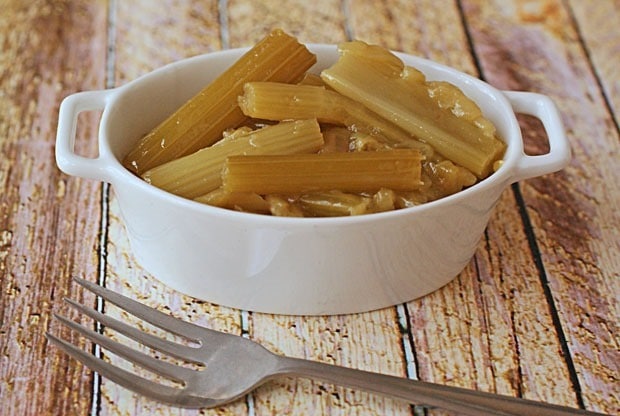 I made both dishes on a weeknight without too much difficulty. Plan about 40 minutes to an hour total prep and cook time. To make it more convenient, you could make the sauce and the cucumber salad the night before and prep the celery dish. Or make it on a Friday night when a late dinner won't make it too difficult for your family to wake up early the next day.
I made some minor changes to Hugh's recipes such as using olive oil instead of butter in the celery. I used a buttery spread instead of butter and a Colorado beer infused hot sauce, Old Chub: 3 Chili Chipotle Sauce, in the buerre blanc because that's what I had on hand. Feel free to your favorite hot sauce though Hugh warns that Tabasco sauce is too spicy.
If you're watching your calories, serve the sauce on the side or eliminate altogether. Otherwise, double the amount of sauce and freeze for later, as it goes great on leftover fish, vegetables, rice or chicken.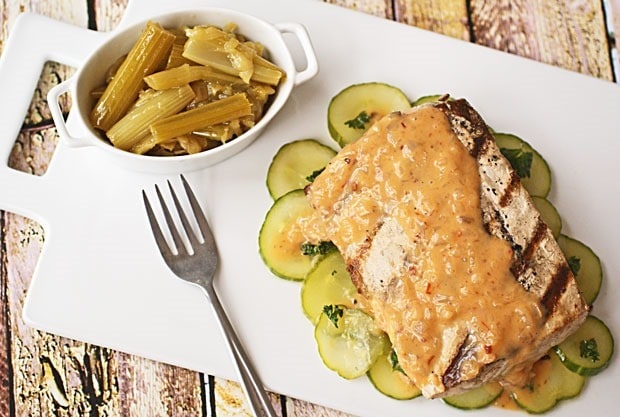 Saffron Braised Celery and Grilled Fish with Hot Sauce Buerre Blanc
Based on Hugh Acheson's recipes from A New Turn in the South
Ingredients
For the grilled fish:
1

English cucumber, thinly sliced

3/4 teaspoon

sea salt, divided

2 tablespoons

olive oil, divided

2 tablespoons

freshly squeezed lemon juice, divided

1 tablespoon

minced fresh flat-leaf parsley (I used 1 tablespoon of Gourmet Garden's parsley)

1

shallot, minced

1/2 cup

cider vinegar

2 tablespoons

hot sauce

1/4 pound

buttery spread, cold, cut into chunks

4

6-ounce fillets of yellow tail, mahi mahi, tilapia, or other mild white fish
For the braised celery:
2 tablespoons

olive oil

2

shallots, thinly sliced

12

celery stalks with leafy parts removed, cut into 3-inch lengths

1

pinch of saffron

1 cup

chicken or vegetable stock

Salt and pepper, to taste
Directions
For the grilled fish
Place the cucumber slices in a medium sized mixing bowl and season with 1/4 teaspoon of the sea salt.
Drizzle 1 tablespoon of olive oil and 1 tablespoon of the lemon juice over the cucumbers.
Add parsley and toss to combine. Let sit at room temperature as you prepare the rest of the dish.
Heat your grill.
In a small saucepan over medium heat, place the shallot, cider vinegar, and rest of the lemon juice.
Simmer until the liquid is reduced to about 2 tablespoons.
Add the hot sauce and reduce the heat to low until you have a slight simmer.
Whisk in the chunks of cold buttery spread until melted.
Season with a pinch of salt and keep warm on very low heat. (Or just the warm burner if you have an electric stove.)
Place fish fillets on a platter or plate and season with remaining sea salt.
Drizzle remaining olive oil over the fish.
Grill on high heat (so you have nice grill marks) until done. Amount of time will depend on the thickness of the fish.
To plate, arrange cucumbers on a plate and place grilled fish on top. Drizzle with the buerre blanc and serve.
For the braised celery:
Preheat the oven to 350 degrees F.
Over medium heat in an oven safe sauté pan, Dutch oven or braising pan (I used my Le Creuset 5-Quart Round Braiser [affiliate code]) heat the oil and sweat the shallots for about 5 minutes.
Place the celery in the pan. Add saffron and stock.
Cover, remove from the stove top, and braise in the oven for 30 minutes or until tender.
Season with salt and pepper, to taste.
Serve hot.
Serving size:

1/4 of recipe