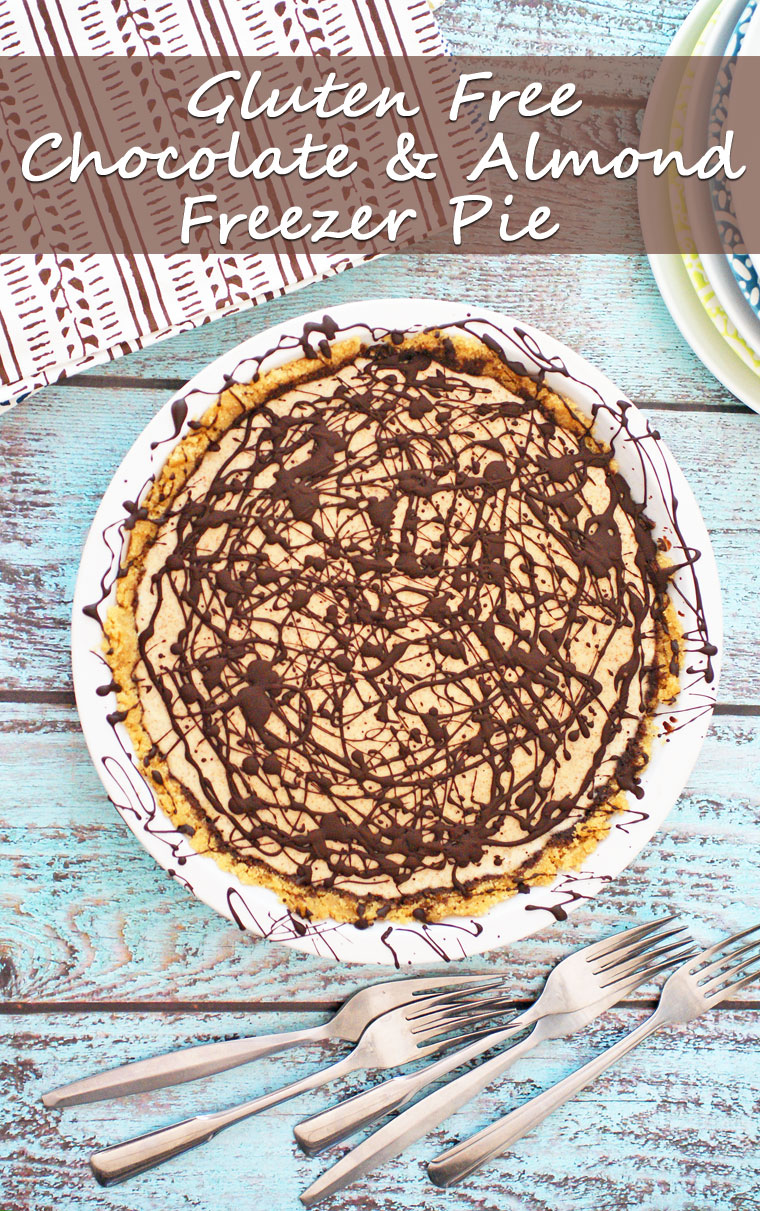 I've been a fan of Lundberg Family Farms rice products for years. However, I'm embarrassed to admit I've never tried their rice cakes! That is until now when they challenged me and a few other bloggers to create unique recipes using their new rice cake flavors, Kettle Corn, Hemp-a-Licious and Sweet Chili, which they sent me along with a few jars of Justin's Honey Almond Butter.
Why a freezer pie?
Since eating a rice cake shouldn't be boring – especially with all the flavors that Lundberg makes – I thought I'd go a bit out of the box and make a summer time dessert with their Kettle Corn Rice Cakes. I often use leftover rice to make gluten free quiche crusts. Taking that method one step further, I decided to use the rice cakes to create a crust, like crushed graham crackers are used in freezer pies. Freezer pies? Indeed, since warm weather is the perfect time for freezer pies as they're cool, require no baking, and very little stove top cooking. Plus, making one with the honey almond butter would be delicious! (My son, Nathan, agrees and gave my freezer pie two thumbs up!)
This freezer pie recipe also gave me the chance to use a couple of special kitchen gadgets that I love. First, I used a Beka Cookware Bain Marie to melt the chocolate instead of a double broiler. I love the bain marie since it's almost impossible to burn anything and you don't run the risk of getting water in your chocolate. Second, I used my Blendtec Blender's Twister Jar to make most of this recipe, but you could use a food processor instead.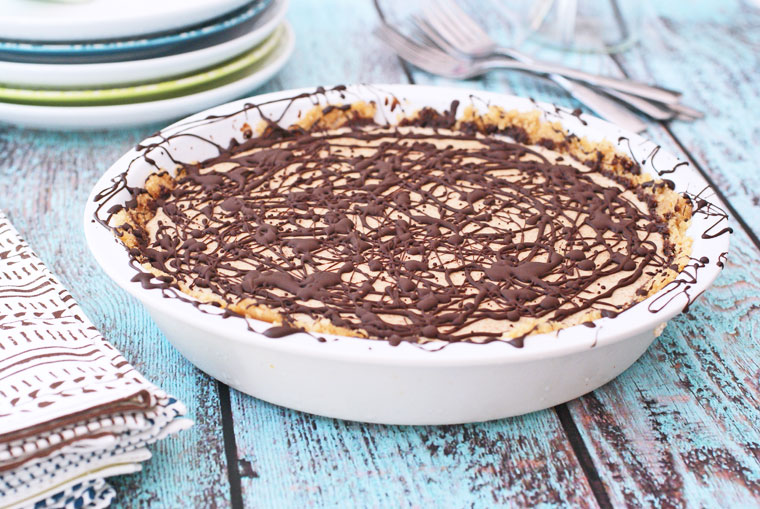 Finally, I tried to use as many organic ingredients in my freezer pie recipe as possible, since Lundberg Rice Cakes and many of the ingredients in the Justin's almond butter are organic.
And did I mention that this dessert is totally gluten free?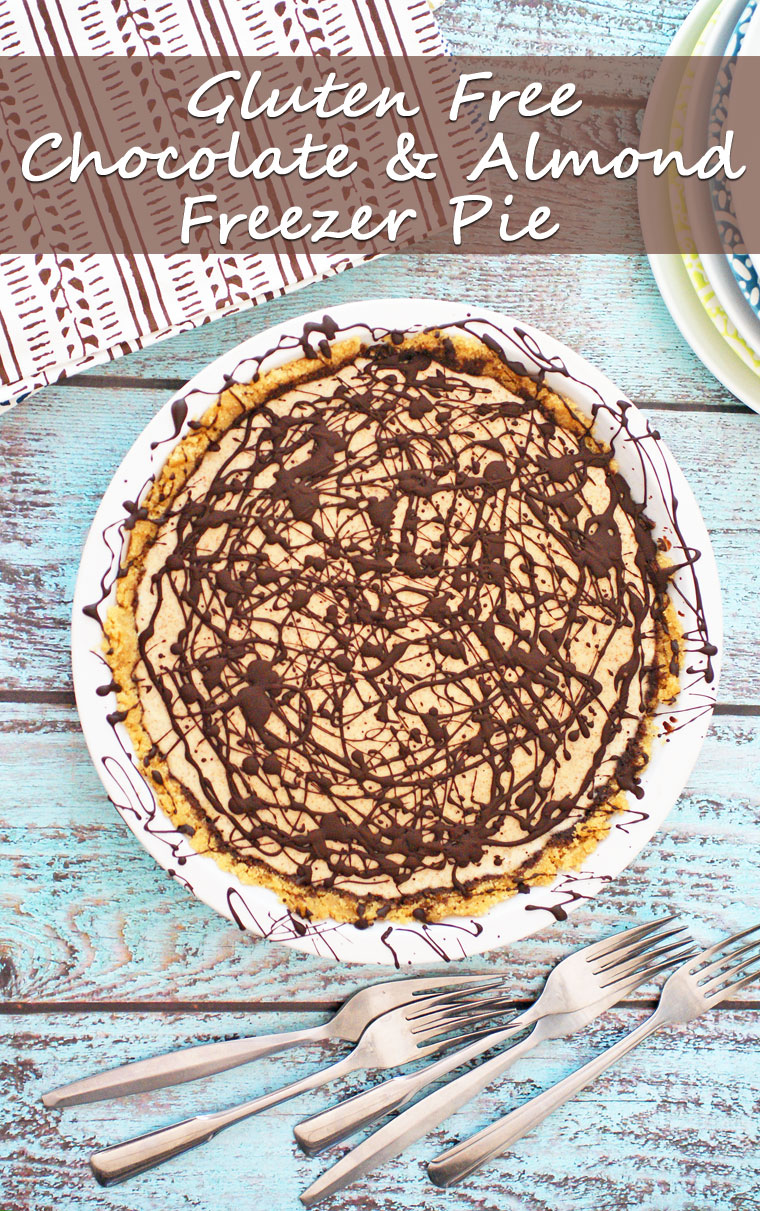 Chocolate & Almond Freezer Pie
The combination of coconut milk and honey almond butter creates a freezer pie with the consistency of ice cream. However, between the almond butter and dark chocolate, this is NOT a light dessert. Serve each person a small piece along with some blueberries for a delicious summer treat.
Inspired by No Bake Almond Butter Pie from One Happy Table
Ingredients
For the Lundberg Rice Cake crust:
1 1/2 cups

finely ground Lundberg Kettle Corn Rice Cakes

6 tablespoons

organic vegan buttery spread, like Earth's Best – at room temperature

1/3 cup

organic sugar, like Wholesome Sweeteners Fair Trade Organic Sugar
For the chocolate coating and drizzle:
2 bars (7 ounces)

Green & Black's Dark 85% Cocoa Content Organic Chocolate – melted

1 tablespoon plus 1 teaspoon

Spectrum Naturals Organic All Vegetable Shortening
For the pie filling:
1 cup

Justin's Honey Almond Butter

1 (13.5 ounce) can

full-fat coconut milk, like Native Forest Organic Classic Coconut Milk

1/3 cup

organic sugar, like Wholesome Sweeteners Fair Trade Organic Sugar

1/4 teaspoon

salt
Directions
To make the pie crust:
Place rice cakes (about half a package) into a food processor and grind them into fine crumbs.
Add the vegan buttery spread and sugar and pulse until combined. Firmly and evenly press the mixture into a pie plate.
Break the chocolate into small pieces and combine with the shortening and melt. You can do this in a double boiler, in a bain marie, or carefully over low heat in a sauce pan in medium heat-proof bowl, stirring constantly.
Dip a pastry spoon into the melted chocolate and give the pie crust a thin coat by using the pastry brush to paint on the chocolate. Work quickly and try not to loosen the rice cake crust.
Chill the crust in the freezer for 15 minutes.
To make the pie filling:
Place the almond butter, coconut milk, sugar, and salt into a large mixing bowl and using a hand mixer, beat until completely blended. If you have a Blendtec or similar blender, you can also combine the ingredients in the blender using the sauce setting.
Remove the pie crust from the refrigerator and pour the pie filling into the shell. Gently tap the pie plate on the counter to release any air bubbles.
Place the pie back into the freezer for 1 hour or until set.
Remove pie from freezer. Prepare the chocolate drizzle by remelting the remaining chocolate, if needed.
Take a spoon, dip into the melted chocolate, and drizzle chocolate over the pie in a decorative manner.
Place the pie back into the freezer for 30 more minutes.
Remove from freezer 15 minutes before serving. Slice carefully and enjoy!
Prep Time:
2 Hours 30 Minutes
Total Time:
2 Hours 30 Minutes
Servings
:
Makes 10 to 12 servings