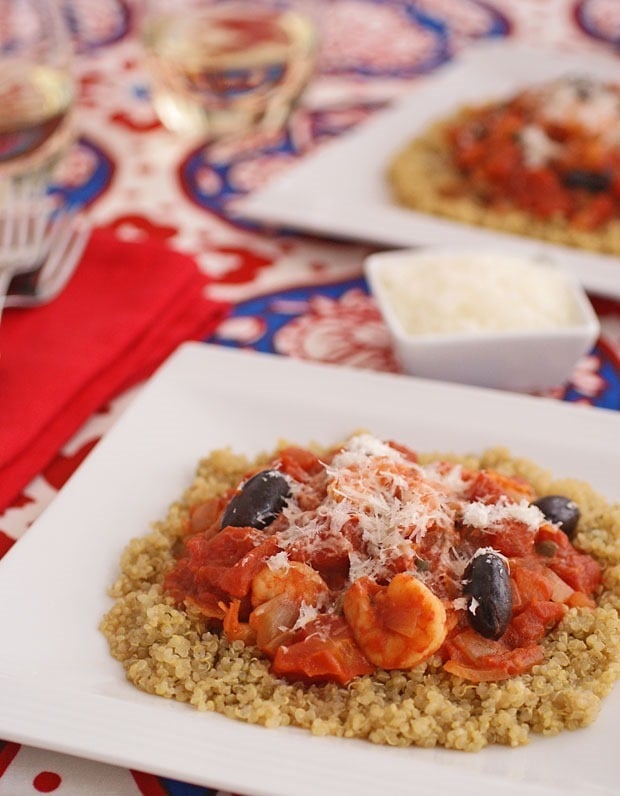 The folks at The Wine Bar recently hired me to create a recipe inspired by their wines. I told my contact there that I love Malbecs, Zinfandels and was open to a suggestion on a white wine, since I hadn't made up my mind to create a beef or seafood dish. Soon a package arrived in the mail with three wonderful wines:
Stellina di Notte Pinot Grigio (2011) –  Imported from Italy, this wine has tropical fruit overtones with a lemony finish. Slightly chilled, this would go well with light dishes from salad to seafood.
Dynamite Vineyard Zinfandel (2010) – Cellared and bottled in Sonoma, California this wine features smooth, fruity flavors that go well with boldly flavored foods.
Stark Raving Malbec – Imported from Argentina, this wine has soft notes of berries combined with the smokiness of bacon.
While I enjoyed all three of the wines, the Stark Raving Malbec was my favorite. Immensely drinkable, this wine goes well with food or for sipping while preparing dinner. I'll be on the lookout at my favorite liquor store for more wines from Stark Raving for sure!
What to cook? Must play well with wine!
When figuring out what I was going to make, I thought that I should use one of the wines directly in the dish. I also wanted the food to go with at least two if not all of three of the wines. In addition, the recipe had to be healthy, gluten free, and easy to make on a weeknight.
After having a wonderful meal out with my family at a local Italian restaurant, I thought that recreating that night's dinner – shrimp puttanesca – would fit all the above requirements, especially since it takes about 30 minutes to make. Shrimp puttanesca is also the embodiment of the healthy Mediterranean diet – olives, seafood, tomatoes, garlic, wine and onions. In addition, I love puttanesca for its combination of spicy and salty.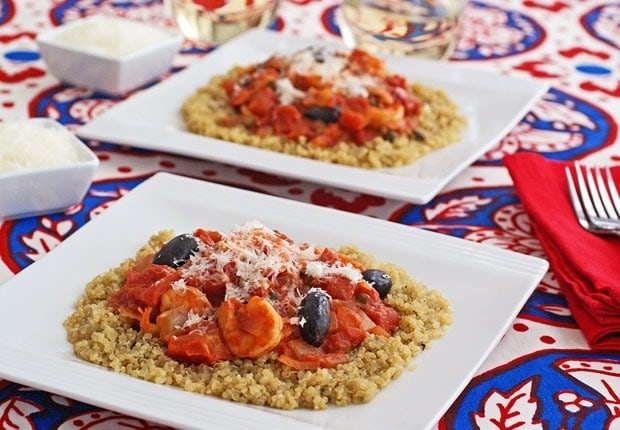 While it's usually served on spaghetti, I decided to do something different by serving the puttanesca on quinoa since I know many kids are fussy about shrimp. Most of the time they won't eat them, which means two things: more shrimp for the adults (score!) and no protein for the kids. By serving the puttanesca on quinoa, the kids will still get a good serving of protein even if they won't touch the shrimp. However, if you don't have any quinoa in the house, feel free to serve the shrimp puttanesca on your favorite whole wheat or gluten free pasta.
Now, about the anchovies. I adore them, but feel free to leave the anchovies out if they're not your thing. With the shrimp, you can use precooked, shelled, deveined, tail off shrimp from the freezer aisle at your favorite grocery or warehouse store – much more convenient! As for the grated cheese, even though I specify Pecorino Romano, you can use any type of Romano style cheese you like. But please, none of that "sprinkle cheese" from the green can! As Liz Lemon from 30 Rock would say, "Blaarg!"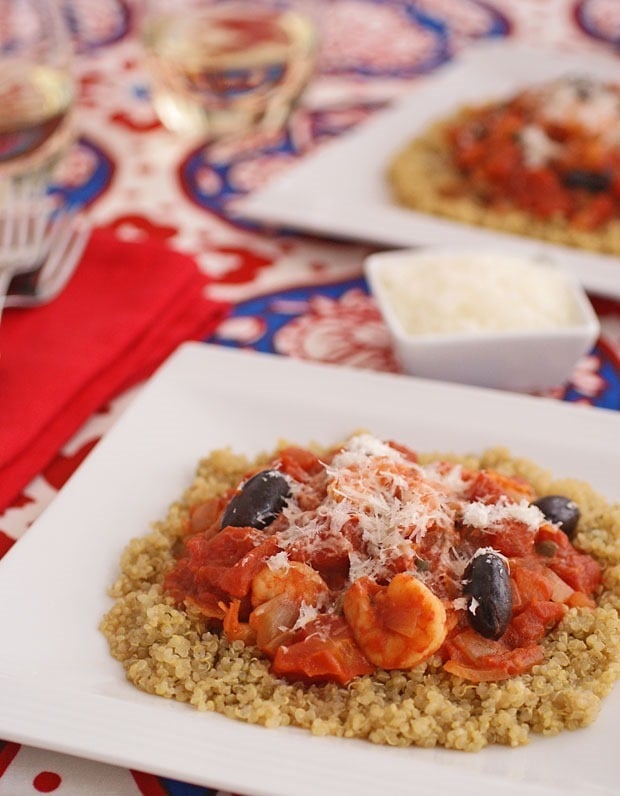 Ingredients
For the puttanesca:
1 tablespoon

olive oil

1 teaspoon

minced garlic (about 2 large cloves)

1

medium yellow onion, finely chopped

1/2 teaspoon

oregano

1/2 teaspoon

chili pepper paste or 1/4 teaspoon chili pepper flakes

1/2 cup

white wine (I used Stellina di Notte Pinot Grigio)

2 (14.5-ounce) cans

diced tomatoes with juice reserved

2 tablespoons

tomato paste

25

Kalmata olives

3 tablespoons

capers

Salt and pepper

1 pound

shrimp, shelled, deveined with tails removed (if using frozen shrimp, defrost before cooking)

4

anchovies, finely chopped (optional)

1/2 cup

grated Pecorino Romano cheese
For the quinoa:
Directions
For the puttanesca:
Heat the olive oil in a large skillet over medium heat.
Add the garlic and cook for about 2 minutes or until golden. (If your garlic starts to turn brown, lower the heat!)
Add the onion, oregano, pepper paste (or flakes), and wine and simmer until the wine has almost evaporated, about 5 minutes.
Stir in the tomatoes along with their juice, olives and capers. Bring to a boil over medium high heat, then lower to maintain a simmer. Cook until the sauce thickens, about 15 minutes. Stir occasionally.
Meanwhile cook the quinoa. (See below.)
After the sauce has thickened, add the shrimp and (optional) anchovies. Stirring occasionally, cook shrimp until they start to turn pink, about 3 to 4 minutes. (If using precooked shrimp, cook until heated through, about 2 to 3 minutes.) Do not overcook the shrimp or they'll get rubbery!
To serve, place quinoa on plates and spoon sauce and shrimp on top. Sprinkle with cheese.
For a more casual serving style, add quinoa and 1/4 cup of grated cheese to the skillet. Stir well to blend with the sauce. Serve in bowls with the rest of the grated cheese on the side.
For the quinoa:
Place all ingredients in a medium sauce pan.
Bring to a boil over high heat.
Reduce temperature to low and cover with lid.
Simmer for 10 to 12 minutes until quinoa is cooked and liquid is absorbed.
Fluff with a fork and serve.
Serving size:

1/4 to 1/6 of recipe