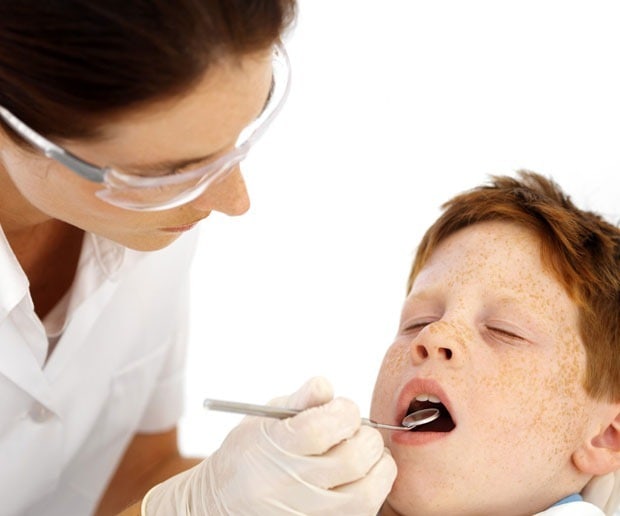 Last month, my nine-year-old daughter, Lucie had a check up with our orthodontist. She goes every six months so he can check to see how well her adult teeth are coming in. I've been taking her to the orthodontist for two or three years now, even though she's years away from braces. For us, this was a matter of convenience since we already had her older brother, Nathan going to the orthodontist for check ups.
It made me wonder at what age or under what circumstances should you take your child for his or her first orthodontic evaluation. Should you wait until it's really obvious that their teeth are coming in crookedly? Or is there a certain age? Not knowing for sure, I consulted two sources - mouthhealthy.org (a site run by the American Dental Association) and mylifemysmile.org (run by the American Association of Orthodontists).
Per mouthhealthy.org:
Since abnormal bites usually become noticeable between the ages of 6 and 12, orthodontic treatment often begins between ages 8 and 14. Treatment that begins while a child is growing helps produce optimal results.
Mylifemysmile.org states:
If you recognize any of these signs in your child, it might be time to schedule a consultation with an orthodontist.

Early or late loss of baby teeth
Difficulty chewing or biting
Mouth breathing
Sucking the thumb or fingers, or other oral habits
Crowded, misplaced or blocked-out teeth
Jaws that shift, make sounds, protrude or are recessed
Speech difficulty
Biting the cheek or biting into the roof of the mouth
Protruding teeth
Teeth that meet in an abnormal way or don't meet at all
Facial imbalance or asymmetry (features out of
proportion to the rest of the face)
Grinding or clenching of teeth
Inability to comfortably close lips
Both websites have terrific information on braces and dental health, so check them out!
How to get started on orthodontic treatment
If you think your child may need braces, the first thing to do is check with your insurance to see what they cover so you can budget accordingly. You may need to find an orthodontist covered by your plan, too.
If you're looking into getting Invisalign teeth straightening treatment,  go to invisalign.com and take the Invisalign Smile Assessment. Then use their Invisalign Doctor Locator to find an orthodontist near you. Make an appointment for an evaluation and ask if the visit is free (it usually is). Then after you meet with your doctor, you'll know for sure if it's time for braces or not.
Nathan had almost two years of checkups before starting treatment since we had to wait for more adult teeth to come in. Along the way he had five teeth pulled and his sister had four. Every child is different, so it's best to get an evaluation to find out what you'll be facing. The whole process of getting your child's teeth straightened and getting braces sure seems like it takes forever, but having a beautiful smile and a healthy mouth is worth it!
_________________________
Disclosure: I'm a member of the Invisalign Teen Mom Advisory Board. I'm receiving complimentary treatment from Invisalign, but all opinions and experiences expressed are my own.