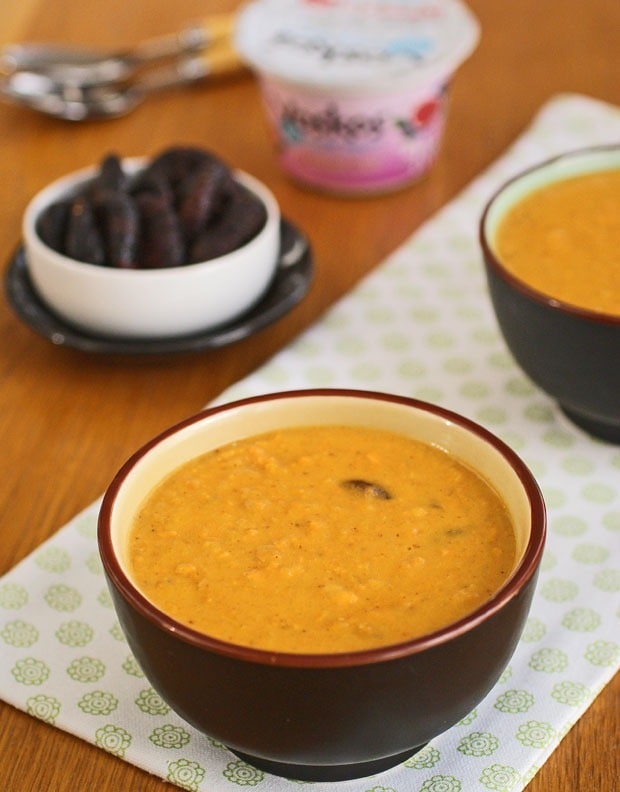 I'm a big fan of Greek yogurt as a healthy substitute for sour cream, so when the folks at Voskos challenged me to create a recipe using one of their yogurts, I couldn't resist. However, since they have so many flavored Greek yogurts, why not give one of those a try? I love figs, so finding something to use their Exotic Fig Greek Yogurt in was my priority.
While figs are a Greek classic, I know several people here in Georgia who have fig trees in their yards. So it's not too hard for me to find fresh as well as dried figs at the grocery store. Figs are rich in minerals and packed with potassium, calcium, magnesium, iron, copper, and manganese. I love using slices of fig on goat cheese pizza or just enjoy them as a healthy snack.
Figs in soup?
After checking out the recipes on the Voskos website and inspired by the cool weather, I thought a soup recipe was in order. I love butternut squash soup, but thought sweet potatoes would go better with fig. After consulting a few cookbooks, I found a recipe in the The Yogurt Bible
for Curried Sweet Potato Soup that reminded me of another butternut squash soup I make with curry. I liked how the recipe also combined the yogurt with coconut milk, too.
However, I made a few changes. Instead of carrots, I used parsnips. Last Thanksgiving, my son fell in love with the smell and taste of parsnips after I made him peel five pounds of it! (Lucky for me, eh?) Parsnips also remind me of my mom's chicken soup as she always used parsnips along with carrots and a lot of fresh dill in hers. Any chance to use parsnips makes me happy!
Another change was to use dried figs instead of raisins to bring more figgy goodness into the recipe. Finally, I healthed up my soup recipe by using Voskos Exotic Fig Greek Yogurt, which is non-fat, along with light coconut milk. I also used a low sodium vegetable broth.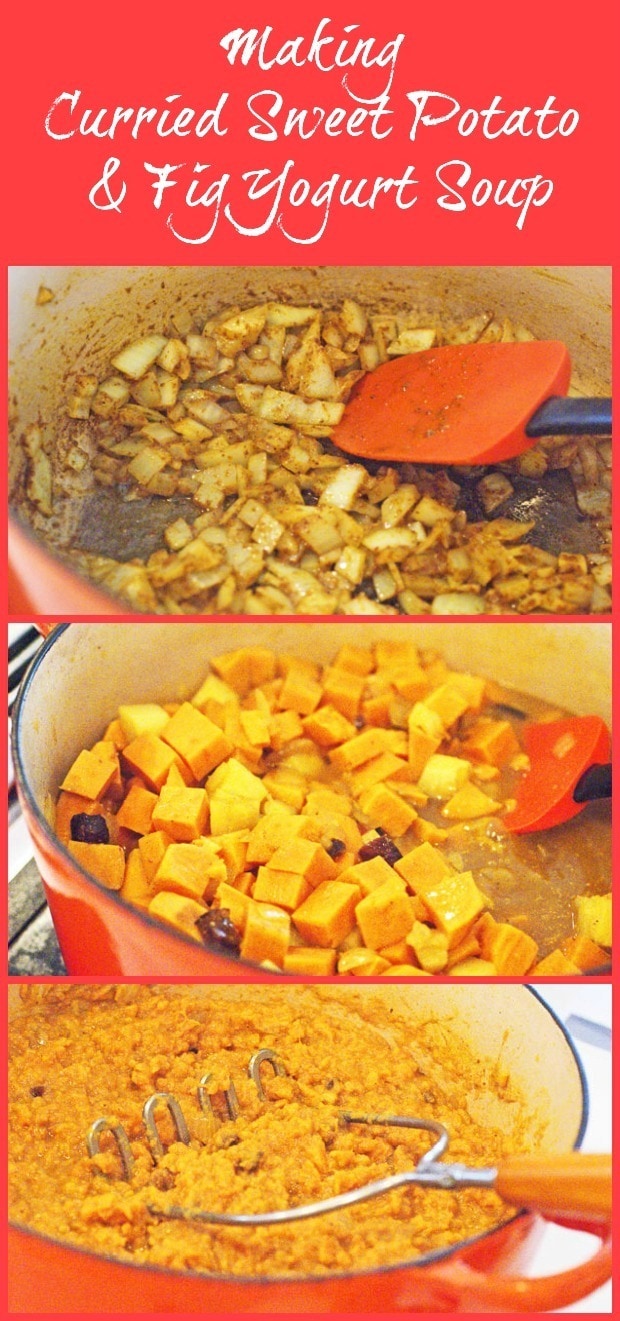 Variations: If you're not a fan of curry, substitute a tablespoon of Herbes de Provence instead. If you don't like coconut milk, you could use non-fat evaporated milk as a substitute.
Meatless Monday serving suggestion: Serve soup along with some whole grain rustic style bread and a salad. For dessert, try some dried figs along with slices of goat's milk cheese. (My favorite is Drunken Goat from Spain.)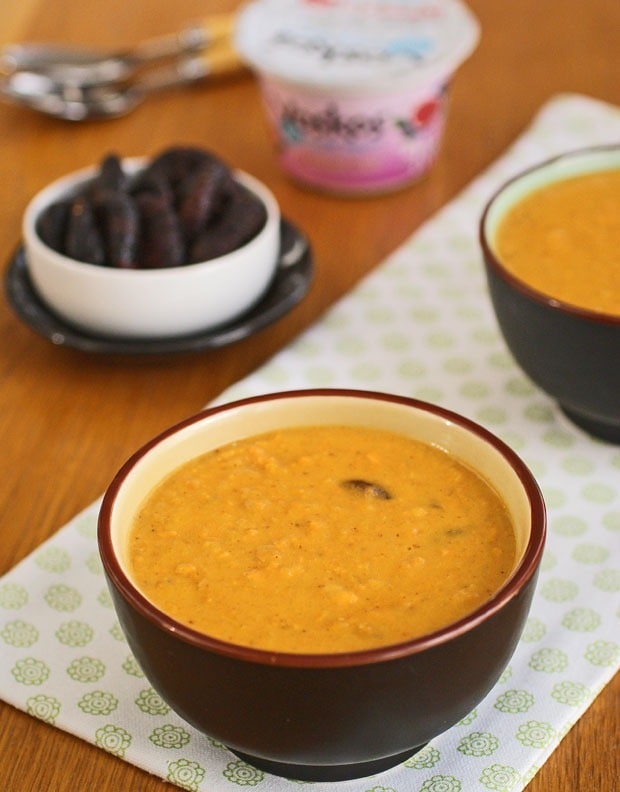 Curried Sweet Potato & Fig Yogurt Soup
Inspired by a recipe from The Yogurt Bible
Ingredients
2 tablespoons

olive oil

1/2

large onion, chopped (about 1 cup)

1 tablespoon

curry powder

2

sweet potatoes, peeled and chopped into 1 inch pieces

1 cup

parsnips, peeled and chopped

3 cups

low sodium vegetable broth

1/4 cup

dried figs, chopped into small pieces

1 teaspoon

sea salt

1 (14 ounce) can

light coconut milk

1 1 (5.3 ounce) container

Voskos Exotic Fig Greek Yogurt
Directions
In a large saucepan, heat olive oil over medium heat. Add onion and curry powder and cook for 5 minutes, stirring occasionally, until onion begins to be translucent.
Add sweet potatoes and parsnips to the pot. Stirring constantly, cook for another 5 minutes.
Add vegetable broth to the pot and increase the heat to medium high. Cover and bring to a boil.
Reduce heat and simmer with lid on, stirring occasionally, for 15 minutes.
Add figs and salt to the saucepan and cook for 5 minutes or until all vegetables are soft.
Remove saucepan from heat. Using a potato masher, roughly mash the vegetables. (If you want a smoother soup, use an immersion hand blender.)
Stir in coconut milk and Greek yogurt.
Return saucepan to stove on medium heat and heat soup through. Do NOT let the soup boil!
Serve and enjoy!
Servings
:
Makes 4 to 6 servings
Serving size:

1/4 to 1/6 of recipe
_____________________________
Disclosure: I was sent product samples and was compensated by Voskos for recipe development and photography. All opinions and experiences are my own.
Amazon links are affiliate links. A commission may be earned from a referred sale to their website.