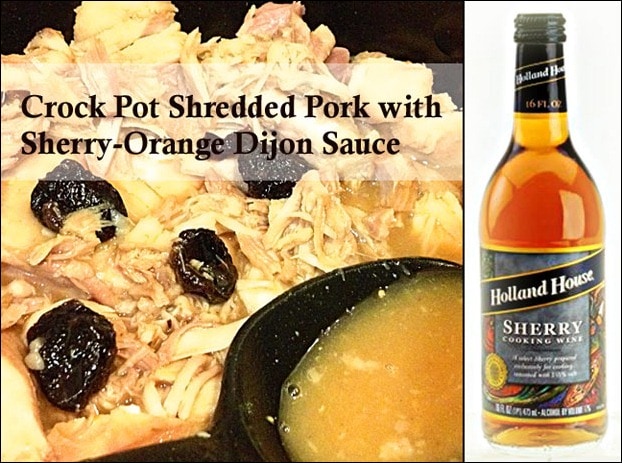 Do you have a favorite crock pot shredded pork recipe? I bet that you make it with barbecue sauce! How about slow cooking some shredded pork with a Sherry-Orange Dijon Sauce with Holland House Sherry Cooking Wine instead? I made this for Christmas dinner and served it over brown rice – delicious! I loved combining the pork with the dried cherries, though you could use dried cranberries, golden raisins or even dried plums. It's an elegant twist on an old favorite and very easy to make any night of the week.
Serve the shredded pork over brown rice or quinoa. Or buy some whole wheat or gluten free buns and make sliders for your next football watching party!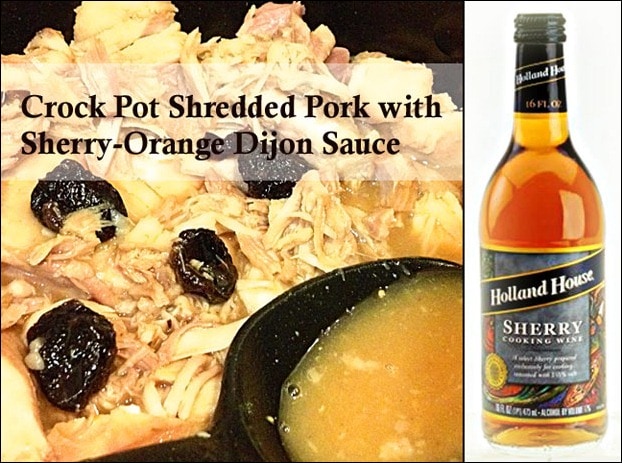 Ingredients
1 (2 pound)

pork tenderloin

1 1/2 cups

ham stock*

2 tablespoons

Holland House Sherry Cooking Wine

1/2 cup

amber or raw agave nectar

1 tablespoon

cornstarch

2

whole cloves

dash

ground nutmeg

2 tablespoons

Dijon-style mustard

1/2 cup

Holland House Sherry Cooking Wine

1/2 cup

orange juice

1/3 cup

golden raisins or dried cherries

1 teaspoon

grated orange peel
Directions
For Shredded Pork:
Place pork tenderloin in the slow cooker.
Combine the ham stock and Holland House Sherry Cooking Wine and pour over the meat.
Cover and cook on low until well cooked and the pork shreds easily with a fork – about 6 to 7 hours depending on your crock pot.
Drain well and pour the Sherry-Orange Dijon Sauce over the shredded pork.
Stir and serve.
For Sherry-Orange Dijon Sauce:
Combine agave nectar , cornstarch, cloves and nutmeg in a 1-quart saucepan.
Whisk in mustard, sherry cooking wine and orange juice until well blended.
Add dried cherries.
Cook sauce over medium-high heat, stirring frequently, until mixture boils.
Reduce heat and boil gently 3 to 5 minutes.
Total Time:
6 Hours 15 Minutes
Servings
:
6 to 8 servings
Serving size:

1/6 to 1/8 of recipe
*Note: you can find my method of making ham stock at the end of my recipe for Tangy Collard Greens. If you're pressed for time, you can use vegetable or chicken stock instead.
Save money with Holland House
You can download a coupon for 50 cents off your next purchase of Holland House cooking wine here. Also, for more recipes using Holland House, sign up for Mizkan's Splash for Cash e-newsletter for a chance to win up to $600. (Mizkan is Holland House's parent company.) Finally you can connect with Holland House on Facebook.
_____________________
Disclosure: Mizkan, the parent company of Holland House, provided compensation for this post. All opinions and experiences are my own.