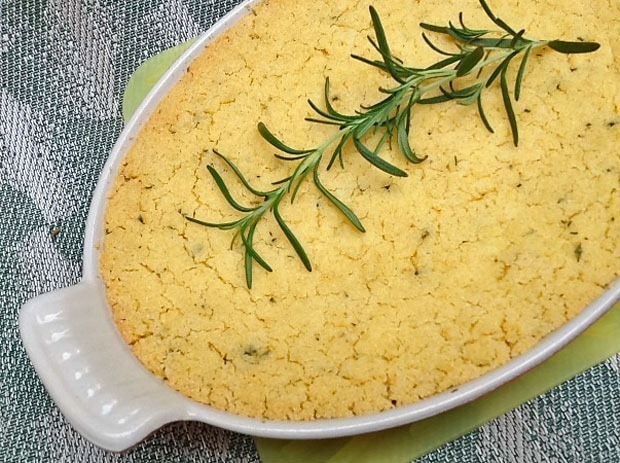 I know that the Thanksgiving holiday is especially hard for anyone who's gluten free, has food sensitivities or allergies, or is just trying to eat healthy since everything seems to have wheat flour, cream, sugar, butter and nuts.
It's why I'd like to share a recipe I got from Simply Soy, a wonderful cookbook put together by the Soyfoods Council. It was given to me earlier this year when they invited me to Iowa to learn about soybean production and the benefits of soy in your diet.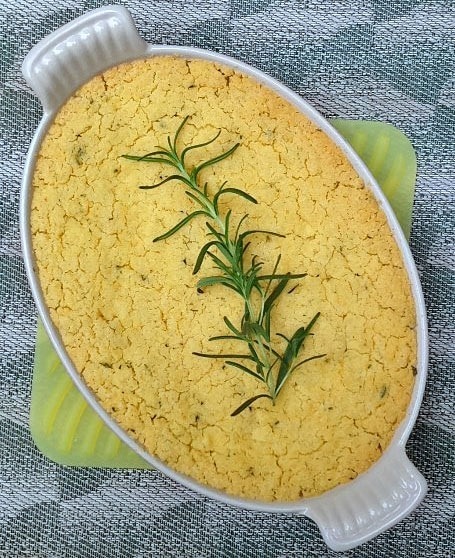 Planning a Southern Thanksgiving with cornbread dressing
I'm making a southern-style Thanksgiving as it's our first year living in Georgia. To me, nothing is more southern than cornbread dressing with the turkey, so I'll be making Bon Appetit's Cornbread, Sausage, and Pecan Dressing, but using pine nuts instead of pecans since my daughter's allergic to nuts.
Unfortunately, most cornbread mixes contain wheat flour or "from scratch recipes" contain milk or eggs. Instead, this recipe from Didi Emmons, author of Entertaining for a Veggie Planet, uses tofu to make a dense, moist bread, and I've substituted an all-purpose gluten free baking mix for the flour.
You can make it in any size pan, including an 8-inch square or round cake pan. It's also a great cornbread for vegans as it contains no butter, is dairy free and is had no eggs as well.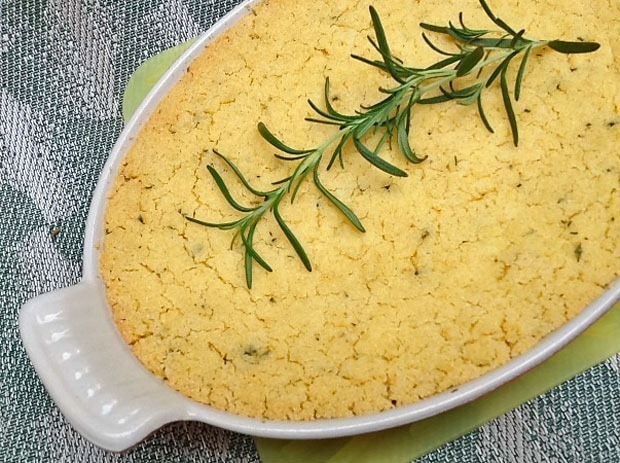 Ingredients
1 cup

cornmeal

3/4 cup

all-purpose gluten free baking mix

1 1/2 teaspoons

baking powder (gluten free)

1 teaspoon

salt

1 teaspoon

minced fresh or dried rosemary, optional

8 ounces

firm water-packed tofu, drained

5 1/2 tablespoons

canola oil
Directions
Preheat oven to 350 degrees. Spray or oil a 9×5–inch loaf pan.
In a large bowl, combine the cornmeal, all-purpose gluten free baking mix, baking powder, salt, and rosemary. Mix well.
In another bowl, squeeze the tofu through your hands until it is the consistency of scrambled eggs. Stir in the oil and 1 cup water. Add this to the dry ingredients and stir just until moistened. (The batter will be very dry.)
Spoon the batter into the prepared pan, and bake until a knife inserted comes out clean, about 45 – 50 minutes.
Cool in the pan for about 10 minutes, then rap the pan sharply to remove the bread, and cool the bread on a rack for at least another 20 minutes before slicing.
Total Time:
1 Hour 10 Minutes
Servings
:
Makes 12 slices