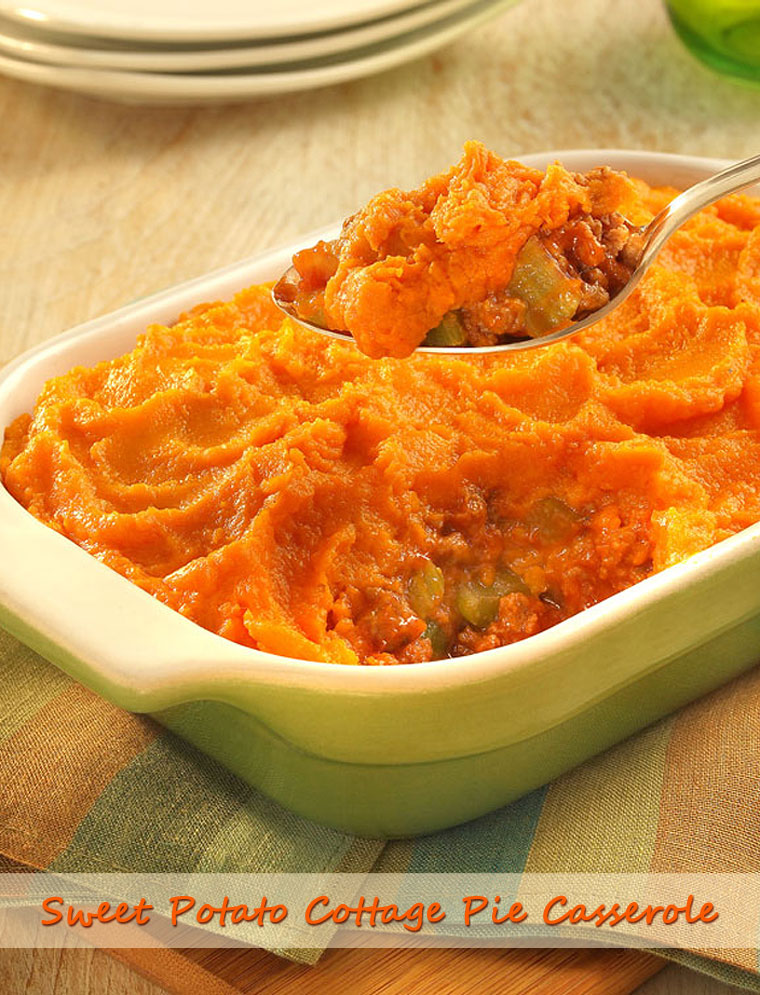 Did you take advantage of the holiday sales on sweet potatoes and buy too many for the Thanksgiving feast? Or are you like me and always have sweet potatoes around to whip up a quick side dish of mashed sweet potatoes or roasted vegetables? Sweet potatoes aren't just for Thanksgiving you know!
Either way, if you have leftover sweet potatoes, try this recipe for Sweet Potato Cottage Pie from North Carolina Sweet Potatoes. It's a healthy take on Shepard's Pie. You could also used ground venison or turkey to make this recipe even healthier! To make this recipe dairy free, use an alternative milk and a dairy free buttery spread.
Sweet potatoes pack a nutritional punch!
Vision: Sweet potatoes are great for your vision because they are rich in Vitamin A
Cancer fighting: Sweet potatoes are a cancer fighting food due to it's Vitamin A and C, both powerful antioxidants that works to remove free radicals (chemicals that damage cells) in the body
Digestion: Sweet potatoes are a good source of fiber which promotes healthy digestion and prevents colon cancer.
Diabetic-friendly: Sweet potatoes are great for diabetics because they help stabilize blood sugar levels and are low on the glycemic index
Energizing: Sweet potatoes are a rich source of energy due to it's supply of complex carbohydrates
Anti-inflammatory: Vitamins A and C are anti-inflammatory nutrients, making sweet potatoes an excellent food choice for those suffering from arthritis or asthma
You can find more sweet potato recipes at North Carolina Sweet Potatoes' website. Or you can connect with them on Twitter @Sweet_Taters, Facebook or Pinterest.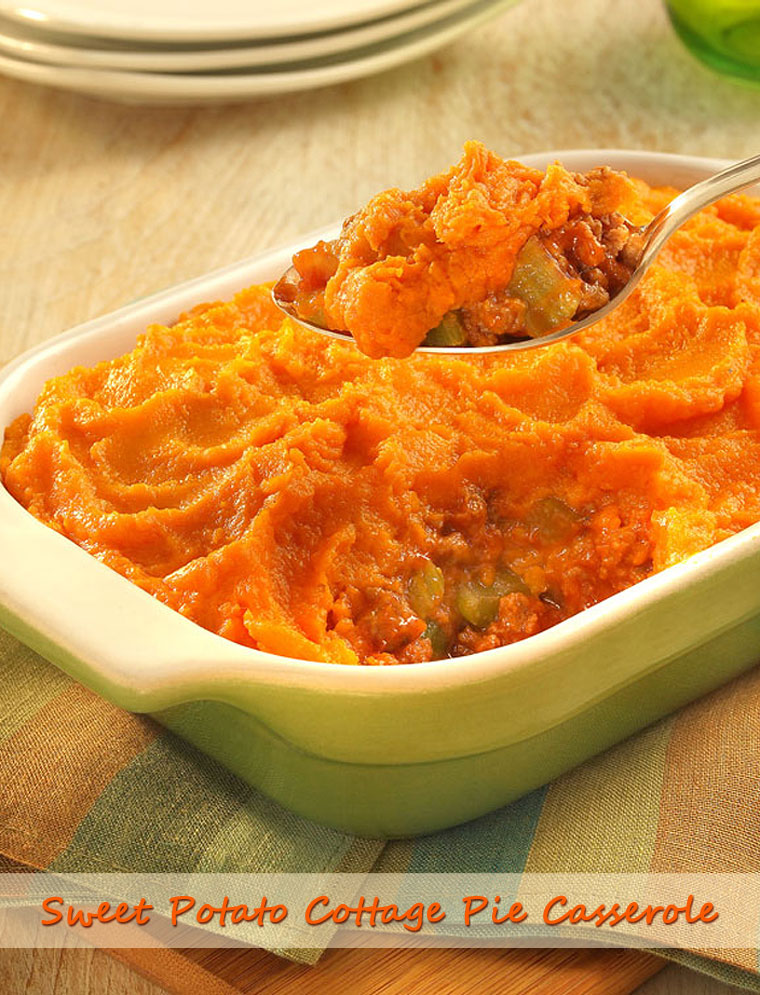 Sweet Potato Cottage Pie Casserole
Ingredients
1 1/2 pounds

sweet potatoes (about 2 large)

1 tablespoon

olive oil

1 cup

chopped onion

1/4 cup

chopped celery

1 teaspoon

finely chopped garlic (1 large clove)

1 pound

ground beef, 90% lean

1 can (15 ounces)

tomato sauce

1 tablespoon

Worcestershire sauce

1 1/2 teaspoons

fresh thyme or 1/2 teaspoon dried thyme or herbes de Provence, divided

1/2 teaspoon

salt, divided

1/2 teaspoon

ground black pepper

2 tablespoons

butter

1 tablespoon

milk
Directions
Preheat oven to 350°F.
Oil a 6 to 8 cup shallow baking dish.
Pierce sweet potato skins; microwave until tender, about 4 to 6 minutes; cool.
In large skillet, heat oil over medium heat. Add onion and celery; cook and stir until tender, about 5 minutes.
Add garlic; cook and stir 1 minute.
Add beef; cook and stir until it just begins to brown.
Stir in tomato sauce, Worcestershire, 1 teaspoon of the thyme and 1/4 teaspoon of the salt and pepper; bring to a boil.
Transfer to baking dish; spread evenly. Scoop sweet potato from skins into medium bowl; add butter, milk, remaining 1/2 teaspoon thyme and 1/4 teaspoon each salt and pepper.
With electric beater, beat until smooth; spread over meat in baking dish.
Bake until bubbly, about 20 to 25 minutes.
Total Time:
1 Hour 15 Minutes
Serving size:

1/4 of recipe
Picture and recipe courtesy of South Carolina Sweet Potatoes and used with permission.