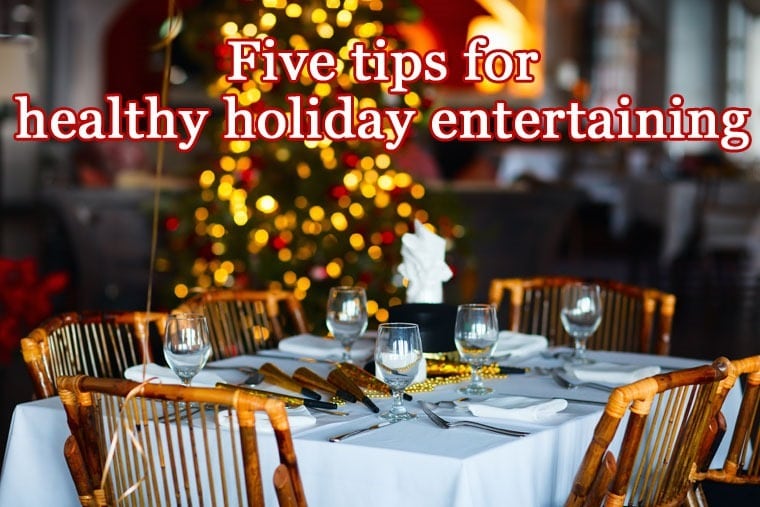 Pile on the veggies – Sure everyone serves crudities, but why not make them extra special? Serve veggies and low fat dips. Or you can lay out a spread of healthy salad fixings as well as a variety of fruit, roasted vegetable, and pasta salads.
Lean meats, healthy soups and whole grain breads – Forgo the roast beef and ham and serve up turkey or chicken instead. Or consider having a serve yourself healthy soup bar. Another way to health up your party food is to serve whole grains like quinoa, whole wheat bread, and brown rice in your main dishes and sides.
Provide healthy beverages – Try serving up healthy choices like sparkling fruit juices and seltzer with slices of limes and pomegranate arils. Coffee and tea are also healthier choices, especially if you serve them with natural, no calorie sweeteners like stevia and skim milk.
A fun entertaining idea would be to have to go cups of specially brewed coffee prepared for your guests as they leave the party. You could use disposable cups or find some nice to go cups to give as holiday party favors.
Mini desserts – A party isn't much fun without a sweet treat. But instead of serving up big slices of pie or cake, why not try serving smaller portions in shot glasses? These are called "dessert shooters" and I've seen everything from chocolate mousse to key lime pie done in cute little shot glasses.
Get your grove on – Parties aren't all about eating! Provide music for dancing, a karaoke machine for singing, or get everyone playing an activity video game like Dance Party. If the weather's mild in your neck of the woods, you can go outside and play bocce ball or take a walk after the main course.
How do keep your holidays healthy?>