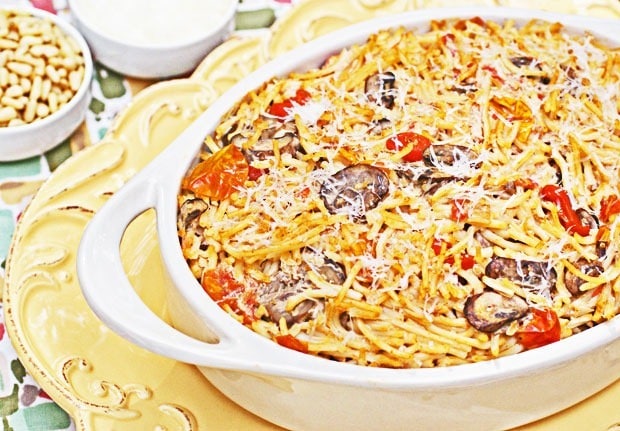 The folks at Heartland Gluten Free Pasta asked me to create a original recipe using their spaghetti. While I had seen their gluten free and Hidden Vegetable pasta in the store, I had never tried it out. Well, I'm so glad I did because their gluten free pasta is the closest thing I've come to regular pasta. It tastes great, has a good texture (not gritty or gooey) and cooks up al dente just as easily as a wheat pasta. It also has a lovely butter yellow color to it, which inspired me to combine it with the reds and yellows of cherry tomatoes, the browns of mushrooms and the flavors of a creamy basil sauce.
You can save time on this dish by using pre-sliced mushrooms and store bought pesto sauce. Feel free to substitute my Tofu Sour Cream or no fat Greek yogurt, for the low fat sour cream. Finally, while it's baking, set the table, clean up and pour yourself a glass of wine!
You can learn more about Heatland's gluten free as well as conventional pastas on their website at heartlandpasta.com. You can also connect with them on Facebook and Twitter @HeartlandPasta.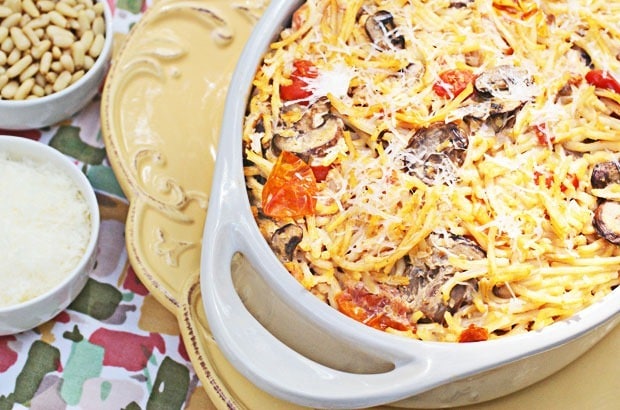 Mushroom, Tomato & Pesto Spaghetti Casserole
Makes 6 to 8 servings
Ingredients:
1 package Heartland Gluten Free Spaghetti
10 ounces baby bella mushrooms, sliced
16 ounces cherry tomatoes, halved
1 tablespoon olive oil
1 cup low fat sour cream
2 to 4 tablespoons of pesto (to taste)
Juice from half a lemon
1/2 cup grated Parmesan cheese, plus more for serving
Pine nuts (optional)
Directions:
Set oven to warm setting (around 150-180 degrees F).
Prepare Heartland Gluten Free Spaghetti per package directions until al dente. Drain, rinse and pour spaghetti back into spaghetti pot. Set aside.
While spaghetti is cooking, heat a large sauté pan over medium heat.
Add oil, then mushrooms and sliced cherry tomatoes to pan. Sauté over medium heat until mushrooms and tomatoes are soft – about 10-12 minutes.
Add sour cream, pesto and lemon juice to pan and stir to combine ingredients. Turn off heat.
Pour sour cream, pesto and vegetable over cooked spaghetti. Toss gently to evenly distribute sauce.
Place spaghetti and sauce mixture into an oven safe casserole dish. Liberally sprinkle grated Parmesan cheese on top of spaghetti.
Place casserole dish in oven for 15-20 minutes or until top is golden brown and slightly crusty.
Serve with grated Parmesan cheese.
Optionally for those who like a little crunch, serve with a side dish of pine nuts so each dinner guest can add a few to their pasta.
Enjoy!
___________________________
Disclosure: I was compensated by Heartland for recipe development, photography and posting. All opinions and experiences are my own.