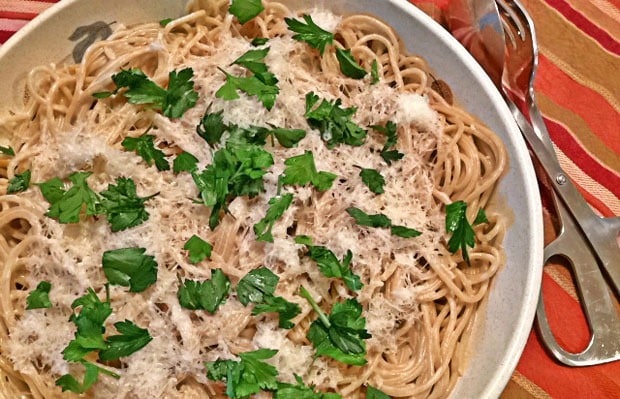 It's not often that I try a new recipe and have my husband, Paul, tell me, "Hun, this is one of my favorite things you make." So needless to stay, this month's food blogger recipe challenge from Jen at Jen's Journey will be a dinner time staple at our house from now on. He loved. I loved it. The kids thought it was OK, but it disappeared off their plates. So I bet they loved it, too.
Making Lemon Pasta dairy free and gluten free
Jen's recipe for Lemon Pasta is based on a Baked Lemon Pasta recipe from the Pioneer Woman. I've further modified it by substituting a tofu sour cream for the regular sour cream since I can't eat dairy products, with the exception of cheese, because of my whey food sensitivity. (My recipe Tofu Sour Cream is based on this recipe from the Vegan Epicurean. Here's my version of the Tofu Sour Cream recipe.) If you need to avoid cheese, you can use vegan Parmesan sprinkles or skip the Parmesan altogether.
If you can have dairy, you can health up the Lemon Pasta by using a low fat sour cream or non-fat Greek yogurt. I also cooked this with a buttery spread to further lower the saturated fat. I used I Can't Believe It's Not Butter Light, but Earth's Balance spreads are very good and vegan to boot. I like both brands and go back and forth depending on where I'm shopping and what's on sale. (Note: ICBINB is not vegan as it contains a little bit of milk.)
As for pasta, I used whole wheat, but gluten free brown rice pasta would work well, too. Variation wise, I'm wondering if capers would be good in this, since capers and lemon work well together in dishes like Chicken Piccata. Or maybe some sliced black olives. Hmmmm, maybe next time!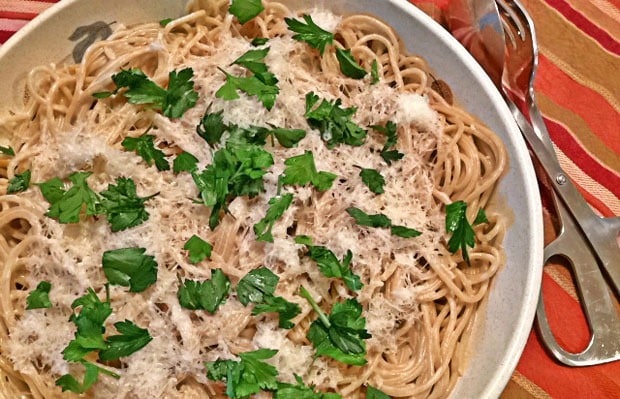 Ingredients
1 box

spaghetti

4 tablespoons

buttery spread

2 tablespoons

olive oil

2

cloves garlic, minced

1

lemon, juiced and zested

2 cups

sour cream, vegan sour cream or non-fat Greek yogurt

1/2 teaspoon

kosher salt

1/3 cup

freshly grated Parmesan cheese, plus extra for serving

Flat-leaf parsley, chopped – to taste for garnish, plus extra for serving
Directions
Cook spaghetti al dente in salted water. Drain, rinse, and place spaghetti back in pot. Place lid on pot to keep spaghetti warm and set aside.
Juice one lemon into a bowl. Strain to remove pulp and seeds.
In a skillet, melt butter with olive oil over medium low heat. When butter is melted, add minced garlic and lemon juice. Turn off heat.
Add your sour cream (or sour cream substitute) to the butter and oil mixture. Add lemon zest and salt. Stir everything together and taste. Add more salt if necessary.
Pour sour cream mixture over drained spaghetti and toss. If the sauce is too thick, add a splash of water or milk.
Place spaghetti in a large serving bowl and then sprinkle with Parmesan cheese and parsley.
Serve with extra grated cheese and parsley on the side.
Serving size:

1/4 of recipe