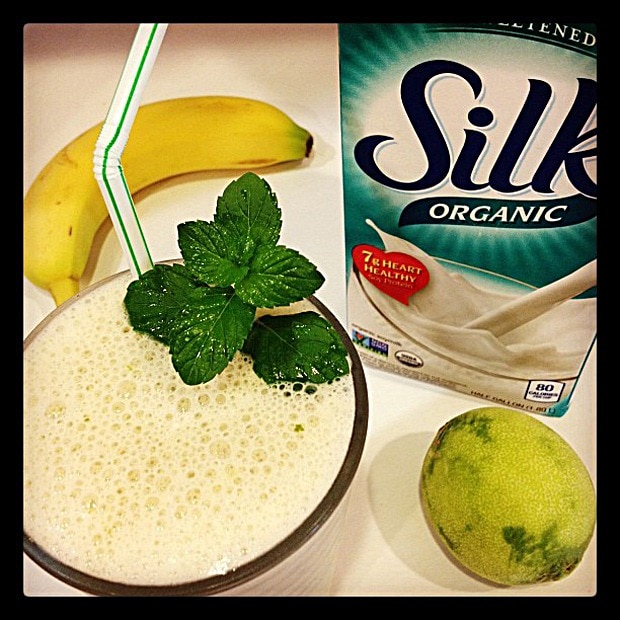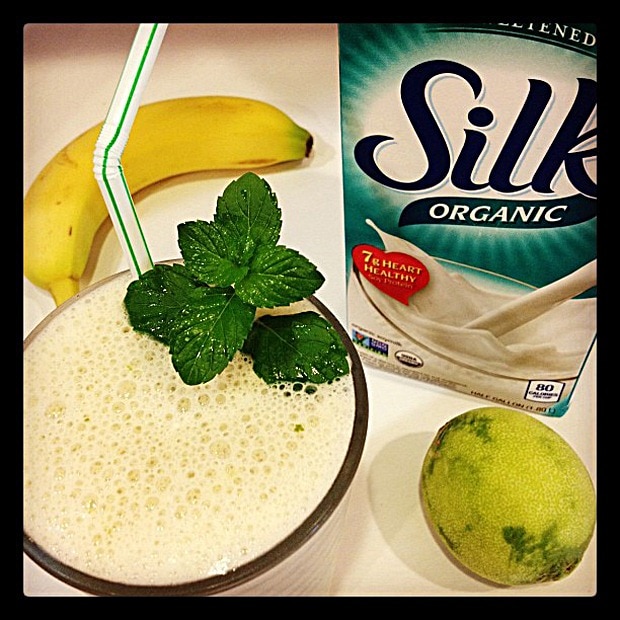 At your next party, why not forgo the age old question, "Beer or wine?" and ask, "Coconut, almond or soy?" That's the idea behind the Silkology Facebook page from the folks at Silk soymilk. They've worked with award-winning mixologist, Bryan Dayton, to create some fabulous mocktails and cocktails using Silk's almond, soy and coconut milks.
It could be a lot of fun or setting up a DIY bar at your party, setting out various ingredients, and printing out Bryan's Silkology recipes(both the mock and the cocktails) for your guests to try. Or recruit a few friends to serve as bar tenders, no previous experience required since the Silkology recipes are very easy to follow!  These drinks would make great luau mocktails or cocktails, and should be a hit considering that people are on the lookout for healthy indulgences when they go out or entertain at home.
The Silkology Banana Mint Slush
I liked Bryan's recipe for Banana Mint Slush since it's made from things I usually have in my kitchen like bananas and lime, plus mint from the garden. I had it as a morning smoothie – refreshing, delicious and super healthy since Silk soymilk has as much calcium and Vitamin D as regular milk. However, having it as a cocktail (at dinner time, of course!) with a jiggerful of good tequila would be sublime, don't you think? I'd like to try this with orange zest instead of lime, too. Wonder what it would taste like with basil instead of mint? Hmmm…
I used Silk Organic soymilk, which is unsweetened. The banana made the drink sweet enough for me, but you may want to add a dash of stevia, honey or agave nectar if you're using any of Silk's unsweetened soy or coconut milks. Also, because of the added ice, it makes a huge drink. So if you're serving Banana Mint Slush at a party, invest in some big pint glasses!
Banana Mint Slush 
Ingredients:
1 cup Silk® soymilk, almond milk or coconut milk, any flavor except chocolate
1 banana
6 mint leaves
Zest of 1 lime
6 ice cubes
Directions:
Combine all ingredients in a blender. Blend until smooth.
Garnish with mint and lime.
Why I like Silk's soymilk and coconut milk
I'm a big fan of Silk's unsweetened soy and coconut milks. (I don't drink almond milk, because I have a child with a nut allergy. We try not to have nuts in the house.) Silk's entire beverage portfolio is certified by the
Non-GMO Project's Product Verification Program, a system designed to test whether a product has met defined standards for the presence of GMOs through third party verification and rigorous traceability, segregation and testing standards.
Also, Silk Soymilk is made from 100 percent North American-grown soybeans and lets consumers trace the origin of the soybeans used in all Silk products at silksoymilk.com/traceit. In addition, Silk's educational website, soynutrition.com, also serves as a resource for health care professionals and consumers, providing facts on soy science and soy nutrition. The site works in tandem with and contains content provided by
members of Silk's Scientific Advisory Board, a panel of industry-leading physicians and nutrition scientists that provide insight and analysis on the latest in soy science research and news, as well as the Silk Nutrition team, an in-house expert panel.
Win a Silkology Prize Package
Silk inspired me to think outside of the glass with their new Silkology-inspired drink recipes. Tell me something new you want to try this summer when entertaining to win a Silkology Prize Package, includes "Silk for a Year" (24 certificates for a free half gallon – a $4.99 value each) and an entertaining drink set (pitcher, stirrer, shaker, tray and glassware)!
This is a sponsored conversation written by me on behalf of Silk. The opinions and text are all mine. Official Sweepstakes Rules.