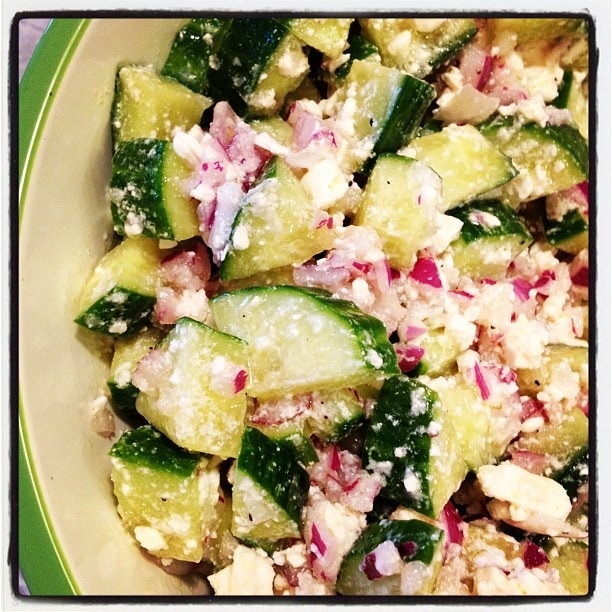 I've always used NAKANO Rice Vinegar to make sushi rice. However, now that I've become more familiar with their products, I use their rice vinegar in any recipe that calls for other types of vinegars. For example, this summer, we've been making a lot of salads, so I've been making salad dressing with NAKANO Rice Vinegar (instead of red wine vinegar), olive oil and some garden seasoning spices. Also, now that I live in the South, use Nakano's flavored rice vinegars (like their Red Pepper Seasoned Rice Vinegar) on sautéed greens. I even used NAKANO to season a new crystal wine carafe recently!
One of my family's favorite summer salads is based on one I used to make years ago from a recipe I found in Bon Appetit
back in the early '90s. We even used cucumbers from the neighbor's garden!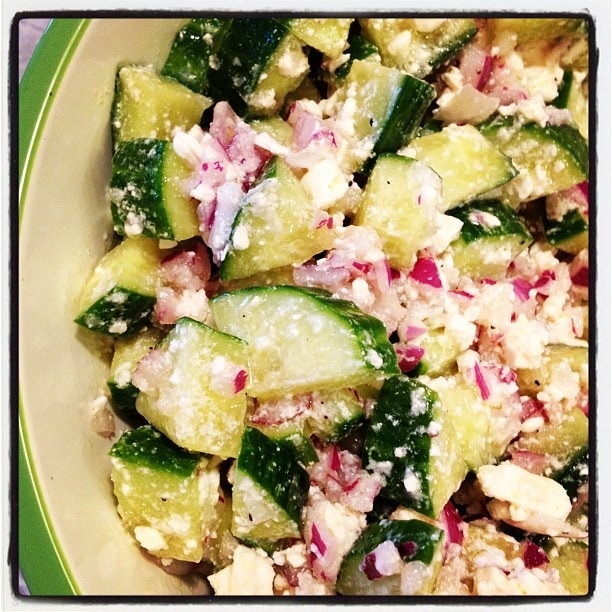 Cucumber, Feta and Red Onion Salad
Ingredients
3

cucumbers, seeded and diced (you can leave the peels on if you wish)

6 ounces

low or no fat feta, crumbled

1

red onion, diced

1/4 cup

olive oil

2 tablespoons

NAKANO Rice Vinegar (Natural, Original Seasoned, Basil & Oregano Seasoned or Roasted Garlic Seasoned)

Salt and pepper, to taste
Directions
Combine cucumbers, feta and onion in a large bowl.
Add olive oil and NAKANO Rice Vinegar and gently mix ingredients.
Season with salt and pepper to taste. Chill until it's time to serve.
Check out the NAKANO website for more recipes!
Nakano 60-Day SPLASH IT ON, STEP IT UP CHALLENGE
Nakano is holding a  60-Day Splash it on, Step it up Challenge on Facebook to encourage their fans to to make healthy lifestyle choices such as eating more vegetables and being more active. Check it out for fun and helpful fitness tips and health features such as a step tracker wrapping around a globe that show you the number of steps you've walked.
They're also offering prizes such as a one-year free gym membership for the first prize winner. (The second prize winner receives six personal training sessions and third prize winner will receive a Nakano workout bag!)
You can also sign up for Mizkan's enewsletter to be eligible for their Splash for Cash giveaway  - a chance to win $150! (Mizkan is the parent company of NAKANO.) Even if you don't win, you'll get a terrific enewsletter filled with tips and recipes. I signed up for it months ago and really like it.
Finally, you can connect with NAKANO on Facebook and Twitter.
How do you use vinegar in your cooking?
__________________
Disclosure: I wrote this review while participating in a campaign by Mom Central Consulting on behalf of NAKANO and received a product sample to facilitate my review and a promotional item to thank me for participating.
Amazon links are affiliate links. A commission may be earned from a referred sale to their website.