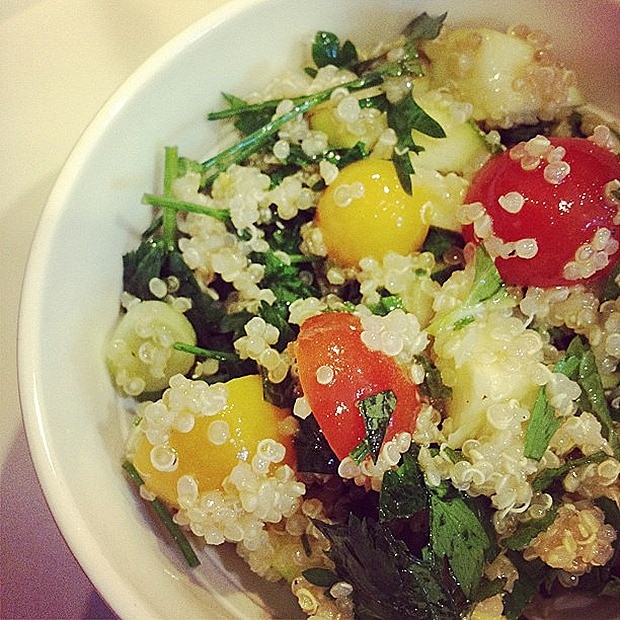 One of the ways I love saving time in the kitchen, especially in the summer months when it's too hot to cook, is by grilling and making a salad as a side dish. One of my new favorites is this Quinoa Tabbouleh recipe I found in the June 2012 issue of Bon Appetit magazine. Quinoa is a favorite grain (it's actually a seed) with folks who are gluten free, vegetarian or vegan because it's a complete protein and contains no gluten. Due to its protein content, you could serve this as a main dish, too.
My family loved this salad, especially my son and husband. I made a few substitutes like using mini heirloom tomatoes from Trader Joe's instead of cherry tomatoes and zucchini instead of cucumbers due to my food sensitivities. Play around with the recipe on your own. For example, try cilantro instead of parsley, summer squash instead of cucumbers, and dill instead of mint. Make a double batch so you have leftovers for lunch, too.
_______________________________________________________________________________________________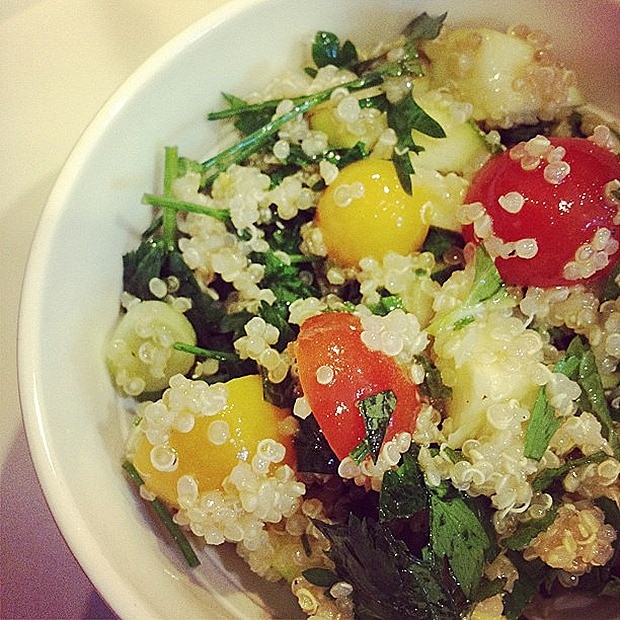 Ingredients
1 cup

quinoa, rinsed well

1/2 teaspoon

kosher salt, plus more

2 tablespoons

lemon juice

1

garlic clove, minced

1/2 cup

extra-virgin olive oil

Ground black pepper

1

large zucchini cut into 1/4-inch pieces

1 (16 ounce) container

mini heirloom tomatoes

2/3 cup

flat-leaf parsley, chopped

1/2 cup

fresh mint, chopped

2

scallions, thinly sliced
Directions
Follow the directions on your box or bag of quinoa to cook up 1 cup. I used Bob's Red Mill Organic Grain Quinoa, which has you bring quinoa, 1/2 teaspoon salt, and 1 cup water to a boil in a medium saucepan over high heat. Then you reduce heat to low, cover, and simmer until quinoa is tender, about 12 minutes. Remove from heat and let stand, covered, for 10 minutes. Fluff with a fork.
Meanwhile, whisk lemon juice and garlic in a small bowl. Gradually whisk in olive oil. Season dressing to taste with salt and pepper.
Spread out quinoa on a large rimmed baking sheet. Place in freezer for 10-15 minutes to let cool. Transfer to a large bowl.
Add zucchini, tomatoes, herbs, and scallions to bowl with quinoa. Add dressing and toss to coat.
Serving size:

1/6 of recipe

Calories:

290

Total Fat:

21g

Saturated fat:

3g

Unsaturated fat:

18g

Sodium:

170mg

Total Carbohydrates:

24g

Sugar:

2g

Fiber:

3g

Protein:

5g

Cholesterol:

0mg
Saving time in the kitchen
Having quality appliances is another way you can save time in the kitchen. Believe me, I'm suffering this now in our new home with a horrible 20-year-old stove top with only two burners.
Speaking of time saving, Electrolux induction cooktops and ranges combine the power of gas with the easy clean-up of electric, so you can boil water in just 90 seconds!1 An induction stove top is on my wish list when we do our kitchen remodel. Don't know what they are? Then watch this video from Electrolux:
Cool, right?
What other ways can having the right appliances help you save time in the kitchen? 

110" induction burner with Power Boost, 6 qt./10" diameter pot, 1 qt. tepid water
_____________________
Disclosure: I was compensated for this post as a member of Clever Girls Collective. All the opinions expressed here are my own.