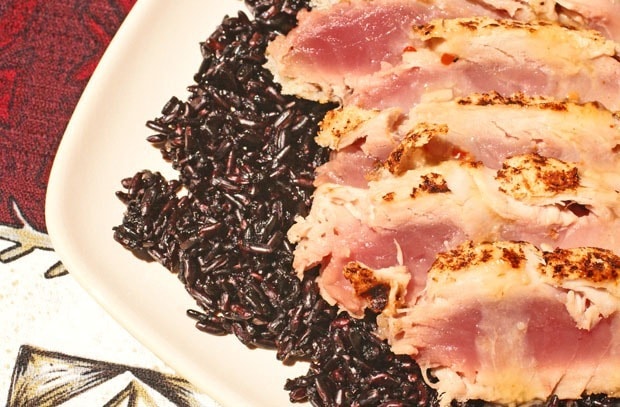 It's been over a month since I've been back from Hawaii. I still miss the food, especially the fish dishes. I bought two wonderful cookbooks to see if I could replicate some of the recipes, but so many Hawaiian ingredients aren't available on the mainland or the dishes were too complicated for a quick weekday meal.
Instead, I've been using marinades to help give me the taste of Hawaii without all the hassle. I've used World Harbors' Island Mango and the Maui Mountain Sweet and Sour marinades when I've made Seared Panko Encrusted Tuna on Black Rice. They're super easy to use and you can boil the marinade afterwards to create a dipping or drizzling sauce.
All you need to do is marinade your tuna overnight or first thing in the morning before you leave from work. That evening, roll the marinated tuna steaks in panko Japanese-style breadcrumbs, grill and serve over rice. I used black rice, which I get at Costco, but you can use brown rice. Easy, quick, healthy and delicious!
If you're gluten free, you can make bread crumbs from gluten free bread. Or be on the lookout for Kinnikinnick Gluten Free Panko or Aleia's Gluten Free Panko. Toast the bread and chop it finely in a mini-food processor or blender.
World Harbor marinades are not certified as gluten free, so check the label to make sure they're right for you and your food sensitivities. The Island Mango doesn't contain wheat, but the Maui Mountain Sweet and Sour one does.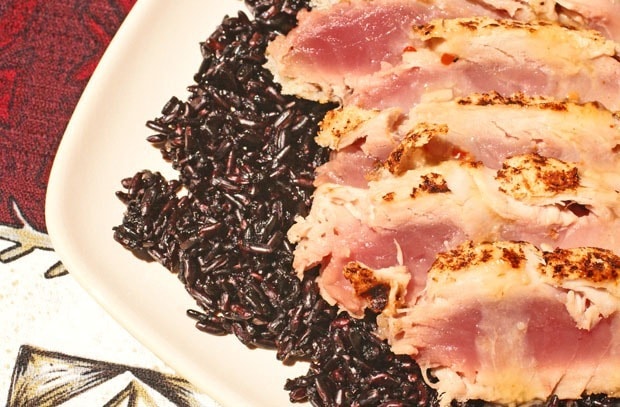 Seared Panko Encrusted Tuna on Black Rice
Ingredients
1 bottle

World Harbors marinade

4 (6 ounce)

tuna steaks

1 cup

black rice, uncooked

1/2 cup

panko (Japanese bread crumbs)
Directions
Place tuna in a zipper lock baggie. Pour in entire bottle of marinade. Place bag in the refrigerator and marinate 5-10 hours or overnight.
Cook rice as directed on package.
Pour panko on to a large plate or cookie sheet.
Remove tuna steaks from marinade and dredge (roll) in panko until covered.
Grill steaks until golden on the outside and rare in the middle.
Slice tuna at an angle and serve over rice.
To use marinade as a dipping or drizzling sauce:
Pour used marinade it into a small sauce pan.
Cook over high heat until marinade is at a rolling boil for 1 to 2 minutes.
Total Time:
12 Hours 15 Minutes
Serving size:

1 (6 ounce) tuna steak)