To close out National Grilled Cheese Month, I've partnered with Horizon Organic and Udi's Gluten Free on a Grilled Cheese Recipe challenge using Udi's Gluten Free breads and Horizon Organic Cheese to make the perfect grilled cheese sandwich recipe.
Inspired by my recent trip to Hawaii, I wanted to incorporate tropical flavors of pineapple, guava, mango and coconut along with Udi's Millet Chia for it's crunchy nutty taste and Horizon Organic's Cheddar Slices. For the tropical flavors I used a variety of fruit spreads and jellies – St. Dalfour Pineapple & Mango, Proud Pepper Jelly Co.'s Hot Pineapple Habanero, and Hawaiian Sun's Guava Jelly.
I wanted to add some greens, so included some interesting veggies I found at my local grocery store – Sprouts Extraordinaire's Zesty Sprouts (Sweet Clover & Radish") and Paradise Farms' "Baby" Sunflower Greens. The sprouts were sweet and crunchy, while the baby sunflower greens were slightly bitter and crunchy.
Now I realize that some of these products may be hard to find in your area, so feel free to substitute any kind of tropical fruit jam or jelly for the ones I used, and whatever type of sprouts or  baby greens you have available in your grocery store. Many of these products can be found online or at places like Whole Foods or Trader Joe's, too.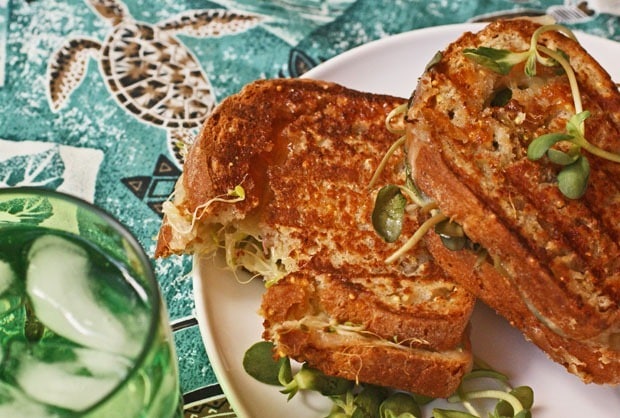 How do you cook up your grilled cheese sandwich?
Usually I make grilled cheese on my two burner griddle pan. However, it's in storage until we move into our house in Athens, GA. Luckily, our furnished apartment in Boulder came with a small George Foreman grill. I've been using it to grill steaks, brats and carne asada. It's also perfect for making panini style grill cheese sandwiches in just a few minutes since the grill cooks both sides of the sandwich simultaneously.
Since the George Foreman grill is non-stick, you only need to spread a thin layer of buttery spread on the outside of your grilled cheese sandwich to give it that "greasiness" we all love, but without all the saturated fat of real butter. You could also take cooking spray and apply it to the outside of your grilled cheese sandwich to cut back on a few calories.
In my Tropical Grilled Cheese Sandwich recipe, I use a little bit of Earth Balance's Organic Coconut Spread to give my grilled cheese a tropical flavor. If you can't find Earth Balance's spread, use a thin coating of coconut oil instead.
Tropical Grilled Cheese Sandwich
Ingredients
2 pieces

gluten free bread

Coconut oil or spread

Your favorite tropical fruit spread, jelly or jam such as pineapple, mango or mango

2 slices

Horizon Organic Cheddar Cheese

Sprouts or baby greens
Directions
Heat up griddle pan on stovetop using medium heat.
Place bread on a plate or a cutting board.
Apply a thin layer of coconut oil or spread to each slice. Flip bread over.
Apply a thin layer of your favorite tropical fruit spread to the bread.
Cover one piece of bread with a layer of cheese.
Apply a small handful of sprouts or baby greens on top of the cheese.
Cover with second piece of cheese. Then cover with the second piece of bread, fruit spread side down.
Place sandwich on heated griddle pan. Cook until bread is toasted a light brown and cheese begins to melt.
Flip sandwich and cook until other side is toasted a light brown.
Remove from griddle pan and serve for lunch, dinner or a snack.
Servings
:
Makes 1 sandwich