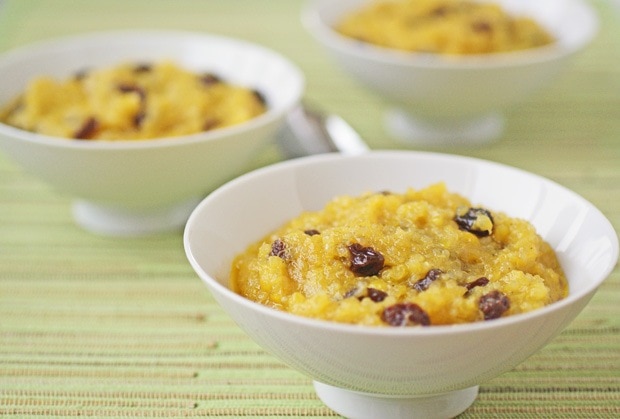 For this month's Secret Recipe Club assignment, I was partnered with Jayasri of Samayalarai – Cooking is Divine. Jayasri's Indian and lives in the UK, and likes to cook up traditional dishes as well as try out Western ones. I had a tough time choosing a recipe because I wanted to cook up an Indian dish but didn't want to use ingredients that would be hard for my readers to find. I also wanted to make something that was healthy and her recipe for Mango - Quinoa Halwa in Microwave seemed to be a good choice on both counts.
Halwa is a sweet Indian dish. It's usually made with lots of ghee (clarified butter) and can be made with carrots, banana, or semolina boiled with milk, almonds, sugar, and cardamom. Jayasri's recipe used quinoa, which is full of healthy, vegetarian protein and is naturally gluten free.
However, I was puzzled by her microwave directions. Obviously, UK and US microwaves are very different! I decided to make my version on the stove top. I also wanted to health things up by using coconut oil for ghee and coconut milk for cow's milk, which turned the recipe into a vegan dish. I eliminated calories by using stevia instead of sugar, and didn't include almonds because of my daughter, Lucie's nut allergies.
When I was researching halwa dishes, I noticed that Mythreyee of Paajaka Recipes used saffron in her Microwave Mango Halwa. Since I had a little bottle in the cupboard, I decided to use that, too.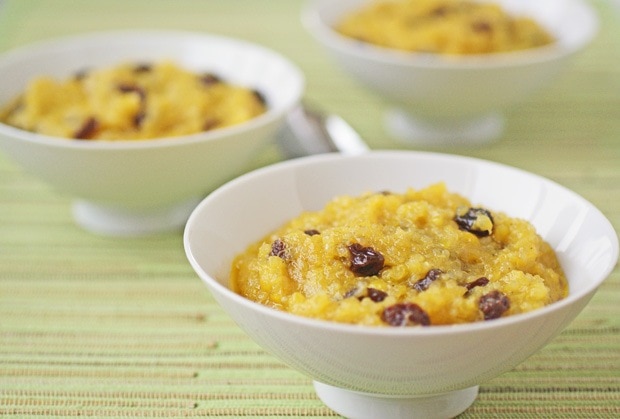 Ingredients
1 cup

mango pulp (2 mangoes), pureed

1 cup

quinoa, cooked

4 tablespoons

light coconut milk

3/4 cup

Stevia in the Raw

1/4 teaspoon

cardamom

3-4

saffron threads (optional)

1/4 cup

coconut oil

1/4 cup

raisins
Directions
Cook quinoa according to package directions.
Cut and peel the mangos and remove the pulp. Puree in a small food processor or blender.
Place pureed mango, cooked quinoa, coconut milk, stevia, cardamom and saffron (if using) in a medium sized sauce pan over medium heat. Stir to blend.
Cook over medium heat, occasionally stirring, until mixture starts to bubble.
Add the coconut oil. Stir to combine.
Continue to cook over medium heat until mixture starts to thicken. This should take 10 to 12 minutes. The halwa should be thick like oatmeal and glossy from the coconut oil.
Add raisins and stir until evenly distributed and heated through.
Dish warm halwa into small bowls and serve immediately.
Calories:

354

Calories from Fat:

178

Total Fat:

19.8g

Saturated fat:

15.3g

Unsaturated fat:

0g

Sodium:

6mg

Total Carbohydrates:

40.8g

Sugar:

12.0g

Fiber:

4.2g

Protein:

6.5g

Cholesterol:

0mg
More from the Secret Recipe Club!