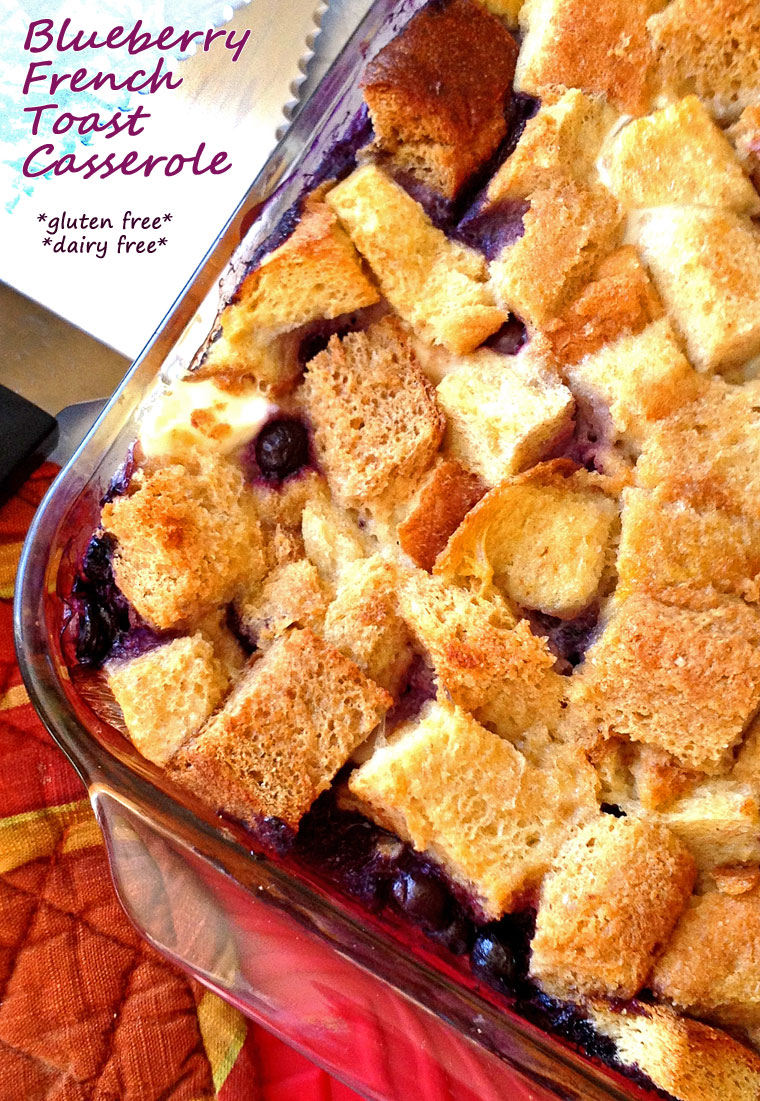 I recently came across a recipe for Overnight Blueberry French Toast with Blueberry Syrup at Real Mom Kitchen. It was a brilliant way to use up all those bread loaf ends I was stuck with. You see, my kids refuse to use the bread ends for sandwiches, so I keep them in the freezer for use in stuffing or bread pudding.
However, Laura's recipe was rather decadent, so how could I health it up? And how could I make sure it would work for people like me who are gluten free or dairy free? So when I came up with my recipe for Blueberry French Toast Casserole, I made a lot of substitutions like egg whites for half of the egg.  Some substitutions I used are optional, like using gluten free bread or whole wheat bread depending on your needs.
If you're dairy free, use a vegan cream cheese and light coconut milk and rice milk instead of whole milk and cream that Laura uses in her recipe. (You can also use soy milk or coconut milk instead of rice milk. I like all three kinds!)
This overnight breakfast casserole was delicious and reminded me of cream cheese stuffed French toast, but without the guilt. Blueberry French Toast Casserole would be a wonderful to serve on Mother's Day or to bring to a breakfast meeting at work.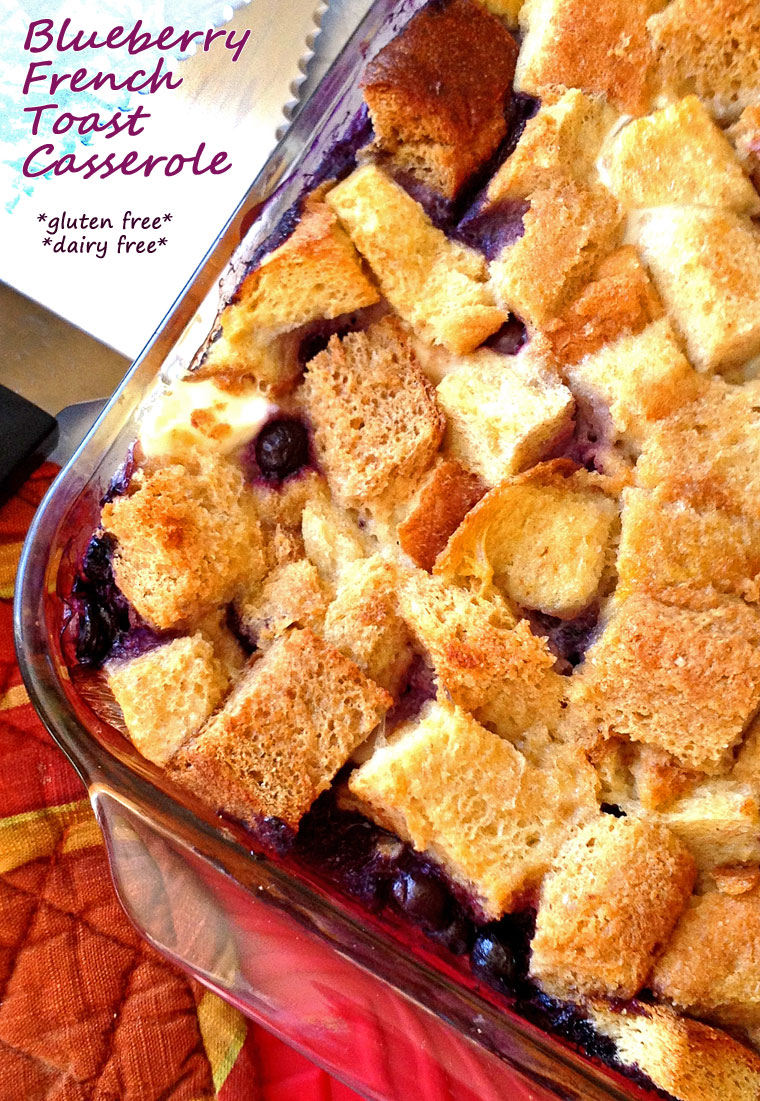 Blueberry French Toast Casserole
Ingredients
14 slices

whole wheat or gluten free bread, cut into 1" cubes

1 (8-ounce) package

vegan cream cheese, cut in cubes

12 ounces

blueberries (fresh or frozen)

6

large eggs

1 cup

liquid egg whites

1/3 cup

agave nectar or real maple syrup

1 can (13.5 ounces)

light coconut milk

3/4 cup

rice milk

Real maple syrup for drizzling
Directions
Arrange 1/2 of the bread cubes in a greased 9 x 13 pan.
Sprinkle cream cheese cubes and blueberries evenly over the bread cubes.
Top with remaining bread cubes.
Mix together eggs, egg whites, coconut and rice milks, and agave nectar/maple syrup
Pour over bread cubes and cover pan with foil. Let chill in refrigerator overnight.
Bake covered with foil at 350 degrees for 30 minutes.
Remove the foil and bake for another 30 minutes or until fluffy and golden.
Drizzle maple syrup over individual pieces when serving.
Total Time:
1 Hour 20 Minutes
Serving size:

1/12 of recipe