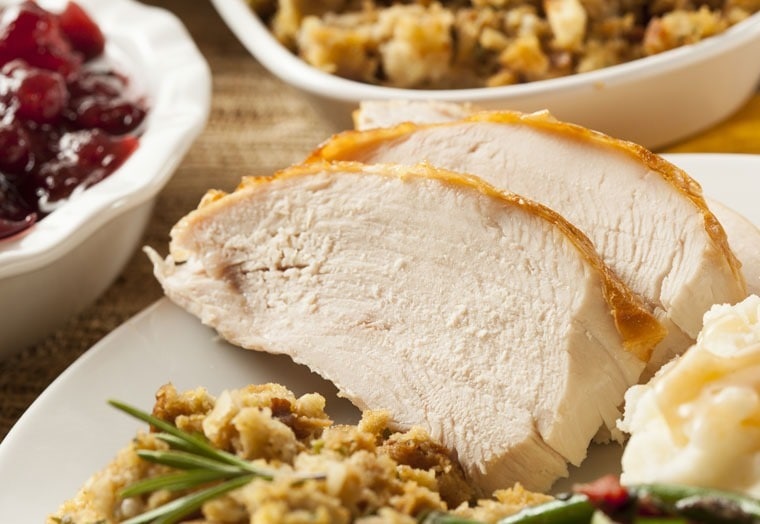 I love planning for Thanksgiving. Every year I buy all the cooking magazines I can find to come up with new recipes for turkey, stuffing, side dishes and dessert. Sometimes I bring new cookbooks into the mix, too. This year I'm doing things a bit differently as I've chosen to find recipes that will use up food I may already have in my pantry, freezer and refrigerator,
Why turkey breast and not a whole turkey?
This year's turkey brining recipe was chosen to use up some of the Dijon mustard that's crowding my refrigerator door. It's based on a Betty Crocker recipe that I found in Recipe.com magazine. With a few tweaks, I've changed the turkey recipe to work with my food sensitivities – agave nectar instead of honey, for example. I'll also be smoking instead of grilling my turkey for optimum yummy goodness.
I decided to make a turkey breast this year instead of a whole turkey on the off chance that it would just be me and the kids at the Thanksgiving table. It wasn't until a week ago that I learned my husband is flying in from his new job in Massachusetts! Also, my mother in law is coming up from Colorado Springs instead of going to see her other son in California. It's a small group, but perfect for the amount of cooking I want to do.
What else is on the Thanksgiving menu?
Along with the turkey breast I'll be slow cooking a spiral cut ham. I'll be making a gluten free version of my Crockery Ham with Beer Glaze recipe using hard cider instead of beer.
I'm also serving:
What are you cooking up for Thanksgiving?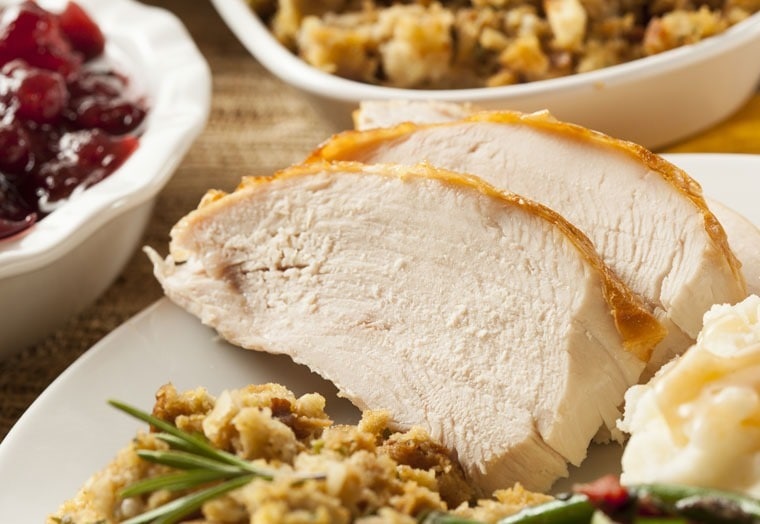 Ingredients
11 cups

cold water

1 cup

agave nectar

1/2 cup

Dijon mustard

1/3 cup

kosher salt

1

bone-in whole turkey breast (5 to 6 pounds), thawed if frozen

3 tablespoons

olive or vegetable oil

1 teaspoon

dried marjoram leaves

1 teaspoon

ground mustard

3/4 teaspoon

garlic power

1/4 teaspoon

pepper
Directions
In 6-quart container or stockpot, stir water, agave nectar, Dijon mustard and salt until honey and salt are dissolved. Add turkey breast to brine mixture. Cover.
Refrigerate at least 12 hours but no longer than 24 hours.
Heat smoker to 225 -240 degrees F and be sure to have enough smoking wood to keep the smoke going for about 4 hours or so. (Smoking-Meat.com recommends 3 hours of cherry and 1 hour of pecan wood for optimum flavor.)
Remove turkey from brine mixture. Rinse thoroughly under cool running water and pat dry. Discard brine.
In small bowl, mix olive oil, dried marjoram, ground mustard, and pepper. Brush over turkey.
Place the turkey directly on the grate breast side up. At around the 3 hour mark, insert a digital probe meat thermometer into the breast of the turkey to begin monitoring the internal temperature. Make sure the thermometer doesn't touch bone or it will get a false reading.
Once the breast reaches about 161-163 degrees, remove it from the smoker and immediately wrap it in a thick layer of heavy duty foil. Place the turkey in a couple of thick towels and lay it on the counter for about 30-45 minutes so the juices that were forced to the surface during the cooking process, redistribute throughout the meat. If you're worried about the turkey getting cold, place it on a heating pad – seriously.
Slice, serve and enjoy!
Total Time:
16 Hours 15 Minutes
Serving size:

1/8 of recipe

Calories:

400

Calories from Fat:

160

Total Fat:

18g

Saturated fat:

4.5g

Unsaturated fat:

0g

Sodium:

460mg

Total Carbohydrates:

5g

Sugar:

4g

Fiber:

0g

Protein:

54g

Cholesterol:

145mg