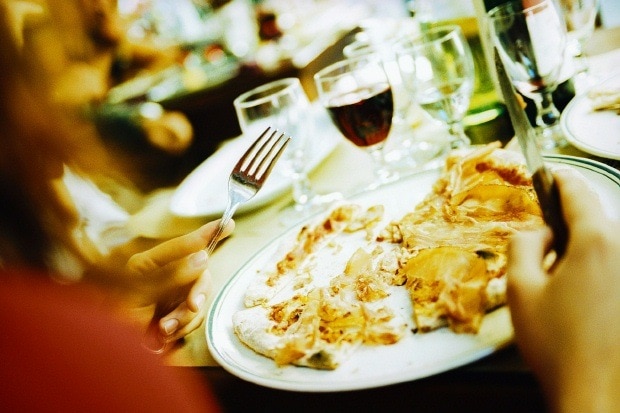 Are you looking for strategies to survive this holiday season in a healthy way without gaining weight? Rachel Berman, RD, CSR, CD/N, the Director of Nutrition for CalorieCount.com, has identified some of the unhealthiest holiday foods and has prepared the following list of suggestions for healthy and delicious swaps for holiday beverages, appetizers, desserts, side dishes and more.
Below, Rachel advises that you ditch the unhealthy and dish up better-for-you substitutions. I've added a few extra tips to help you enjoy a healthy and delicious Thanksgiving or holiday meal even more!
Non-alcoholic drinks
Ditch it: non-alcoholic eggnog (calories: 343, fat: 19 g for a 1 cup serving)
Dish it: sugar free hot chocolate (calories: 60, fat: 1g for one packet)
Why: Don't gulp down your calories and fat with eggnog! Research shows we don't register nutrients the same way from beverages than we would from food. So you'll probably end up eating close to the same amount at holiday dinner even if you've had a couple of eggnogs before. Instead, arm up to a prepackaged sugar free hot cocoa and add some lite whipped cream (15 cal for 2 tablespoons) for a treat post meal.
This Mama's tip: Try my recipe for Truvia sweetened Exotic Hot Chocolate or serve a Crio Brü, a brewed drink made from roasted 100% cocoa beans
Alcoholic drinks
Ditch it: White Russian (calories: 412, fat: 17 g per 6 ounce serving)
Dish it: "Light" Russian (Calories: 225, Fat: 0g per 6 ounce serving)
Why: Make your own "Light" Russian by subbing fat free milk or half and half for the full fat versions and save on artery clogging saturated fat.
This Mama's tip: Try using alternative milks like lite coconut, soy or rice milk instead of cow's milk if you're avoiding dairy products.
Cold appetizers
Ditch it: cheese and crackers (calories: 306, fat: 16g per 2 ounce and 5 cracker serving)
Dish it: shrimp cocktail (calories: 51, fat: 0.4 g per 5 medium-sized shrimp with cocktail sauce)
Why: Cheese may be a great source of protein and calcium, but the saturated fat content really adds up. Instead, choose a virtually non-fat shrimp cocktail for a light and decadent appetizer.
This Mama's tip: Forget the shrimp cocktail. Shrimp is awesome on its own with a little lemon or lime juice or flavored vinegars.
Hot appetizers
Ditch it: artichoke dip (calories: 100, fat: 8g per serving of 2 tablespoons)
Dish it: turkey meatballs with Hawaiian sauce (Calories: 65, Fat: 1.4 g per serving)
Why: Artichoke dip can be dangerous because no one eats only 2 tablespoons, plus there are the chips it's usually served with. Turkey meatballs are a great substitute because they are chockfull of lean protein, pre-portioned, and delicious!
This Mama's tip: Looking for healthy appetizers? Check out my list of healthy party foods and healthy snacks.
Veggie side dish
Ditch it: green bean casserole (calories: 309, fat: 24.7 per one cup serving)
Dish it: grilled asparagus spears (calories: 84, fat: 5.4 per six spears)
Why: Don't be fooled by the greenery in the title, green bean casserole with fried onions can be an ominous side dish. Try simply grilled asparagus brushed with olive oil for the benefits of vitamins and minerals, without the excess fat.
This Mama's tip: Add a little lemon juice, flavored vinegars or a buttery spread to those grilled asparagus. Heavenly!
Potato side dish
Ditch it: scalloped potatoes (calories: 214, fat: 9.8 g fat per 1 cup serving)
Dish it: mashed potatoes (calories: 109, fat: 0.2g per 1 cup serving)
Why: Scalloped potatoes are loaded with calories and fat – so this holiday, opt for mashed potatoes that are seasoned with turkey broth, garlic – and any other fresh spices you like – for a delicious and healthy side dish. Leave the skins on the potatoes for a fiber boost!
This Mama's tips: Instead of butter and cream, use a buttery spread and no fat evaporated milk or vegetable broth to make your mashed potatoes.
Dessert
Ditch it: pecan pie (calories: 676, fat: 40.8 g, sugar: 39.4g per 129.5g per serving)
Dish it: pumpkin pie (calories: 161, fat: 4.8g, sugar: 15.2g per 129.5g per serving)
Why: Pecan pie is loaded with sugar, so take pride in serving pumpkin pie! Not only is it a holiday staple, it's a relatively healthy dessert to serve when made with low fat evaporated milk. Plus, pumpkin is full of beta carotene – an antioxidant that promotes eye health and can help fight against heart disease and certain cancers
This Mama's tip: Try these healthier pumpkin based desserts:
Coffee shop favorites
Ditch it: peppermint white chocolate mocha with whipped cream (calories: 410, fat: 15g per 12-ounce beverage)
Dish it: pumpkin spiced latte made with skim milk, no whipped cream (Calories: 200, Fat: 0g, per 12-ounce beverage)
Why: Seasonal drinks can be very tempting. But without paying attention, your delicious holiday beverage can be equivalent to the calories in a meal with a significant amount of saturated fat from milk and cream. That doesn't mean you have to miss out on the fun! Order a pumpkin spiced latte made with skim milk and skip the whipped cream for a nonfat treat with half the calories.
This Mama's tip: Try my Skinny Pumpkin Latte.