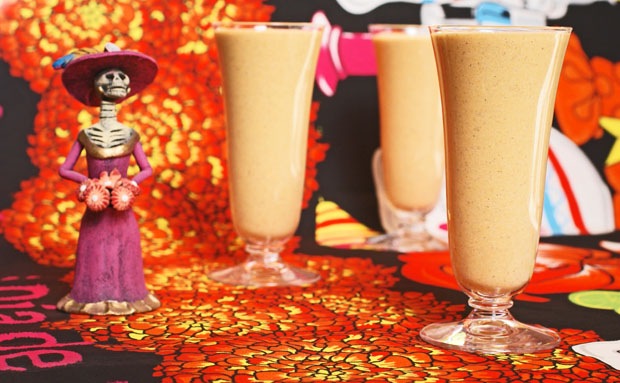 Day of the Dead – Dia de los Muertos - is a Mexican holiday which focuses praying for and remembering friends and family who have passed away. It takes place on November 1 and 2 in conjunction with All Saints' Day and All Souls' Day. People build private altars honoring the deceased and decorate them with sugar skulls, marigolds, and the favorite foods and beverages of the departed.
I'm a big admirer of Day of the Dead artwork and have been collecting it for a few years after my husband started bringing home Day of the Dead figurines, sugar skulls and shadow boxes from his fishing trips to La Paz, Mexico. He's also bought me an Day of the Dead patterned apron and a bolt of cloth.
Thus inspired I thought I'd come up with a healthy drink to toast the day and remember friends and family who have passed.
Traditional Day of the Dead dishes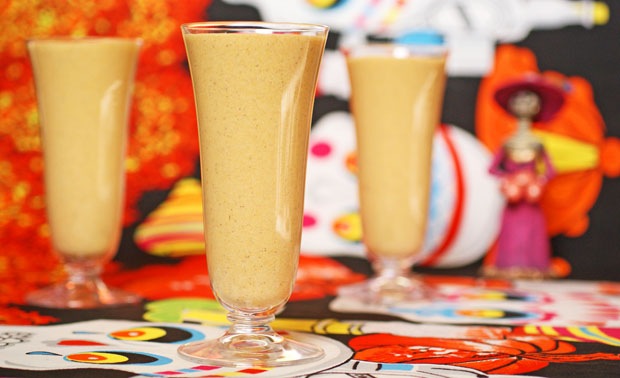 According to About.com's Mexican Food page, many of the traditional foods for Dia de los Muertos are sweet – sugar skulls, chocolate skulls and coffins, Pan de Muerto, and Candied Pumpkin (Calabaza En Tacha).
Instead of sugar, I decided to use liquid stevia flavored drops as a healthy, natural alternative. I prefer liquid stevia when cooking, because it's easier to use than the powdered form. Since liquid stevia comes in glass bottles with droppers, you can control the amount you use down to the drop! SweetLeaf contains zero calories, zero carbs, zero glycemic index, and zero chemicals.
Since I have a food sensitivity to whey in milk, I decided to use soft tofu instead of yogurt, making this recipe great for vegans and those avoiding milk products due to allergies or sensitivities.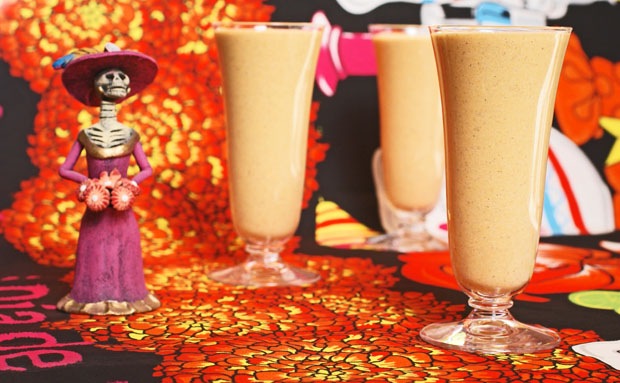 Pumpkin Tofu Smoothie
You can also use this recipe for a Pumpkin Tofu Pudding. Omit the ice cubes and cut back the coconut milk to 1 cup. Then chill until firm.
Ingredients
1 14 ounce package

soft tofu

1 15 ounce

can pumpkin puree

70 drops

liquid stevia (or to taste)

3 teaspoons

pumpkin pie spice

3 cups

light coconut milk

1 large handful

ice cubes
Directions
Combine ingredients in a blender and puree until smooth. Serve.
Servings
:
Makes 8 servings
Calories:

258

Calories from Fat:

212

Total Fat:

23.5g

Saturated fat:

19.4g

Unsaturated fat:

4.1g

Sodium:

20mg

Total Carbohydrates:

10.6g

Sugar:

5.2g

Fiber:

3.7g

Protein:

5.9g

Cholesterol:

0g