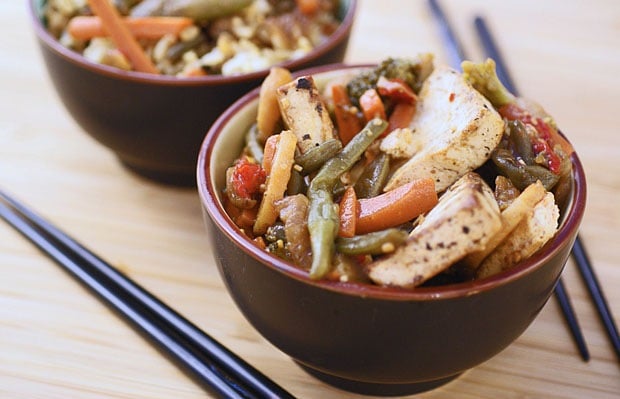 After my husband, Paul, got laid off last June, we stopped eating out to cut back on expenses. Even going out to our local (and reasonably priced) Asian restaurant was out of the question. I missed having my favorite Chinese, Vietnamese and Tai dishes, especially knowing how hard it was to replicate those dishes at home. I've tried to before and was never successful. (Though I do have to admit that Paul's one hell of a home sushi chef and Pad Thai cook.)
When I signed up as a Sun-Bird Seasonings blogger, I hoped that I'd be able to make healthy, inexpensive and authentic tasting dishes at home with their seasoning mixes. So far I've tried two that I've loved: Stir Fry Seasoning Mix and Mongolian Beef Seasoning Mix. Both Sun-Bird Seasonings mixes were easy to make, especially with things I had on hand, like frozen vegetables. Best of all, they were delicious and just as good as any thing I had out at Chinese restaurants by my home – and without the pricy bill and tip!
Healthing up Sun-Bird Seasoning Mixes
Now I'll be honest. The mixes aren't perfect. They contain things like sugar, whey (which I have a food sensitivity to), corn syrup, and even MSG. Some of their mixes are better than others, so read the labels.
Luckily, there are ways to health things up. For example, if the label directions have you add sugar, you could use powdered stevia instead. Or if you're supposed to add soy sauce, you could use a low-sodium or gluten free soy sauce.
I've also noticed that the packets create a lot of very thick sauce. To thin it, add more water. This way you can add more food, especially healthy stir fry vegetables. Believe me, a little sauce goes a long way, especially with the spicy mixes.
Finally, serve your dishes with whole grain brown rice.
Mongolian Tofu
When I made Mongolian Beef for my family, there wasn't quite enough to go around as I knew my husband and son would want more than the usual serving. So I decided to cook up some tofu for myself. Here's how: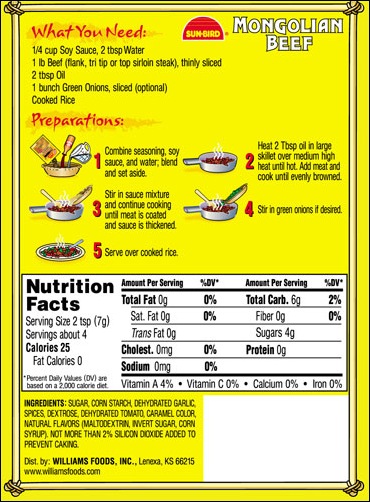 Cook up the beef as directed on the back of the packet. (I added 1/2 a onion to the beef when I browned it.)
After dishing up the beef, deglaze the skillet with water, broth or maybe a little white wine. (I used water.) Add just enough liquid (1/2 to 1 cup) to thin out the sauce and get the cooked bits off the skillet. Don't cook to reduce the sauce. (You'll do that later with the tofu.) Instead, pour the resulting broth into a bowl and set aside.
Heat the skillet over medium to medium high heat. While it's heating, slice a block of very firm tofu into 1/2 inch slices.
Add a little cooking oil or cooking spray to the pan and lay the tofu slices in the pan.
Cook each side of the tofu until medium brown. Remove from skillet and place in a dish or plate, if necessary, to make room for more slices. Keep warm.
Cook all slices of the tofu and return them all to the skillet, loosely layered.
Add deglazing broth back to pan to cover tofu. Heat until broth thickens.
Remove skillet from heat and serve with stir fry vegetables.
I used another packet of Mongolian Beef mix to stir fry a huge portion of frozen stir fry vegetables – enough for the beef AND the tofu. I then served the Mongolian Beef with vegetables and rice, but just had vegetables with the Mongolian Tofu.
Just a note of warning, this is a spicy dish. My spice-loving husband and son thought it was too spicy! This shocked me, because I loved it – and I'm not into spicy food. Well, I do like spicy Asian food that is sweet, and Mongolian Tofu at home with Sun-Bird Seasoning Mix fit the bill.
What's your favorite Asian dish to eat out or make at home?
________________
Disclosure: Guenther, the parent company of Sun-Bird, provided compensation for this post. All opinions and experiences are my own.