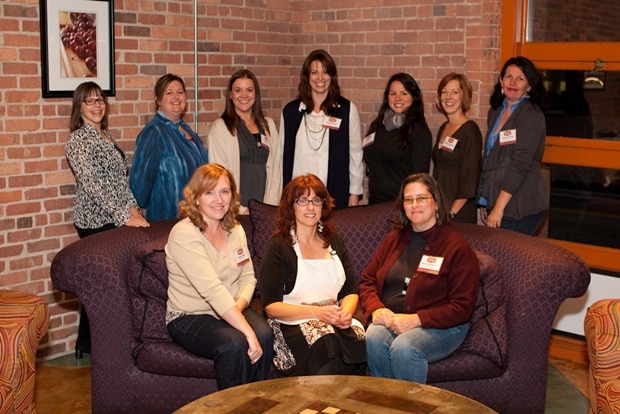 Two weeks ago, I had the pleasure of hosting the Hunt's Dinner Sauces Supper Club event at Mise En Place in Denver for a group of local food and mom bloggers. I demoed two recipes for the group, Southwest Stuffed Peppers and Chicken Cacciatore for Pasta (recipe below), to show how easy it is to use Hunt's Dinner Sauces to create yummy and healthy dishes in 20 to 40 minutes.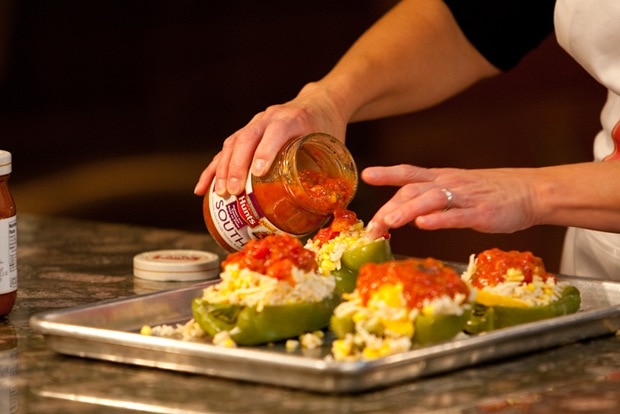 Then we dined on the fabulous dishes that the Mise En Place staff created for us.Inspired by the Hunt's new versatile and delicious sauces, they created some amazing dishes like a spicy gazpacho, a quinoa and vegetable dish, and turkey meatloaf. Even professional chefs like the versatility of Hunt's Dinner Sauces!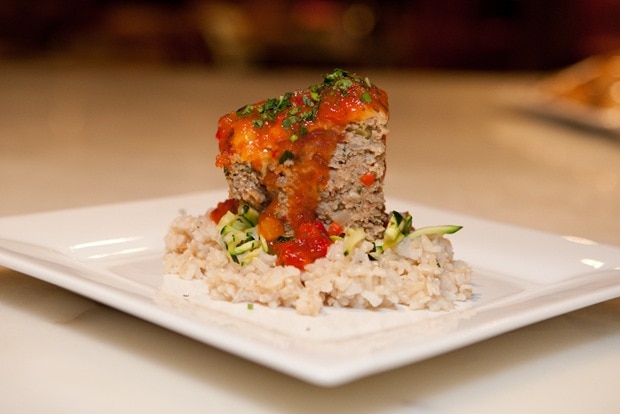 What I love about using Hunt's Cacciatore Dinner Sauce to make Chicken Cacciatore for Pasta is how quickly you can cook it up from ingredients you probably have on hand like frozen chicken breasts and dried pasta. You can make this recipe even easier by using presliced mushrooms and prediced onions from the grocery store.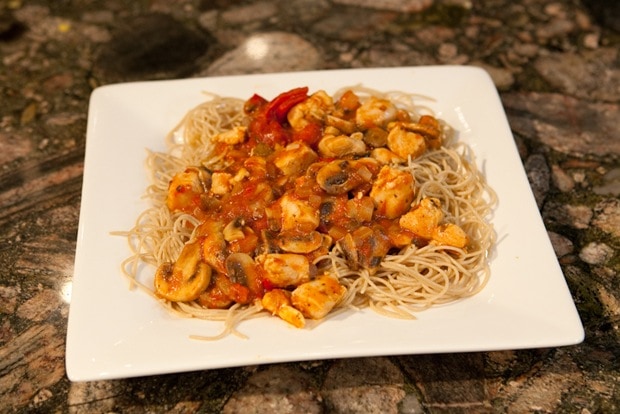 Chicken Cacciatore for Pasta
Ingredients:
PAM Cooking Spray
1 pound boneless skinless chicken breast, cut into bite-size pieces
1 package (8 ounces) sliced fresh mushrooms
1/2 cup chopped onion
1 jar (16 ounces) Hunt's Dinner Sauce Cacciatore
Hot cooked pasta – whole wheat or gluten free (brown rice also works well)
Directions:
Spray large nonstick skillet with cooking spray and heat over medium-high heat.
Add chicken, mushrooms and onion and cook 6 to 8 minutes or until chicken is no longer pink and mushrooms are tender, stirring occasionally.
Add Cacciatore Sauce and cover and simmer 5 minutes or until hot.
Serve chicken mixture over pasta.
More about Hunt's Dinner Sauces
Hunt's Dinner Sauces combine the high quality and backyard garden fresh taste of Hunt's Tomatoes with other premium ingredients such as vegetables, herbs, spices and olive oil. They come in four flavors:
Tuscan: a taste of Tuscany with rich olive oil, basil and garlic.
Southwest: hearty black beans and red bell peppers.
Greek: a blend of savory artichokes and oregano is inspired by the tastes of Greece.
Cacciatore: the flavors of Italy with sweet bell peppers and aromatic herbs.
Each 16-ounce jar sells for around $2.49. Right now they're only available in Colorado in the Denver, Boulder and Colorado Springs areas. They should be coming to a grocery store near you in 2012.
You can learn more about Hunt's Dinner Sauces at www.hunts.com or HuntsDinnerSauces.com. You can also connect with them on Twitter @HuntsChef and Facebook.
___________________
Disclosure: This post is sponsored by Hunt's, but my opinions and experiences are my own.