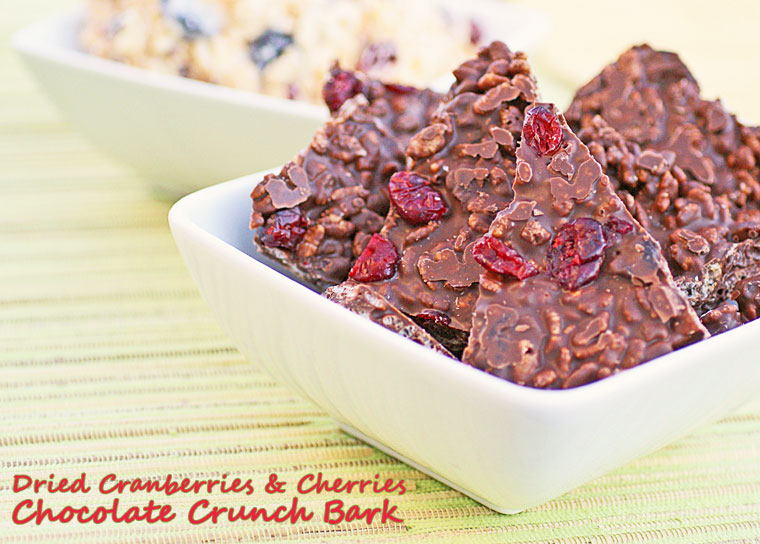 We all love candy, especially chocolate. So when the holidays are here, with its baking, cookie making and treat giving, it's hard to resist. Since so many of our holiday rituals are tied to food, we need to find ways to keep things healthy. Besides making sure I drink plenty of water, take my vitamins and exercise, one of my favorite ways to keep the holidays healthy is to take unhealthy treats and add good stuff to them like nuts and dried fruits.
That's why I love making chocolate bark candy. By adding some healthy goodness, you don't feel too guilty about enjoying the chocolate. It's also a great treat if you're gluten free or need to avoid nuts, unlike many cookies and baked goods. Just use a gluten free cereal like Erewhon Crispy Brown Rice and dried fruits.
Variations on a chocolate bark theme
You can make many variation of chocolate bark candy. Instead of chocolate candy coating, try vanilla or swirl the chocolate and vanilla together. You can also find other flavors and colors of candy melts at the craft store. Wilton makes all colors of the rainbow! Or you can try to make the bark healthier by using dark organic chocolate, though using real chocolate is harder to work with, so be warned.
You can substitute other dried fruits and nuts for the dried cherries and cranberries. Instead of sprinkling cranberries on top, tried shredded, unsweetened coconut. You can also use pumpkin seeds, sunflower seeds, and pine nuts (which are also seeds) instead of nuts.
"Bark chocolate" (candy coating) is located in the baking section of your grocery store.
Finally, chocolate bar make a terrific homemade holiday gift. Place pieces in a decorative jar or box or put in a cellophane bag tied with a ribbon. It's great for cookie exchanges, too! Get the kids to help you make several batches of chocolate bark for homemade teacher and family gifts. Don't forget some for Santa, too!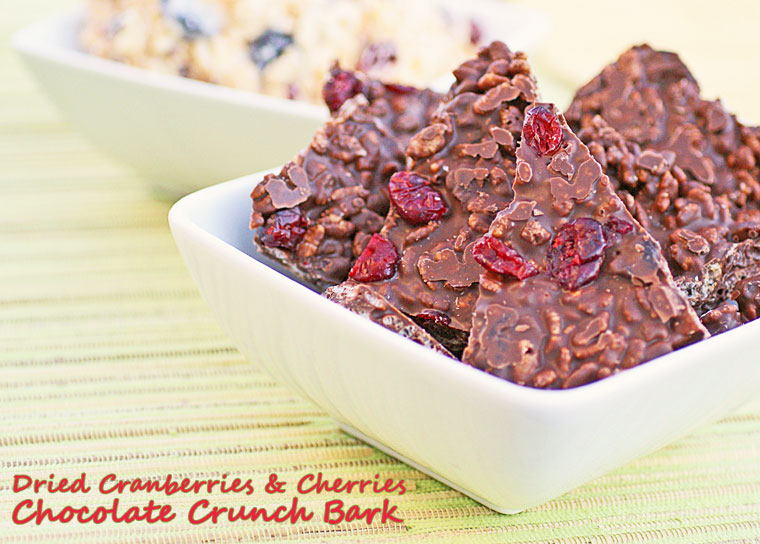 Dried Cranberries & Cherries Chocolate Crunch Bark
Ingredients
One (16 ounce) package

chocolate flavored candy coating (also called "chocolate bark")

1/2 cup

dried cranberries, divided

1/4 cup

dried cherries

2 cups

Erewhon Crispy Brown Rice – Gluten Free Cereal
You will also need:
A large cookie sheet

Parchment paper
Directions
Place a large cookie sheet in your freezer until well chilled – one to two hours.
In a large bowl, mix cereal, dried cherries and 1/4 cup dried cranberries together.
Melt candy coating according to directions.
Stir melted chocolate into the cereal and dried fruit mixture.
Spread mixture onto the cold, parchment lined baking sheet. (Use the back of a spatula or an offset spatula to spread the mixture.)
Once spread, sprinkle on remaining cranberries and gently press into the surface.
Cover with parchment and place into freezer until solid – 30 to 60 minutes.
Break into pieces and serve.
Prep Time:
3 Hours 30 Minutes
Total Time:
3 Hours 35 Minutes
Servings
:
1 batch of chocolate bark
Serving size:

A much as you'd like to eat!