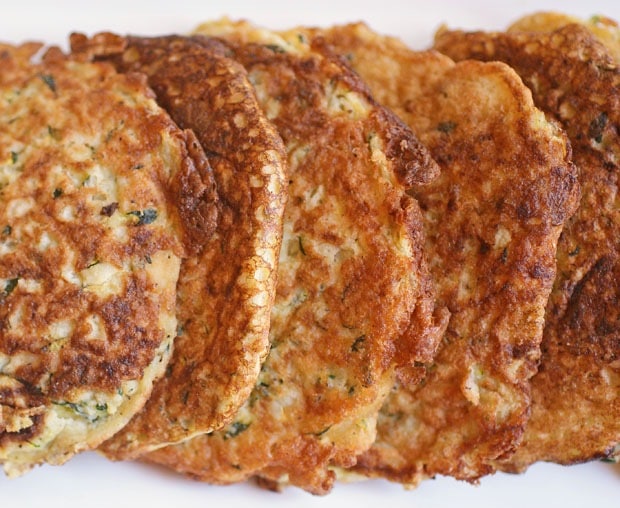 This month's Secret Recipe Club recipe comes courtesy of Tea and Scones and not a minute to soon. The late summer harvest from our garden is coming in. I had several very large zucchinis and was stuck on what I wanted to do with them. Should I made ratatouille? Stuff them? Try making some gluten free zucchini bread?
I searched Tea and Scones, and found her take on Ina Garten's Zucchini Pancakes. Perfect!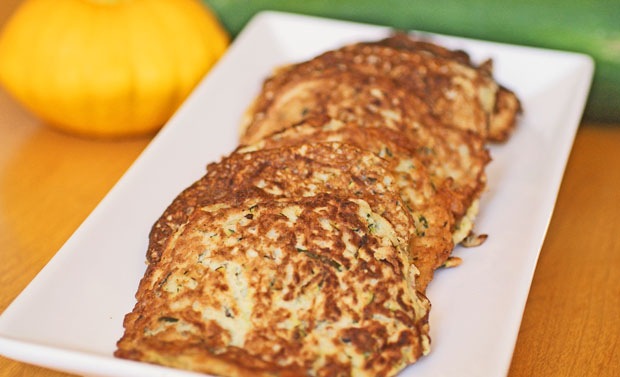 I made a few tweaks to the recipe to make it gluten free and to use up some of the sage in the garden. The whole family enjoyed them, though my husband thought they'd be a bit better served with a dollop of Greek yogurt.
I thought they were delicious on their own, and were just as good the second day cold as a lunch time snack.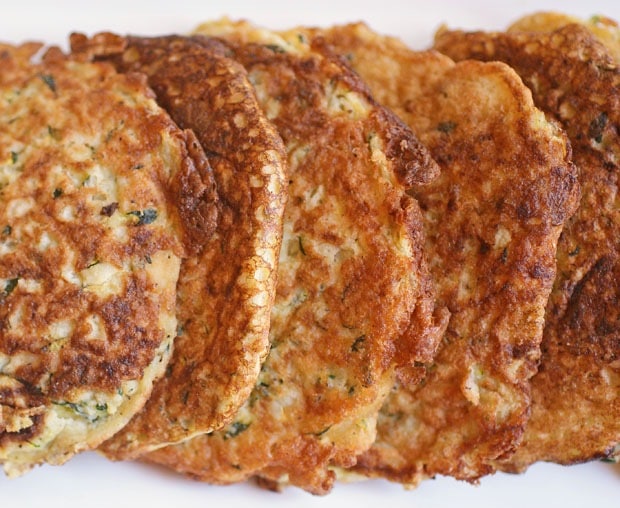 Ingredients
2 pounds

zucchini, grated (no need to peel)

1/4 cup

onion, grated

2

shallots, grated

2

eggs

1/3 cup

egg whites

1 1/4 cup

brown rice flour

2 teaspoons

baking powder

1 teaspoon

sea salt

1/2 teaspoon

pepper

1 tablespoon

fresh sage, finely chopped

1 tablespoon

canola oil
Directions
Preheat the oven to 200 degrees.
Grate the zucchini, onion and shallots in a food processor.
In a bowl, mix rest of ingredients, except the canola oil.
Immediately stir in the zucchini, onion and shallots and mix well.
Heat oil in a large sauté pan or pancake skillet over medium heat.
Drop 1/4 cup of batter on to the pan or skillet. Cook the pancakes about 2 minutes on each side, until golden brown.
Place the pancakes on a oven safe plate or sheet pan and keep warm in the oven.
Continue to make pancakes until all the batter is used.
The pancakes can stay warm in the oven for up to 30 minutes. Serve hot.
Serving size:

1 pancake

Calories:

76

Calories from Fat:

17

Total Fat:

1.9g

Saturated fat:

0g

Unsaturated fat:

1.9g

Sodium:

141

Total Carbohydrates:

12.4g

Sugar:

1.2g

Fiber:

1.3g

Protein:

2.9g

Cholesterol:

23mg
More from the Secret Recipe Club!