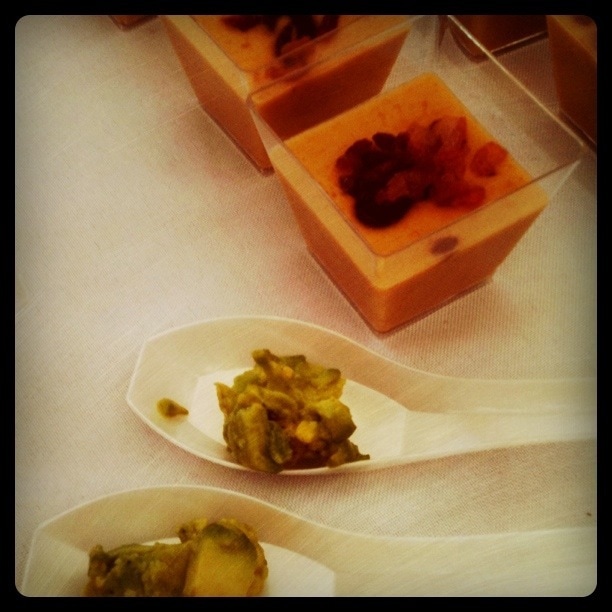 Earlier this summer, my family and I were invited to attend the the Second Annual Snowmass Culinary & Arts Festival in Snowmass, Colorado. The event brings foodies, wine and spirit connoisseurs, and art lovers together in one beautiful location to sample some of the best of Colorado food and art.
Celebrity chefs for 2011 included:
Chef Richard Sandoval, internationally recognized as the "father of modern Mexican cuisine."
Chef Hosea Rosenberg, Bravo TV's Top Chef 2009 Winner.
Chef Alex Seidel, Food and Wine's 2010 Best New Chefs in America.
Chef Frank Bonanno, owner of six restaurants and bars in Denver.
Chef and host of PBS Texas Cooking & Lifestyle series host, Christy Rost.
Diane Hendericks, a food and nutrition specialist, personal chef, cookbook author and on-air contributor for Good Morning America Health.
Due to family obligations, I was only able to see a few of the food demonstrations and was unable to attend the alcohol tastings. However, the cooking demos I did attend were worth sitting in a hot tent all day.
Christy Rost was lovely and I appreciated her healthful, colorful and delicious home cooking. If you're a home cook who wants to serve healthy and delicious food using fresh and local ingredients, you must check out her show and her cookbooks.
Chef Rosenberg was incredibly down to earth and generous. He shared not only his cooking expertise, but his experiences on Top Chef. He had no problems answering embarrassing questions about the show's "make out scene" or the trials and tribulations of being a reality show contestant. He's a very humble guy.
I was also inspired seeing how easily Chef Seidel made fresh ricotta. Really, there's no excuse not to make it yourself. I also loved hearing about his farm and goats and made a mental note to make a reservation at his restaurant, Fruition, soon.
Affordable, yes. But family friendly?
Compared to other Colorado food festivals like Aspen's Food & Wine Classic or the Denver International Wine Festival, the ticket price for the three-day event was a reasonable $65, which included all the demonstrations and the Palette of Pairings on Saturday. Separate event tickets for Tequilas & Tapas were available for $30, and Palette of Pairings tickets were $45. The Viking Stage Kitchen Cooking Demonstrations on Friday and artist exhibition were free with your pass.
The promoters told me the low ticket price was to keep the event more family friendly. However, children are not allowed at any of the alcohol tastings and could be bored at the cooking demos. My advice is to bring someone along (grandparents, a teenage babysitter, or a non-foodie spouse) who will occupy the children while you watch the cooking demonstrations.
Lots of stuff for families in Snowmass
There were many fun things for families to do outside of the festival, such as visiting the Snowmass Mall and seeing the Ice Age exhibit about the mastodon, mammoth and other bones they found recently in the area. I think I enjoyed the exhibit more than the kids.
There's also hiking, mountain biking, golf, fishing, horseback riding and other outdoor activities in the area. We went on a gondola ride up the mountain, and the views were gorgeous. Of course, there's the pool at the hotel, which my kids loved and hated to leave.
The Sweet Life
One place you may want to bring the kids to is The Sweet Life restaurant in Snowmass. (They also have a place in Telluride.) It features typical '50s diner fare like burgers and fries. But if you have a picky kid who only eats corndogs or if you're dying for a delicious ice cream shake, this is the place for you. (Luckily, they did have several salads on the menu if you're trying to eat healthy.)
Nathan got a Ultimate Mushroom Burger with a "shooter" of the milkshake of the day. (Nathan thought the shooter was really cool.) Lucie insisted on getting corn dogs bites since they ran out of corn dogs on the kids menu. Both kids had milkshakes, which they loved. Nathan said it was one of the best burgers he ever had and Lucie was happy with her bites. I had the Double Scoop salad with egg salad and tuna salad. It was delicious, very filling and the greens were very fresh.
While we had a lovely view of the mountain, the place did seem a bit run down (not dirty, just worn out). For being in a higher end resort and after looking at the pictures on their website, I was surprised by that. With the prices they charge ($11 for my salad), it could have been a bit nicer.
Staying at The Viceroy
The highlight of our time in Snowmass was our stay at The Viceroy Snowmass. First, I couldn't believe the room rate - $125 for a suite that included a full kitchen, a living room, a master bedroom and bath, a second bathroom and a den. Both the den and the living room had pull out sofas, so my kids had their own rooms and flatscreen TVs. (No fighting over what they wanted to watch!) I had a bedroom all to myself and a tub I could do a few laps in. (Well, almost.)
We also had a balcony, which made me sad since my husband, Paul, was unable to join us as he was on a business trip that weekend. After putting the kids to bed, it would have been lovely to talk and enjoy a few glasses of wine together while sitting outside.
Of course, the kids loved swimming in the pool and hanging out in the hot tub. The pool was surrounded by chaise lounges and sunning platforms. There was also cocktail and food service by the pool if you needed a drink or snack.
Dining at The Viceroy
Dining at the Viceroy was wonderful, too. One night the kids had room service while I attended a media dinner at the Eight K Restaurant upstairs. (My kids are old enough to stay in the room by themselves. Even so, I instructed them to call the desk in case of an emergency and not let anyone in the room but me, a police officer, or a firefighter.)
If the gorgeous rooms didn't sell me on the Viceroy, the food did. While, I'm sure they went overboard since it was a media event, I was very impressed by the fare, the presentation, the variety, the taste, and the knowledge of the staff. Definitely a place for a romantic meal (great views!) while the kids stay in the room.
Making Snowmass Culinary & Arts Festival even more family friendly and affordable
It looks like we'll be moving out of state sometime this year and leaving our beloved Colorado behind. However, if we were staying, I'd definitely attend the Snowmass Culinary & Arts Festival again next year, but I'd do things differently.
First, I'd bring my husband along to keep the kids busy with outdoor activities during the day. Yet he loves to cook and watch cooking demos, too, so maybe we'd bring his mom along to babysit. I know she'd enjoy the trip and spending time with her grandkids at the pool while we attended the festival and went to the wine and spirits tastings. (Frankly, all the kids wanted to do was watch TV, swim in the pool and take rides up and down the mountain. The cooking demos were completely lost on them.)
I'd also take advantage of having a kitchen and stop along the way up to Snowmass to buy groceries. (I did bring some food, but not enough, which is why I had to order dinner from room service for the kids.) There's no point in spending money on breakfast and lunch when you can easily make them yourself and save your appetite (and money) for the food at the evening tastings or at the Eight K Restaurant.
If you don't have the advantage of having a babysitter to bring on the trip, the Viceroy also offers children's activities and full day summer camp. (Call the hotel for details.)
Or you can leave the kids at home, get a smaller room, and enjoy a romantic weekend taking in the gorgeous views of Snowmass and the delicious tastes and sights of the Snowmass Culinary & Arts Festival. The festival would also make a great Girls Getaway Weekend for you and your foodie gal pals.
Hope to see you next summer in Snowmass!
______________________
Disclosure: I was provided with a room, an invite to the media dinner, gondola ride tickets, festival passes, and a meal with my family at The Sweet Life. All opinions are my own.