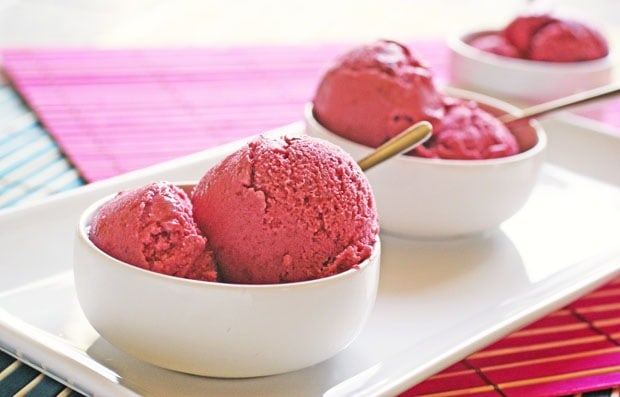 The kids are back to school signaling the end of one of the craziest summers we've had in a long time. My husband was laid off in June and he's spent the summer being a stay at home dad while job hunting. As the current bread winner, I've been busier than ever working here at This Mama Cooks! On a Diet (I hope you've noticed) and on other freelance work.
It may also be our last summer in Colorado, so we're trying to savor every last bit of it, from dinners we make from locally caught trout to berries, vegetables and herbs we grow in our yard.
One of the things I wanted to do this summer was make homemade ice cream from our berries. I bought a Cuisinart 2-Quart Automatic Ice Cream Maker last spring with plans to do so, but I didn't have the time until last week.
Instead of cream, whole milk and sugar, I wanted to use Native Forest Organic Light Coconut Milk and liquid stevia so it would be dairy free and relatively guilt free, too. I did a search and found a recipe for Blackberry Ice Cream from Kristen at Passion 4 Eating. I liked that she used bananas in her recipe, which was perfect because I had a few overly ripe ones in the refrigerator. I substituted liquid stevia for the sugar Kristen used, and played around with ratios and amounts a bit.
The mixed berries I used were mostly raspberries and some blackberries from my garden. You can use any type of berries you like.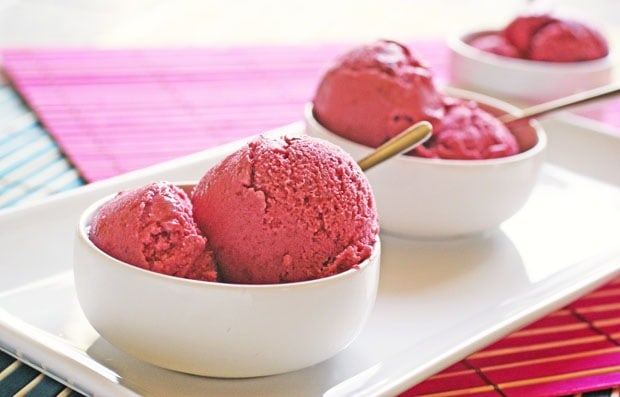 Mixed Berry & Banana Sorbet
Ingredients
2

small bananas

2 - 13.5 ounce cans

light coconut milk

1 3/4 cups

fresh or frozen berries, thawed

1 to 2 tablespoons

liquid stevia, divided

2 teaspoons

vanilla extract

2 teaspoons

lemon juice, freshly squeezed
Directions
Peel bananas, and toss into a blender with the coconut milk. Blend until combined.
Add the blackberries, 1 tablespoon of the liquid stevia, the vanilla extract and the lemon juice. Blend until the berries are completely pureed.
Taste, add more stevia if too tart. Add a bit more stevia than you think you need as the flavor will change when the liquid sorbet is frozen.
When you're satisfied with the level of sweetness, make sorbet in a two quart ice cream maker according to manufacture's directions.
Serve immediately.
Servings
:
1 3/4 quarts or 20 scoops
Serving size:

1 scoop

Calories:

39

Calories from Fat:

19

Total Fat:

2.1g

Saturated fat:

1.9g

Unsaturated fat:

0.0g

Sodium:

10mg

Total Carbohydrates:

5.4g

Sugar:

2.2g

Fiber:

0.7g

Protein:

0.7g

Cholesterol:

0g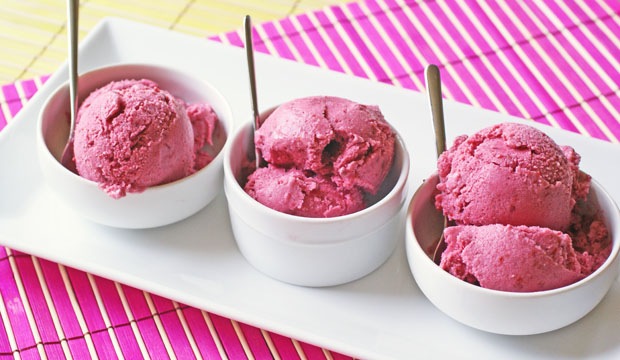 Should you buy an ice cream maker?
I thought my Cuisinart Ice Cream Maker did a good job – the sorbet was creamy though a bit softer than regular ice cream.
However, the sorbet turned into a solid mass when put into the freezer. If you have leftover sorbet, you'll need to thaw it out before serving. If you leave it out too long, it'll turn into a milk shake. You can either put it back in the ice cream maker to turn it back into a sorbet. Or you can drink it as a shake – up to you!
I've also made traditional ice cream using whole milk and whipping cream in the Cuisinart Ice Cream Maker. I actually had better results with the sorbet as the ice cream was too runny! The recipe I used for the ice cream made a bit more than two quarts, so I feel my ice cream maker does better with smaller batches.
You can't beat the price making your own ice cream, especially if you have berries or fruit growing in your backyard. What I really like is that you can control what goes into your ice cream or other frozen treats, so you can make sure your recipe fits any dietary needs, food sensitivities or allergies you may have.
You can also make grown up concoctions like frozen margaritas from better-for-you ingredients like fresh lime juice and berries, agave nectar, stevia and organic tequila. Sound like fun? Then go for it!