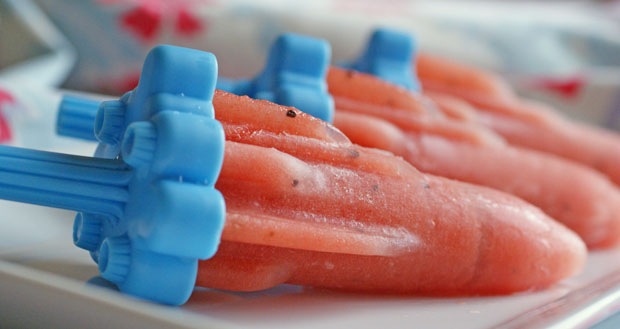 I recently saw an article in Fast Company about trendy ice pops that mentioned a wonderful cookbook, Paletas: Authentic Recipes for Mexican Ice Pops, Shaved Ice & Aguas Frescas [affiliate link] by Fany Gerson. I quickly reserved a copy at my local library and have been using it for recipe inspiration.
What are palentas?
A paleta is the Mexican version of a popsicle. It's usually made from fresh fruit, though there are some unusual flavors out there like cucumber or tamarind. You can usually find them in the freezer section of your local Hispanic market.
According to Paletas: Authentic Recipes for Mexican Ice Pops, Shaved Ice & Aguas Frescas, there are two types of Mexican paletas – milk or cream based pops (paletas de leche or paletas de creama) or water based pops (paletas de agua). Water based pops are usually made from fresh fruit, water, and sugar. Popular flavors are lime, watermelon, tamarind, mango, chile, and coconut. The milk-based ones are made with whole milk or heavy cream, and flavorings and/or fruit.
Healthing up a sugary treat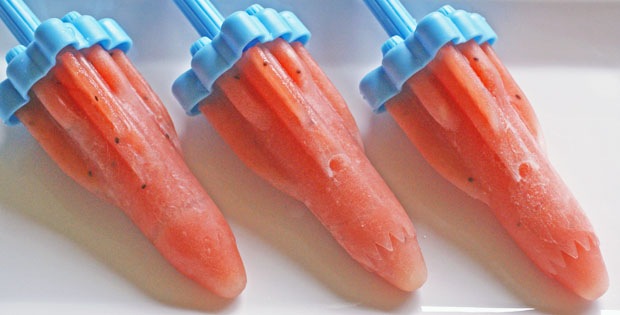 If you've ever eaten a commercially prepared paleta, usually they're full of sugar, like most frozen treats. To cut back on the calories and carbs, I used liquid stevia as a sweetener.
The first paleta I tackled was a watermelon based one since that's what I had on hand. I combined it with a kiwi and the result was tasty and refreshing. Since watermelon and kiwi are so low in calories to begin with, using liquid stevia makes this a guilt free, ZERO Weight Watchers POINTS treat at only 25 calories per popsicle!
My blender broke earlier this summer, so I used a hand blender and a deep measuring bowl to make my fruit puree. You could use a blender or a food processor instead.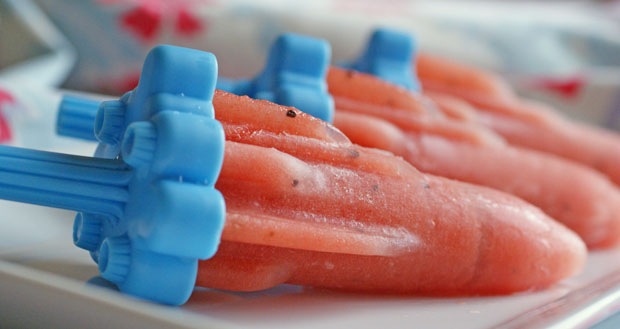 Ingredients
4 cups

watermelon, seeded and cut into chunks

1

kiwi, skin removed

1/2 teaspoon

liquid stevia
Directions
Combine ingredients and blend until smooth.
Pour into popsicle molds and freeze overnight.
Servings
:
Makes 8 to 10 depending on your popsicle molds
Serving size:

1 popsicle

Calories:

25

Calories from Fat:

1

Total Fat:

0.1g

Saturated fat:

0g

Unsaturated fat:

0g

Sodium:

1mg

Total Carbohydrates:

6.3g

Sugar:

5.0g

Fiber:

0.5g

Protein:

0.5g

Cholesterol:

0mg