After struggling with the mandoline to create waffle fries for my Alexia Foods "Reinvent a Classic" French fry creation, I went with crinkle cut fries. My Pampered Chef mandoline isn't set up to make them without a lot of hassle. Plus I was having a tough time getting a consistent cut.
Instead, I used my Pampered Chef crinkle cutter. It's so easy to cut sweet potato French fries with it that a child could use it. (With some supervision, of course.) What's nice about the crinkle cutter is that you can make fat fries, skinny fries, long fries or short fries. It's also great to use on other veggies for salads or stir fries.
Pictures of me courtesy of my kids, Nathan and Lucie.
Baked Sweet Potato Margarita Fries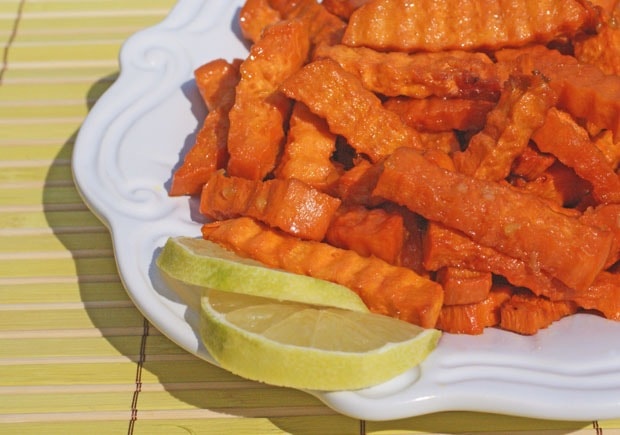 This sweet potato fry recipe is based on the flavors of a margarita – lime, salt and agave nectar instead of sugar syrup. (The agave plant is also used to make tequila.) The baked sweet potato fries were a big hit with my kids and they were disappointed that I didn't make a double batch.
Serves 6
Ingredients:
2 to 3 large sweet potatoes (6 cups)
1 clove garlic, minced
2 tablespoon olive oil
1/4 teaspoon sea salt, plus extra for serving
3 tablespoons amber agave nectar (I used Madhava Amber Agave Nectar)
1 lime for juice, zest and slices

1 tablespoon lime juice (the juice from half a lime)
1/4 teaspoon lime zest (zest from the whole lime)
slices of lime for serving
Directions:
Preheat oven to 375 degrees F.
Peel sweet potatoes.
Using a crinkle cutter, cut the sweet potatoes into 1/2 inch to 3/4 inch slices. (Thickness is up to you. Just try to be consistent with thickness so fries cook up evenly.)
Take each round disk and cut into fries, about 1/2 inch to 3/4 inch thick.
In a bowl, mix the minced garlic, olive oil, salt, agave nectar, lime juice and lime zest together.
Add sweet potato fries to bowl and toss to evenly coat.
Place coated sweet potato fries in a baking dish or on a baking sheet.
Place on the upper rack of your oven and set timer for 10 minutes.
When 10 minutes is up, take an oven save spoon and carefully stir sweet potato fries.
Close door, set timer for 10 minutes, and repeat until fries are done. They should be firm, not mushy, and should start to caramelize on the edges.
Serve with salt and lime slices so everyone can add more salt and lime flavor if they wish!
Nutritional Information
Calories 218
Calories from Fat 43
Total Fat 4.8g
Saturated Fat 0.7g
Cholesterol 0mg
Sodium 92mg
Total Carbohydrates 42.2g
Dietary Fiber 6.2g
Sugars 0.8g
Protein 2.3g
Vitamin A 4%
Vitamin C 44%
Calcium 3%
Iron 5%
Nutrition Grade A- from CalorieCount 
Weight Watchers POINTS = 4 
Fried Sweet Potato Margarita Fries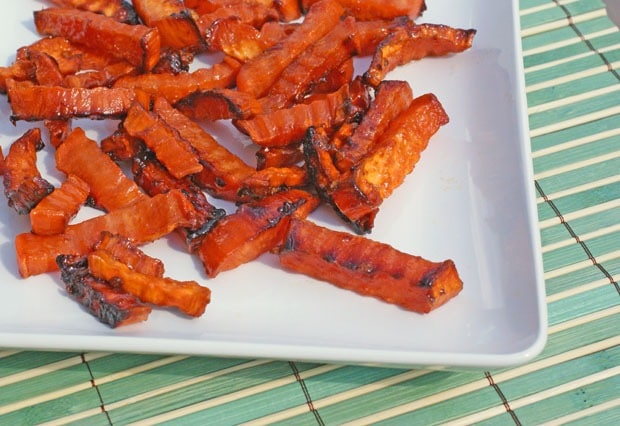 I also tried the same recipe, minus the olive oil, and cooked the sweet potato fries in canola oil on the stove top. The result was chewy, but just as delicious. However, frying is messier and not as healthy, so my advice is to stick with the baked method instead.
More about Alexia Foods
You can learn more about Alexia Foods and their products on their website. You can also print out a $1 off coupon and find Alexia Foods products using their store locator. Also, you can find Alexia Foods on Facebook.
You can also follow the competing bloggers on Twitter via the #AlexiaFoods hashtag, too.
_____________
Disclosure: I am being compensated for my time in working with Alexia Foods on this project. All opinions are my own.