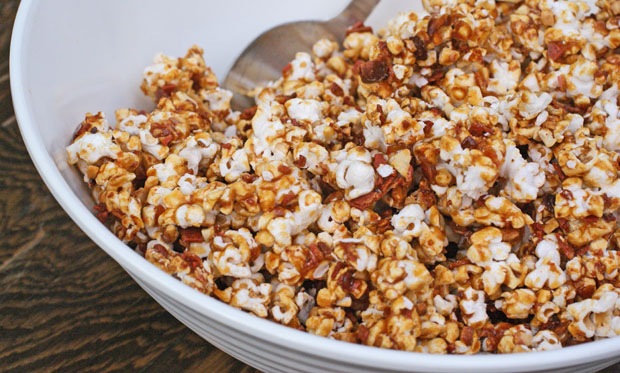 After catching my kids watching Family Guy the other night while I was working upstairs, I've been searching for more family friendly TV and movie fare. That's why I signed up to be Friday Night Ambassador to tell you about the latest Family Movie Night show, Who Is Simon Miller?, premiering Saturday, August 6th at 8/7c on NBC.
I had a chance to sit though a special pre-screening. Even though Who Is Simon Miller? is a spy action movie, it's perfect for the kids. (Think Spy Kids without the special effects.) Dad goes missing and his family figures out that he's a spy. His wife, Meredith and their two kids, Sarah and Kevin, figure out where he is and get mixed up in an international spy ring. It's hard to tell who's a good guy or a bad guy, and it's interesting to watch the story unfold.
Frankly, the plot's rather unbelievable at times. Mom's too young, slim and pretty. Sarah, who's only 18, speaks Spanish and French fluently. And Kevin, even though he's a geeky genius, has the most clear skin I've seen on a 15-year-old. Also, I doubt an intelligence officer would bring the family along on his or her mission.
However, the iCarly crowd will love it, while their parents will be happy that they're not exposed to gratuitous violence or adult sexual situations a la James Bond. There's lots of touching family moments, too, along with discussions about trust and honesty.
Who is Simon Miller? is perfect viewing for a quiet Saturday night at home after a long summer day at the beach or amusement park. Learn more about Family Movie Night on Facebook or check out a preview below.
Healthy Family Movie Night snacks - Bacon Caramel Popcorn
Summer's a great time of year for healthy snacks. There are fresh berries and cherries on sale at the grocery store or at the farmer's market. You can make ice pops or other frozen treats. You could also do veggies and dip, hummus and pita chips, or apple slices and grapes. However, there's nothing that says "movies" like popcorn.
I recently attended a party where everyone brought a bacon-themed dish. One couple brought a fabulous bacon and caramel popcorn dish that featured vegan bacon. Though their dish featured nuts, it was very similar a recipe from Vegan by Valerie.
Not only is this bacon flavored healthy snack vegan, but it's gluten free. I've tweaked it to use products that fit with my food sensitivities like coconut palm sugar. However, feel free to make your own substitutions. You can also add nuts, dried fruit pieces or even chocolate chips to the popcorn. Bacon Caramel Popcorn can be as healthy – or decadent – as you want it to be.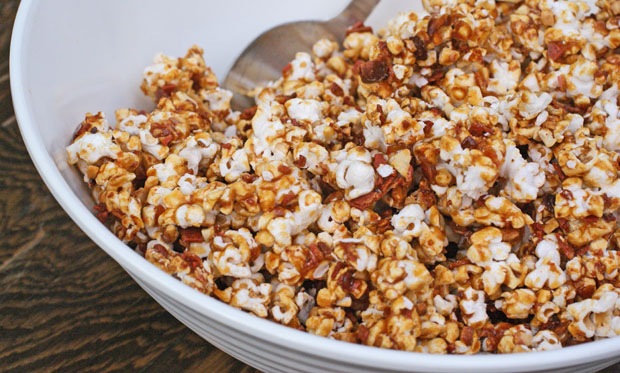 Ingredients
3/4 cups

good quality popcorn, unpopped

1 3/4 cups

bacon crumbles made from your favorite type of bacon (vegan, turkey or pork)

1/2 cup

buttery spread

1/4 cup

agave nectar (amber, light or raw)

1 cup

coconut palm sugar or brown sugar

1/2 teaspoon

sea salt

1/4 teaspoon

gluten free baking soda

2 tablespoons

Maker's Mark bourbon

2 teaspoons

gluten free vanilla extract
Directions
Fry up your bacon until crispy. Let cool and crumble.
Pop popcorn using Alton Brown's microwave brown paper bag method or an air popper.
Combine the buttery spread, agave nectar, and coconut palm sugar in a small saucepan and bring to a boil.
Reduce heat, and boil for another 5 minutes.
Remove from heat and stir in the remaining caramel ingredients (salt, baking soda, bourbon, and vanilla).
Pour the bacon bits over the popcorn and stir.
Pour the caramel sauce over the popcorn and gently stir to combine.
Spoon the popcorn onto two large baking sheets.
Bake at 250 degrees for 45 minutes, stopping every 15 minutes to stir.
Let the popcorn sit for at least 30 minutes or until it cools to room temperature.
Cook Time:
1 Hour 30 Minutes
_______________________
Disclosure: I wrote this review while participating in a campaign by Mom Central Consulting on behalf of P&G and received a promotional item to thank me for taking the time to participate