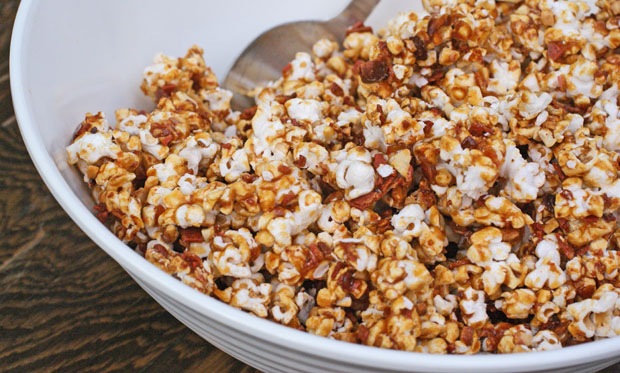 Summer's a great time of year for healthy snacks. There are fresh berries and cherries on sale at the grocery store or at the farmer's market. You can make ice pops or other frozen treats.
You can also do veggies and dip, hummus and pita chips, or apple slices and grapes.
However, there's nothing that says "movies" like popcorn!
Family movie night caramel popcorn with bacon!
I recently attended a party where everyone brought a bacon-themed dish. One couple brought a fabulous bacon and caramel popcorn dish that featured vegan bacon that was terrific. Ihad to create my own version! 
Not only is this bacon flavored healthy snack vegan, but it's gluten free. I've tweaked it to use products that fit with my food sensitivities like coconut palm sugar. However, feel free to make your own substitutions.
You can also add nuts, dried fruit pieces or even chocolate chips to the popcorn. Bacon Caramel Popcorn can be as healthy – or decadent – as you want it to be.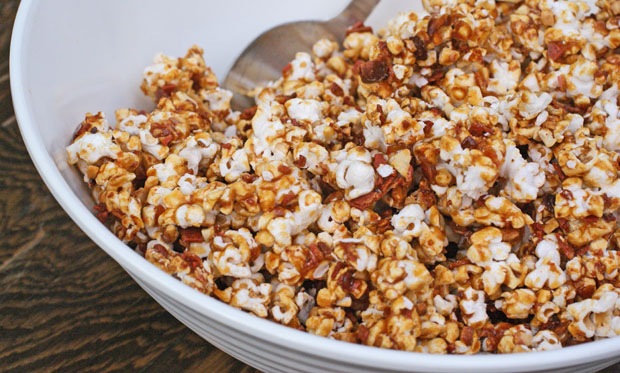 Ingredients
3/4 cups

good quality popcorn, unpopped

1 3/4 cups

bacon crumbles made from your favorite type of bacon (vegan, turkey or pork)

1/2 cup

buttery spread

1/4 cup

agave nectar (amber, light or raw)

1 cup

coconut palm sugar or brown sugar

1/2 teaspoon

sea salt

1/4 teaspoon

gluten free baking soda

2 tablespoons

Maker's Mark bourbon

2 teaspoons

gluten free vanilla extract
Directions
Fry up your bacon until crispy. Let cool and crumble.
Pop popcorn using an air popper.
Combine the buttery spread, agave nectar, and coconut palm sugar in a small saucepan and bring to a boil.
Reduce heat, and boil for another 5 minutes.
Remove from heat and stir in the remaining caramel ingredients (salt, baking soda, bourbon, and vanilla).
Pour the bacon bits over the popcorn and stir.
Pour the caramel sauce over the popcorn and gently stir to combine.
Spoon the popcorn onto two large baking sheets.
Bake at 250 degrees for 45 minutes, stopping every 15 minutes to stir.
Let the popcorn sit for at least 30 minutes or until it cools to room temperature.
Cook Time:
1 Hour 30 Minutes