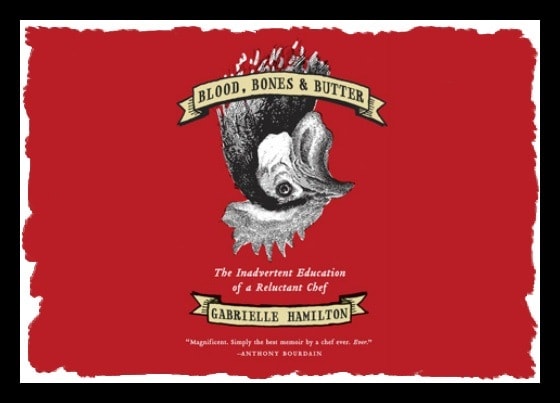 I was given a copy of Chef Gabrielle Hamilton's book, Blood, Bones, & Butter, by her publicist months ago. I read it quickly, enjoyed it immensely, and then got too busy to review it. So glad that participating in The Kitchen Reader Book Club gave me a kick in the ol' blogging pants so I could share it with you. (And thanks to Aileen of Pharma Foodie for choosing the book for June's selection.)
What struck me about the book was how different every chef's journey is to the kitchen. Anthony Bourdain just fell into it after experiencing the, dare I say, the glamour of a chef's life during a summer job working in a restaurant. (If you've read his first book, Kitchen Confidential, you'll know what I mean by "glamour." If not, read the book. It's worth it just for that story. You know, the wedding one.)
Julia Child fell in love with cooking during her time in France and wrote Mastering the Art of French Cooking, Vol. 1 as a way to keep herself busy. I doubt she would have ever got into translating French cooking into something American housewives could understand if Julia had ever been a mother. She wouldn't have had the time or energy.
Grant Achatz, whose book Life, On the Line I'm currently reading, had grown up in the restaurant business. From the time he was a teenager he knew he wanted to cook and own an amazing restaurant – and strived toward that goal every step of the way.
For others like Gabrielle Hamilton, the journey was a not quite as straightforward.
Relationships and the search for family
What struck me about Blood, Bones & Butter is not that it's so much about food as it is about relationships. Of course, there's Gabrielle's relationship with food – that's a given. But there are also the relationships with her parents and siblings, the city of New York, her romantic partners, her colleagues and staff, the written word, her husband, and her children.
Blood, Bones & Butter is also a story of food as home. Gabrielle's journey is one of searching for stability and family, not surprising since her parents divorce hit her so hard. Still, her journey is a meandering one. While she goes off here and there – to cook for others, to do catering work, to travel, to wash dishes and waitress, to have romances, to go back to school, to be mentored, and to become a mother – her journey always takes her back to food.
Gabrielle's like a planet with a wobbly trajectory, rotating around a very enticing star. Sometimes her orbit meanders and she almost wanders off into space. Luckily for us, she always returns to home to the preparation of good food. It's not a surprise that she's created a wonderful restaurant, Prune, as a home base and surrounded herself with a close knit team and many devoted fans.
I can't wait to see what Gabrielle Hamilton will do next, because I know her follow up memoir will be even better.
_________________
Disclosure: I received a copy of the book to facilitate my review. My opinions are my own.