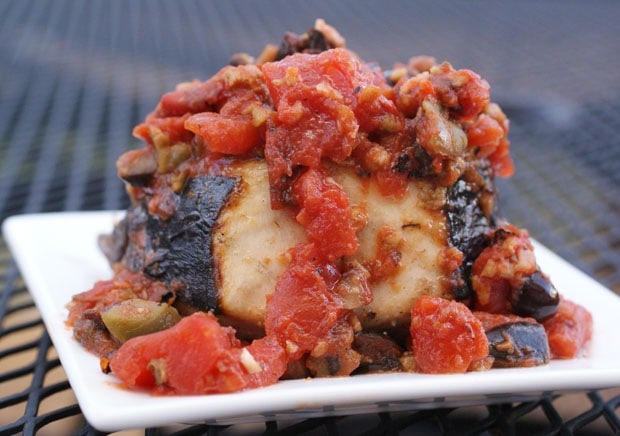 My husband recently came back from yet another Mexican fishing trip. What am I going to do with all this fish I wondered? (You should have my problems, I know.)
I decided to grill up a couple of wahoo fillets. Wahoo is related to mackerel and is called "ono" in Hawaii and "peto" in the Spanish speaking parts of the Caribbean and Central America.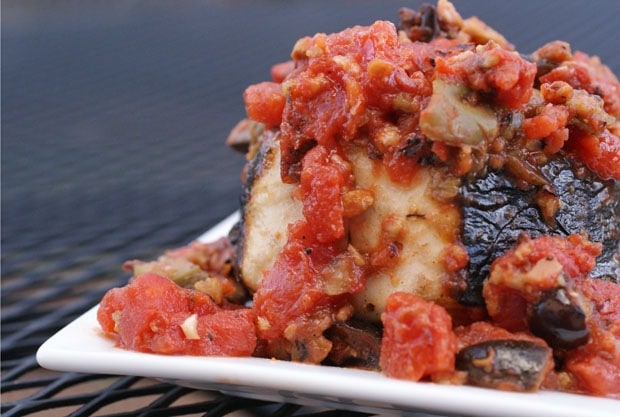 I've made Grilled Wahoo and Orange Butter before, but I wanted to try another recipe. After doing a search, I found a Grilled Wahoo with Tomato Sauce recipe from Bobby Flay.
It looked delicious, but I didn't have many of the ingredients on hand. However, it got me thinking that I could substitute that jar of Spanish green and black olives I had in the fridge for the capers and anchovies. Here's what I ended up making that got rave reviews from my husband. Super simple and it took longer to cook the fish than it did the tomatoes and olives.
This is a perfect date night grilling recipe since most kids don't like fish or only the fried kind. Serve it up with a nice bottle of chilled white wine and a side dish of quinoa.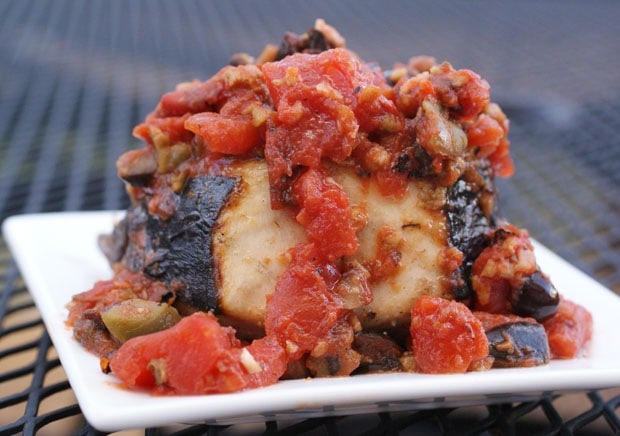 Grilled Wahoo with Tomatoes and Olives
Ingredients
2

small to medium-sized wahoo fillets

canola oil

salt and pepper to taste

2 teaspoons

olive oil

2

cloves garlic, minced

1 (14.5 ounce) can

diced tomatoes (I used Muir Glen Organic Fire Roasted Tomatoes)

1/2 cup

kalamata olives, pitted and diced

1/2 cup

manzanilla olives, pitted and diced
Directions
Heat the grill to high.
Brush both sides of the fillets with canola oil. Season with salt and pepper, to taste.
Place fish on the grill and immediately turn the dials to low. Close the cover. Grill until cooked through, about 4 to 6 minutes per side depending on how thick your fish fillet is.
While the fish is grilling, heat the olive oil in a large sauté pan over medium heat.
Add the garlic and cook for 1 minute.
Add the tomatoes and olives and cook until heated through.
Plate fish and spoon sauce over it. Serve.