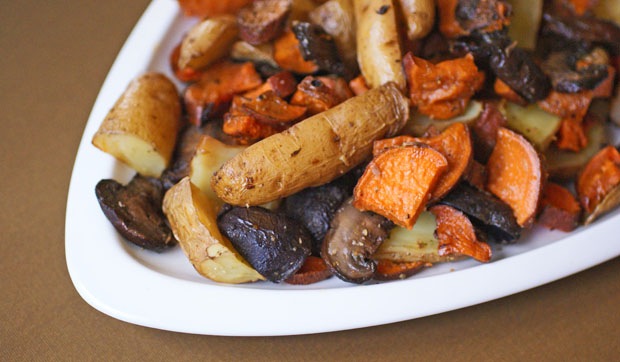 The best thing about using Mrs. Dash is that it's so easy to make everyday dishes something special. For example, one of my favorite, easy-to-make side dishes in the winter or spring is roasted root vegetables. You can use leeks, potatoes, yams, sweet potatoes, onions, mushrooms, turnips, carrots, and garlic - any combination will do. You can add some non-root vegetables like celery, broccoli, eggplant or cauliflower, too. Almost any vegetable is even better roasted.
Have you seen the new root vegetables in the grocery stores like purple potatoes, yellow beets, or purple yams? Experiment! The more colorful your roasted vegetables the tastier and better for you.
Usually, I season my roasted vegetables with herbs de provence and salt and pepper. However, using Mrs. Dash seasoning blends like Garlic & Herb or Onion & Herb is even better. No extra sodium to worry about. No need to measure either - just sprinkle it on.
I love roasted vegetables either hot or cold. Make enough to have leftovers so you can have a cold roasted vegetable salad for lunch the next day! You can serve them plain or with a little vinaigrette.
___________________________________________________________________________________________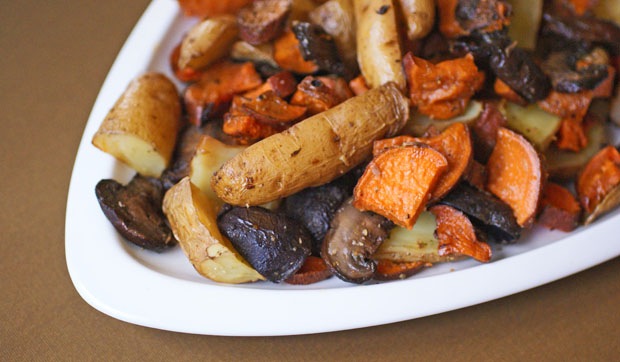 Easy Roasted Root Vegetables
Ingredients
A variety of root vegetables and other vegetables of your choosing

Olive or grapeseed oil

Mrs. Dash Garlic & Herb, Mrs. Dash Onion & Herb or both
Directions
Preheat oven to 375 degrees F.
Wash your vegetables. Peel if necessary and chop into bite-sized pieces.
Place vegetables in a baking dish. I usually used enough vegetables to fill two 3-quart rectangular glass baking dishes to the top. The roasted vegetables will "cook down" so don't worry about filling your baking dish fully.
Drizzle vegetables with either olive oil or grapeseed oil. Both oils are good for high temperature cooking. However, grapeseed oil doesn't have much taste to it. So you'll only taste the vegetables and the Mrs. Dash seasonings.
Season to taste with Mrs. Dash seasoning blend of your choice.
Toss to coat vegetables.
Place in oven and cook your root vegetable mix for 20 minutes.
Stir vegetables.
Test to see if they're done by poking them with a knife or fork. They should be tender, but not mushy and should begin to brown.
If the vegetables aren't done, cook for another 10 to 15 minutes. Stir then check to see if the vegetables are cooked through.
Repeat until vegetables start to turn golden and tender. This could be 40 minutes to an hour depending on the amount you're making.
Serve hot as a side dish or cool down and serve as a roasted vegetable salad.
____________________
Disclosure: I wrote this review while participating in a campaign by Mom Central on behalf of Mrs. Dash. I received the full set of Mrs. Dash seasoning blends and was compensated for my time.