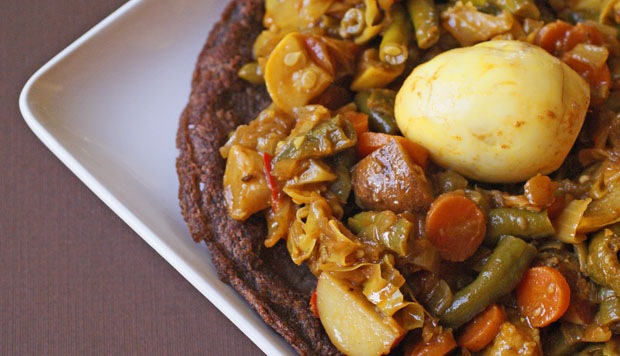 For this month's Secret Recipe Club post, I was assigned Healthy Green Kitchen. Since Winnie and I have a similar food philosophy – healthy, simple, gluten free and "eco-groovy" (love that term) – I thought this would be an easy assignment. Well, that's not exactly how things turned out.
First, I had to pick a recipe. Charcuterie, pho or latkes? French or Thai? This was too hard! Then her food category, Ethiopian and recipes for injera and wot, caught my eye.
I love going out for Ethiopian food. My favorite is the Queen of Sheba restaurant in Denver. I first dined there at a blogger meet up organized by my friend, Lucretia. Since then I've taken my family there several times. We all love it and wish it was closer. So when I saw Winnie's post, injera and wot (a traditional Ethiopian meal) I was excited. Finally some Ethiopian food I could make at home!
Making injera
The first challenge was to make injera, the Ethiopian pancake-like bread that is used to scoop up food at meals. (Traditionally, you eat Ethiopian food with your fingers.) It's made from teff flour, which is gluten-free since teff is a seed not a grain. You can purchase Bob's Red Mill Teff Flour at your local health food store or online.
I planned ahead and used the sourdough method outlined in Winnie's post over six days. Where I had problems was cooking up the injera. At first my batter was too thin, so I added more teff flour. Then I used too much batter and it wouldn't cook through. Then it kept breaking when I flipped it. After going through the entire batter, I had about three intact (but delicate) pieces of injera.
Then I tasted one. Blech! This was not the light and spongy injera I get at Ethiopian restaurants. The injera I made was gritty, crunchy, dry and nasty – like an overcooked buckwheat pancake with no sweetener added to it. Also, the color of the injera was much different than the ones I get out. This leads me to think that restaurants could be using wheat flour in their injera instead of teff.
Making wot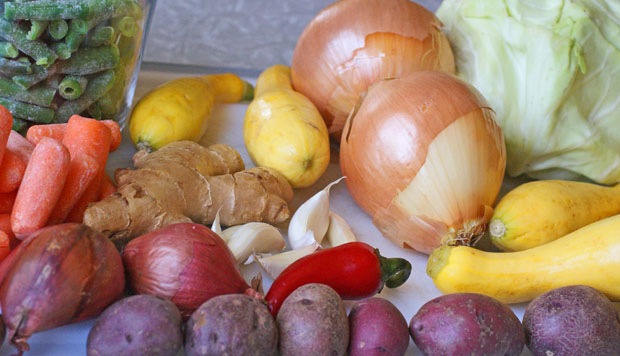 I was glad to see that Winnie featured a vegetarian wot with eggs. I love the wot and eggs dish we order at Queen of Sheba, so I hoped her recipe would be similar.
Her wot recipe involved several spices I didn't have in my cupboard, like cardamom and caraway seeds. Even so, it wasn't hard to find everything I needed at my local grocery store. This dish was very easy to cook up, but did involve 30 minutes of prep time to cut up all the vegetables. I took a few short cuts like using frozen, cut up green beans and potatoes that I didn't have to peel, which helped somewhat.
I reduced the amount of oil and doubled several of the vegetables so I'd have enough for a main course instead of a side dish. Doing so required cooking it in my biggest saute pan. You could also use a wok.
The kids loved the wot and it got high marks from my husband. Even so, something was off. While I thought this dish was tasty (and boy did it smell great) it wasn't exactly like the wot I've had in restaurants. Something was missing or maybe there was too much cinnamon - I just couldn't put my finger on it. Even so, I will be making this again, especially when we have a surplus of squash from the garden.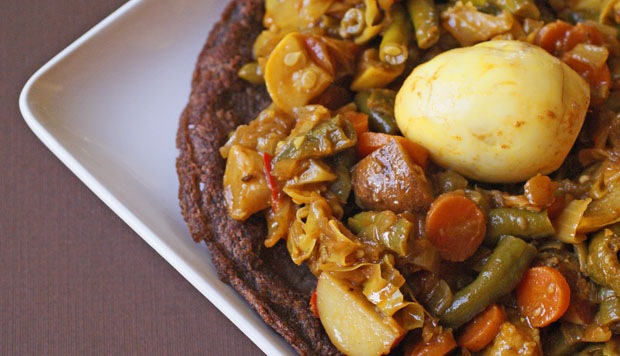 Vegetarian Wot with Hard Boiled Eggs
Ingredients
2

large onions, peeled and chopped (about 2 1/2 cups)

2

shallots, peeled and chopped (about 1/2 cup)

1/3 cup

canola oil

6

cloves garlic, minced

1 tablespoon

minced fresh ginger

1/2 teaspoon

paprika

1/4 teaspoon

ground cinnamon

1/4 teaspoon

ground cardamom

1/4 teaspoon

ground cloves

1/4 teaspoon

caraway seeds

1/4 teaspoon

ground coriander

1

large carrot or two handfuls of baby carrots, thinly sliced

1 tablespoon

tomato paste

1 cup plus another 1/2 cup

water

2 cups

diced summer squash

1

small head of cabbage, cored and sliced

8

very small red potatoes with skin on, cubed

1

small green chile (I used a red jalapeno)

1 (12 ounce) bag

frozen, cut green beans

1 teaspoon

ground turmeric

2 teaspoons

course sea salt

1/4 teaspoon

ground black pepper

6

hard boiled eggs, peeled and pierced 1/2 inch deep all over with a toothpick
Directions
Over low-medium heat, cook the onions and shallots in a large dry saucepan. Stir frequently until softened, about 5 minutes.
Turn the heat up to medium, and add the canola oil. Add the garlic, ginger, paprika, cinnamon, cardamom, cloves, caraway seeds and coriander and cook for about 1 minute.
Stir in the carrots and cook for 1 minute.
Add the tomato paste and 1 cup of the water. Bring to a boil, then reduce to a simmer and cook until the liquid has thickened, 5-8 minutes.
Add the squash, cabbage, potatoes, chiles, green beans, turmeric, and the other 1/2 cup of water.
Cover and cook over medium heat for 15-20 minutes, stirring every now and then, until the vegetables are tender and cooked through.
Add the eggs to the stew and stir gently so that everything is combined. Serve warm.
Serving size:

1/6 of recipe

Calories:

438

Calories from Fat:

156

Total Fat:

17.3g

Saturated fat:

2.4g

Unsaturated fat:

14.9g

Sodium:

1175mg

Total Carbohydrates:

61.9g

Sugar:

12.7g

Fiber:

12.3g

Protein:

14.5g

Cholesterol:

186mg