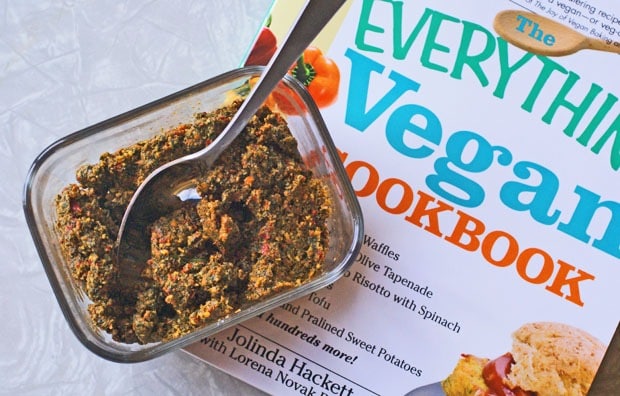 Since I found out that I have food sensitivities to dairy products, I've been checking out vegan blogs and cookbooks for substitutes for my favorite recipes that use cheese and yogurt. That's why I requested a review copy of The Everything Vegan Cookbook by Jolinda Hackett with Lorena Novak Bull, RD.
Vegan recipes like Thai Tom Kha Coconut Soup, Chocolate Peanut Butter Breakfast Quinoa, and Cucumber Cilantro Salad should entice anyone, meat eater or not. It also contains vegan versions of normally cheese filled favorites like lasagna and mac and cheese. The Everything Vegan Cookbook also has meat substitution recipes like Spaghetti with Italian "Meatballs" and lots of tofu based recipes like Simmered Coconut Curried Tofu.
The Everything Vegan Cookbook is a good cookbook for someone starting on their vegan journey who wants to replicate old, non-vegan favorite dishes. Its  recipes are easy to follow and usually contain three to five steps – perfect for busy families. It's also a good cookbook to cook from when having vegan visitors  or when a tween or teen decides to try out the vegan lifestyle. With over 300 recipes, there's enough variety to please everyone. Also, each recipe comes with basic nutritional information like calories, fat grams and fiber grams.
Nutritional yeast as a cheese substitute
One of the first recipes that caught my eye (besides the tofu vegan ice creams) was the pesto. I love pesto but can't handle the cheese in it. Instead, this recipe uses nutritional yeast as a cheese substitute.
I had some nutritional yeast left over from making the Smoked Turkey with Maple-Herb Brine on Thanksgiving. I found it at Sunflower Market in the bulk bins, but you can find nutritional yeast at any health food store as well as online at Amazon.
The pesto was a hit with my family. Even my husband, who is the number one cheese lover in the family, had seconds. I served it on brown rice pasta and whole wheat pasta. Delicious!
Sun Dried Tomato Pesto
From The Everything Vegan Cookbook
Yields 1 cup
Ingredients:
1/2 cup sun dried tomatoes
2 cups fresh basil leaves
1/2 cup pine nuts
3 cloves garlic
1/4 cup nutritional yeast
1/2 teaspoon salt
1/4 teaspoon black pepper
1/4 cup olive oil
Directions:
If using dehydrated sun dried tomatoes, reconstitute in warm water until soft and pliable, about 15 minutes.
Puree together all ingredients, adding oil last to achieve desired consistency.
Nutritional information
Per two tablespoons
Calories 133
Fat 13g
Sodium 193 mg
Fiber 1g
Protein 3g
Weight Watchers POINTS = 4
This Mama's tips
Since I didn't have enough, I substituted arugula for half of the basil. You could probably experiment with spinach, cilantro and other leafy greens.
If your pesto comes out too thick or dry, add more olive oil.
The pesto doesn't heat up well in the microwave. Instead, it gets dried out. So heat your noodles, add the pesto and mix it in.
The pesto makes an excellent spread for crackers. Other suggestions are a spread for sandwiches or for a pesto pizza.
__________________
Disclosure: I received a review copy to facilitate this review.