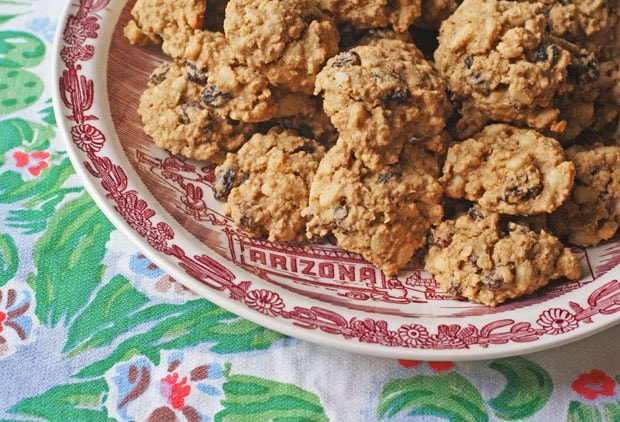 My family and I just came back from visiting the Grand Canyon. It was one of the best trips we've ever taken, and if you have a chance – GO! While we were there I picked up a fun little cookbook called The Grand Canyon Cook Book, Southwestern recipes from Arizona's natural wonder by Bruce and Bobbie Fisher. It features recipes from park rangers, hikers and Grand Canyon chefs. (Yes, there's fantastic eating to be had at the Grand Canyon, especially at the El Tovar dining room. You should check out their menus!)
Piñon nuts versus pine nuts
I was especially intrigued that several of the recipes from the Grand Canyon Cook Book used piñon nuts. According to the New Mexico Piñon Nut Company, "Pine nuts from New Mexico called Pinon nuts are called Pinon or Piñon by law in New Mexico. Pinon nuts come specifically from the pine tree species: pinus edulis. They taste different from other varieties. The pinon pine tree is a two-needled pine which grows wild in high desert mountain areas of Colorado, New Mexico, Arizona, and Utah. These edible nuts are not to be confused with the 'single needle' pine tree from Nevada."
The pine nuts you get at the store (usually imported from China) are much cheaper than piñon nuts from New Mexico, which sell anywhere from $25-40. Pinon nuts are a hand-harvest, wild crop and the pines can only be picked once every three to seven years. That's why you see cars pulled on the highway and people on the medians when it's piñon season.
More on pine nuts from Wikipedia:
In Asia, two species are widely harvested, Korean Pine in northeast Asia (the most important species in international trade), and Chilgoza Pine in the western Himalaya. Four other species, Siberian Pine, Siberian Dwarf Pine, Chinese White Pine and Lacebark Pine are also used to a lesser extent.

Pine nuts produced in Europe mostly come from the Stone Pine, which has been cultivated for its nuts for over 6,000 years, and harvested from wild trees for far longer. The Swiss Pine is also used to a very small extent.

In North America, the main species are three of the pinyon pines, Colorado Pinyon, Single-leaf Pinyon, and Mexican Pinyon.
I've read that some people experience a metallic aftertaste when eating Chinese pine nuts, and that this has more to do with a genetic predisposition than the pine nuts themselves. However, pine nuts do go rancid quite easily, so keep yours in the refrigerator. Also, you should taste test before cooking with them to make sure they're OK. I use pine nuts from Costco and have never had a problem.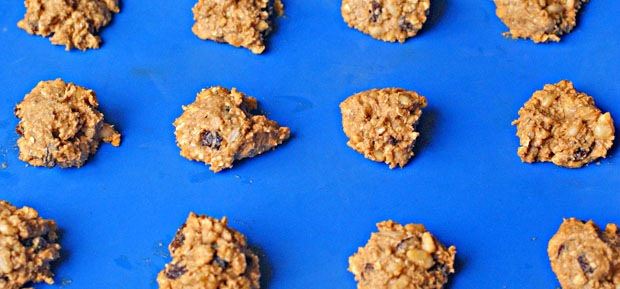 Gluten Free Pine Nut Cookies
I've "healthed up" the original Piñon Nut Squares recipe from the Grand Canyon Cook Book by using brown rice and oat flours to make the cookies gluten free. I also used stevia instead of white sugar and coconut palm sugar instead of brown sugar.
My kids LOVED these!
Makes 30-33 cookies
Ingredients:
Directions:
Set oven for 375 degrees.
Sift flours, salt, cinnamon and baking soda together.
Mix oats into dry ingredients.
In a large bowl, beat egg, both sugars, buttery spread and vanilla until the butter is well integrated.
Mix in dry ingredients.
Stir in pine nuts and raisins.
Drop by the tablespoonfuls onto a greased cookie sheet or one covered with a silicon baking mat. (I use Wilton Easy Flex™ Silicone Baking Mats.)
Bake on the center rack of oven for 10 to 12 minutes until the pine nut cookies turn slightly golden.
Serve with a glass of your favorite "milk" (soy, rice, coconut or cow's milk) and don't forget the napkins and plates. These cookies are very crumbly!