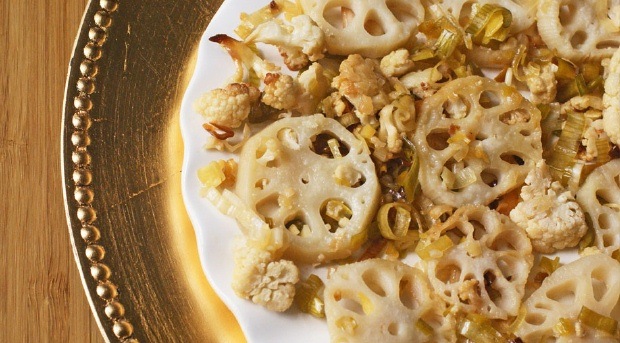 I can't stand most celebrity cookbooks. They're usually overly simplistic, obviously ghost written, and just meant to cash in on the celebrity's popularity. Rarely the cookbook shows the celebrity's passion for food and how he or she cooks at home. However, I'll make an exception for Alicia Silverstone's The Kind Diet: A Simple Guide to Feeling Great, Losing Weight, and Saving the Planet.
This is the book you hand to your teenager when she announces she's now a vegan. After all there's no way she's going to be making soy cheese quesadillas every night! Along with The Everything Vegan Cookbook, The Kind Diet is a terrific cookbook for beginning vegetarians or those who want to take it one step further and go vegan.
In her book, Ms. Silverstone explains her journey from going vegetarian to vegan to eating a strict macrobiotic diet. She also explains about the benefits she's experienced from her journey like clearer skin and energy. I don't necessarily agree it's from giving up animal products, but know that giving up processed foods, refined carbs and sugar-laden desserts was probably a big help.
The Kind Diet takes you through three stages of going without animal food products. Flirts start slowly by reducing their meat-eating and swapping out a few key foods for plant-based substitutes. Vegans forgo animal-products entirely but still incorporate convenience foods and meat substitutes in addition to grains, vegetables and fruits. Ms. Silverstone's Superheroes goes full force into a macrobiotics diet of whole grains, and vegetables. There's a variety of recipes, over 100, that fit into one or more of these categories.
As someone who needs to avoid dairy products and who loves vegetables, I appreciate many vegan recipes. I've already bookmarked over a dozen The Kind Diet recipes to try from Summer Time Succotash to Sicilian Collard Greens with Pine Nuts. The Kind Diet also has dessert recipes like Ms. Silverstone's absolute favorite Crispy Peanut Butter Treats with Chocolate Chips.
A delicious way to prepare roast vegetables
I really loved Ms. Silverstone's willingness to experiments with Asian ingredients, too, like tamari (soy sauce without wheat), tofu, daikon radishes and lotus roots. This gave me the excuse to try out her recipe for Maple-Roasted Lotus Root, Sunchokes and Leeks. Luckily, there's an excellent Asian market about 30 minutes away from my home. I was able to find the lotus roots already cut into pieces and prepackaged in a mild pickling solution as well as whole raw ones.
If you cannot find lotus roots, use cauliflower. That's what I used instead of sunchokes, which I couldn't find anywhere. Feel free to experiment with other root vegetables like potatoes, onions, yams, sweet potatoes, and beets, too.
There's something amazing about the combination of salt, garlic and sweetness that makes this recipe out of this world. Since I have a food sensitivity to maple syrup, which Ms. Silverstone uses to sweeten many of her dishes, I substituted with amber agave nectar instead.
Finally, feel free to double this recipe! I doubled the original one from The Kind Diet and my husband and I enjoyed it so much that there were no leftovers. Pretty amazing since it was supposed to serve four to six people.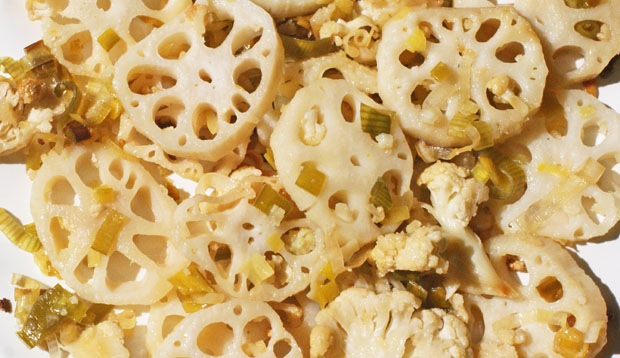 Agave Roasted Lotus Root, Leeks and Cauliflower
Inspired by Alicia Silverstone's The Kind Diet
Ingredients:
two 4 inch pieces of lotus root (about 1 whole medium root) sliced into thin rounds
1 medium to large head of cauliflower, sliced into 1/2 inch pieces
1 to 2 large leeks (white and light green parts only) sliced into thin half moons
4 garlic cloves, minced
2 tablespoons olive or grapeseed oil
6 pinches of fine sea salt
2 tablespoons agave nectar
Directions:
Preheat the oven to 375 degrees F.
Place all the vegetables and garlic in a bowl. Add the oil, agave and salt.
Toss to coat.
Spread the vegetables evenly on to a baking sheet or a large, shallow baking dish. Do not pile the vegetables too high. If needed, use two baking sheets.
Roast the vegetables for 20 minutes.
Check to see if the vegetables are tender and becoming golden. If not, stir and return to the oven for another 10 minutes. Check again and repeat if necessary every 5 to 10 minutes until completely cooked through.
Serve warm.

Featured at:
___________________
I received a review copy of the cookbook in order to facilitate a review. All opinions are my own.