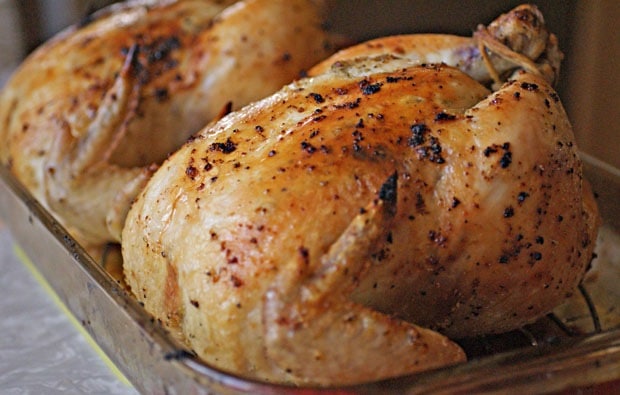 I came across the best recipe and method for a classic roast chicken in the March 2011 issue of Cooking Light magazine – How to Roast a Whole Chicken. The seasoning and flavor were perfect. Also, the method of roasting the chicken for 45 minutes at 350 degrees and the rest of the time at 450 degrees made the skin golden and crispy.
Yes, I know that you shouldn't eat roast chicken skin, but it's so hard to resist. According to Cooking Light, "Since chicken breast meat is low in calories and saturated fat, you can eat the skin and still keep saturated fat within allowable limits. If you like dark meat, which is higher in saturated fat, remove and discard the skin."
I'll leave the indulgence up to you.
Roast chicken made easy with Mrs. Dash
Even though Cooking Light's roast chicken recipe was easy to make, it involved buying special ingredients like fresh herbs. I thought there's got to be an easier way to make this with ingredients I already have in my pantry and refrigerator. That's when I thought of using Mrs. Dash seasonings blends.
Making your own roast chicken can be a bit more expensive than picking up a rotisserie chicken at the store. However, using Mrs. Dash and cooking roast chicken from scratch means not only lowering the sodium content but knowing what ingredients went into making it. This is very important if you have food sensitivities or allergies.
Plus, cooking roast chicken at home makes your whole house smell finger lickin' good!
________________________________________________________________________________________________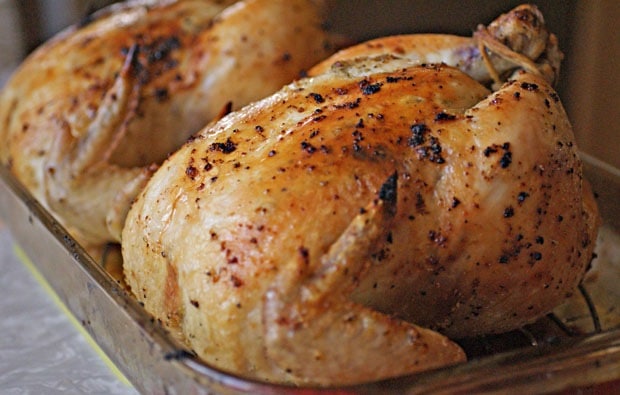 Easy Roast Chicken
Based on Classic Roast Chicken from Cooking Light magazine. Nutritional information is from original recipe, too.
Ingredients
1 (4-pound)

whole roasting chicken

3 teaspoons

buttery spread like I Can't Believe It's Not Butter Light

3 teaspoons

extra-virgin olive oil

1 tablespoon

your favorite Mrs. Dash seasoning blend

1

onion, quartered

1

lemon, quartered
Directions
Preheat oven to 350 degrees.
Discard giblets and neck from chicken. Starting at neck cavity, loosen skin from breasts and drumsticks by inserting fingers, gently pushing between skin and meat.
Combine butter, oil and Mrs. Dash in a small bowl.
Rub mixture under loosened skin, over flesh, then rub over top of skin.
Tie ends of legs together with twine. Lift wing tips up and over back, and tuck under chicken.
Place chicken, breast side up, on a rack. Place rack in roasting pan. Place onion and lemon in cavity of chicken.
Bake at 350° for 45 minutes. Increase oven temperature to 450° (do not remove chicken) and bake at 450° for 15 minutes or until a thermometer inserted in meaty part of leg registers 165°.
Remove chicken from pan and let stand 10 minutes. Discard skin. Carve chicken.
Total Time:
1 Hour 25 Minutes
Servings
:
Makes 4 servings
Serving size:

Serving size: 1 breast half or 1 leg quarter

Calories:

278

Total Fat:

13.6g

Saturated fat:

4.1g

Sodium:

563mg

Total Carbohydrates:

0.9g

Fiber:

0.3g

Protein:

35.7g

Cholesterol:

111mg
Weight Watchers POINTS = 7
This Mama's tips
I used Garlic & Herb on one chicken and Caribbean Citrus on another chicken. Other blends like Onion & Herb and Lemon Pepper would work well, too.
Experiment with other citrus. Use grapefruit, limes or oranges along with or instead of lemons.
____________________
Disclosure: I wrote this review while participating in a campaign by Mom Central Consulting on behalf of Mrs. Dash. I received the full set of Mrs. Dash seasoning blends and was compensated for my time.