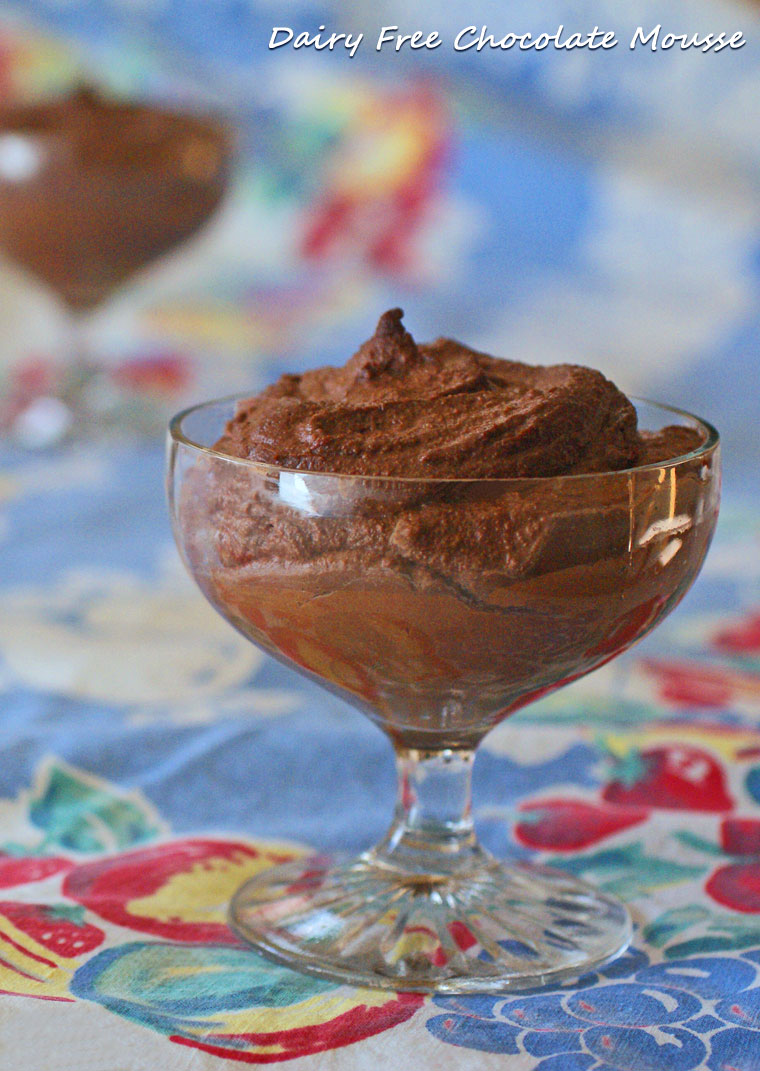 The frustrating thing about my food sensitivities has been the lack of ready made desserts. I have a sweet tooth and love a piece of chocolate after a meal. Unfortunately, almost all commercially made chocolate bars are made with sugar or cane sugar, which is on my "avoid this" list. There are a few companies making agave sweetened chocolates, but they're prohibitively expensive. One brand I found at my local Whole Foods was $1/ounce. Another brand, Innocent Raw Chocolate, is even more expensive, especially if you figure in shipping costs.
The Melville Candy Company makes stevia sweetened dark chocolate, but at $32 per pound (plus shipping) I thought I'd want to experiment using agave, stevia and unsweetened chocolate on my own first.
In search of allergy free chocolate mousse
Julia Child's recipe for Chocolate Mousse has been my favorite since I was a child. I "healthed it up" a bit when I made it last Christmas by using a vegan buttery spread instead of butter and dark chocolate instead of milk chocolate. However, I was stumped on what to substitute for the whipping cream.
I've read that you can take a can of coconut cream (not the light version or coconut milk) put it in the refrigerator overnight, then skim off the coconut cream from the coconut water. Supposedly, you can whip this cream with some success. Still, I wasn't convinced that it would work in a mousse.
Then I received a copy of Clean Start: Inspiring You to Eat Clean and Live Well and found my answer – firm tofu.
This Mama's tips
Use organic tofu whenever you can. I buy it at my local grocery store and surprisingly it's cheaper than the non-organic tofu.
Terry uses orange extract, which is hard to find. Since I already had Triple Sec, an orange flavored liquor, I used it instead.
Terry uses maple syrup in her recipe. Due to my food sensitivity to it, I used Madhava Amber Agave Nectar instead.
I tried using powdered stevia to sweeten the melted chocolate, but ended up with a bitter mess.
I alternatively used Kraft's unsweetened Baker's Chocolate and Scharffen Berger's Unsweetened Dark Baking Chocolate the two times I made this. Both chocolates worked very well.
Terry garnishes her mousse with slivered almonds and orange zest. To me, that's like gilding the lily. The mousse is amazing enough on its own.
If you're looking for a vegan or dairy free chocolate cheesecake, this recipe may be just about perfect. Double the recipe and make as above. Then pour into a vegan/sugar free/gluten free (or whatever your needs are) "graham cracker" pie crust. (Here's a list of vegan, gluten-free or sugar-free pie crust recipes from About.com.) Refrigerate for several hours or even overnight.
I find this recipe really filling and have actually ate half at lunch and the other half at dinner. You may want to split into eight portions or serve in shot glasses to lower calories and Weight Watcher POINTS. You should find a small portion just as satisfying due to the amount of protein and fiber in this recipe.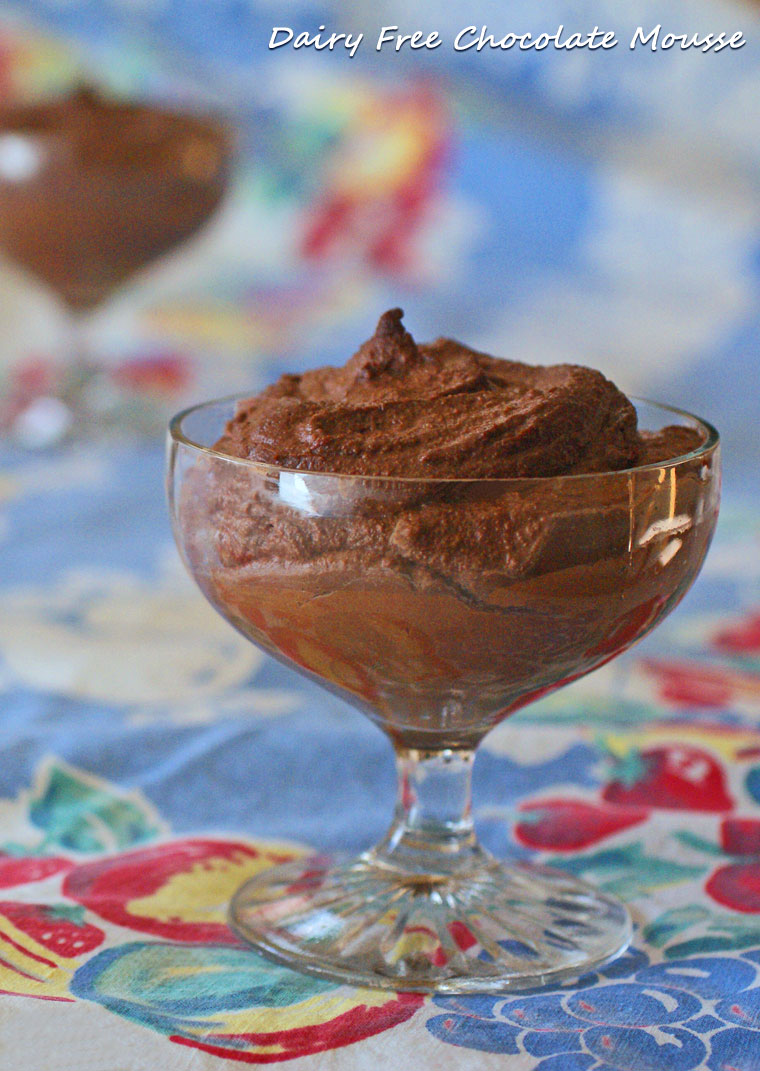 Ingredients
14 ounces

extra-firm silken organic tofu

1 teaspoon

Triple Sec

3 ounces

dark agave nectar

4 1/2 ounces

unsweetened chocolate

1/4 cup

dark agave nectar
Directions
Cut a slit in the tofu container and carefully pour out the water.
Remove the block of tofu and carefully place it on a pile of plain paper towels – about 4 or 5 sheets. (You can also do this with a clean kitchen towel or plain washcloth.) Gently press the tofu into the paper towels to remove the excess water. You may want to turn the tofu block and "blot" it on the paper towels to remove the water. Do this until your paper towel pile is completely damp. If you want, create a new pile of paper towels and repeat. The more moisture you remove, the thicker your mousse.
Place tofu in food processor and whip until smooth, scraping down sides of the bowl as needed.
Add the Triple Sec and 3 ounces of dark agave nectar and pulse to combine.
Melt chocolate and 1/4 cup of dark agave nectar in a double boiler or in a small sauce pan or pot over very low heat. You'll find that the chocolate and agave, once completely melted, will "set up" and be the consistency of chocolate frosting.
Remove the chocolate from the heat and add it to the tofu mixture. Process until blended and smooth. You'll need to scrape down the bowl to make sure there are no white tofu streaks in your mousse.
Transfer mousse to parfait or sherbet glasses and serve immediately. The mousse will be about room temperature and fluffy. (This recipe takes about 15 minutes to make. This will give your kids or spouse just enough time to clean up the dinner dishes while you whip up a batch.)
Or you can refrigerate to cool. However, mousse will "set up" and be the almost consistency of cheesecake. Still delicious, but it a bit dense for some. (I love it either way.)
Serving size:

1/4 of recipe

Calories:

385

Calories from Fat:

202

Total Fat:

22.5g

Saturated fat:

10.9g

Unsaturated fat:

11.6g

Sodium:

142mg

Total Carbohydrates:

45.9g

Sugar:

1.8g

Fiber:

5.7g

Protein:

13.9g

Cholesterol:

0mg
____________
Disclosure: I received a review copy of Clean Start: Inspiring You to Eat Clean and Live Well. Amazon links are affiliate links. A commission may be earned from a referred sale to their website.