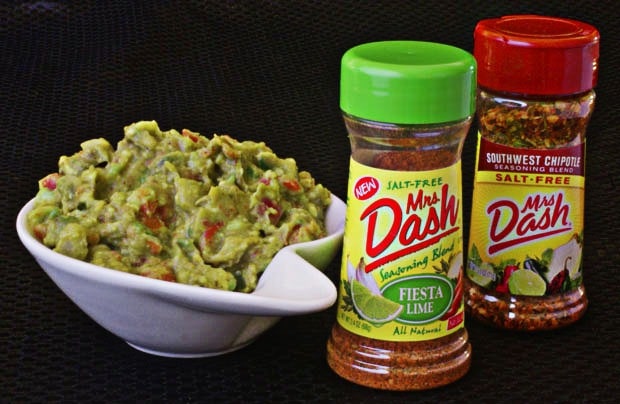 According to a new survey from the folks at Mrs. Dash, 71% of Americans have no idea what the recommended daily amount of salt intake is. (It's 2,300 milligrams.) Even more scary, the average American consumes nearly double that amount - 7.6 pounds of salt per year!
Despite healthy warnings, 58% of Americans are consuming the same if not more salt than two years ago. When cooking or preparing a meal, 70% of people surveyed usually add salt, and 55% usually add salt without consulting a recipe or add salt to prepared foods at the table. Half add salt to their food even before tasting it!
We're a salt addicted nation for sure. However, some people have taken heed to the warnings to lower their sodium intake:
68% of Americans say they usually eat low sodium foods when cooking at home.
As many Americans change their diets for health reasons, 61% of those people have cut back on their salt intake.
Still we could do better, especially since 80% of the sodium we consume comes from processed foods. One way to reduce sodium intake is to make more foods from scratch, and to use spices and seasoning blends like Mrs. Dash to kick up the flavor instead of salt.
Going salt-free with Mrs. Dash
Throughout 2011, I'll be working with Mrs. Dash to share ways to cut down your salt use by sharing ways to use their 14 seasoning blends - Original Blend, Garlic & Herb, Table Blend, Extra Spicy, Onion & Herb, Lemon Pepper, Italian Medley, Tomato Basil Garlic, Southwest Chipotle, Fiesta Lime, Caribbean Citrus, Steak Grilling Blend, Chicken Grilling Blend, and Hamburger Grilling Blend.
For the past month, I've been using Mrs. Dash instead of salt on everything from eggs to spaghetti sauce to grilled steak and fish. Not only are Mrs. Dash seasoning blends delicious additions to my cooking, but no one in my family has noticed the lack of salt in their food.
Inspired by Mrs. Dash's Southwest Chipotle and Fiesta Lime seasoning blends, I came up with this healthy recipe for guacamole.
This Mama's tips
You can adjust the seasonings to personal preference.
For additional spiciness, you may want to try adding Mrs. Dash Extra Spicy.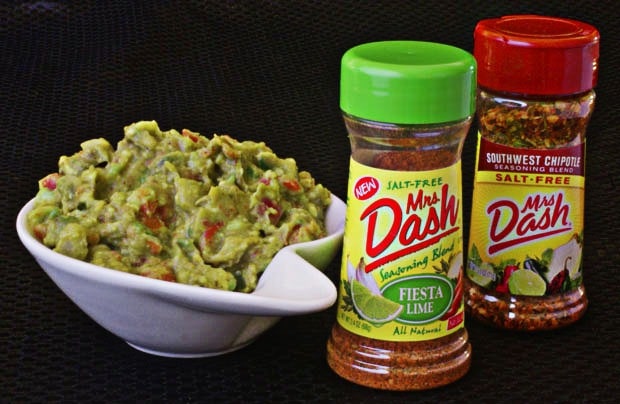 Chipotle and Lime Guacamole
Ingredients
2-3

ripe avocados, halved, seeded and peeled (approximately 2 cups)

1 pint (2 cups) container

mild pico de gallo (salsa fresco)

1 teaspoon

Mrs. Dash Fiesta Lime Seasoning Blend

1/2 teaspoon

Mrs. Dash Fiesta Southwest Chipotle Blend
Directions
Place the scooped avocado pulp, the pico de gallo, and the Mrs. Dash seasoning blends in a large bowl.
Using a potato masher, mix the ingredients thoroughly.
Serve.
Servings
:
Makes 16 servings
Serving size:

1/4 cup

Calories:

38

Calories from Fat:

25

Total Fat:

2.7g

Sodium:

196mg

Total Carbohydrates:

3.6g

Sugar:

1.1g

Fiber:

3.6g

Protein:

0.9g

Cholesterol:

0mg
Weight Watchers POINTS = 1
Disclosure: I wrote this review while participating in a campaign by Mom Central Consulting on behalf of Mrs. Dash. I received the full set of Mrs. Dash seasoning blends and was compensated for my time.