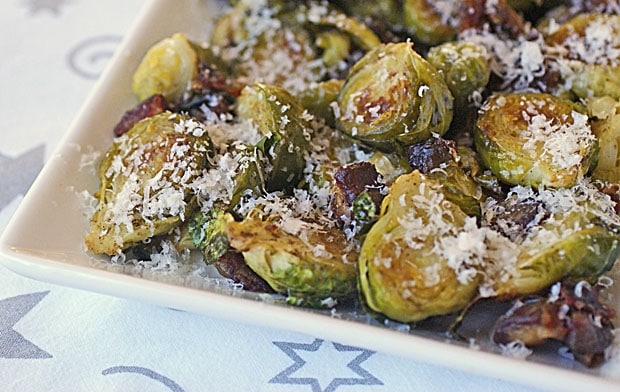 It's a hectic time of year for most moms. You're trying to get everything done from cookie exchanges to sending out the yearly family newsletter. Finding time to exercise, eat right, and stay on your diet is almost impossible. Yet, with a little help from Sam's Club, you can make some holiday side dishes that are healthy and delicious.
Sam's Club makes eating healthy easy!
Last week as I perused the aisles of my local Sam's Club to get some holiday menu planning inspiration, I was pleased to see how the store encourages you to eat healthfully this holiday season. There are palettes stacked with fresh berries, fruit, vegetables and lettuce. You can make a healthy spinach salad with raspberries and a light vinaigrette or a fresh fruit salad. For a warm side dish, you can roast vegetables, steam or roast asparagus, or make a sweet potato mash. You can even check the freezer section for some heat and serve frozen vegetables. The healthy choices are limitless!
This year I'm making a Salt-Crusted Leg of Lamb for Christmas, and wanted to make side dishes with dark green vegetables. So, I chose Brussels sprouts and broccoli – both available in the fresh produce aisles of my Sam's Club.
First healthy side, Brussels sprouts
This recipe from Rozanne Gold's gorgeous new cookbook, Radically Simple: Brilliant Flavors with Breathtaking Ease, finally gave me an excuse to buy a box of Medjool dates. You can use the leftover dates for a healthy snack, as a topping on oatmeal or yogurt, or when baking up some healthy muffins.
I've doubled the recipe since Sam's Club sells Brussels sprouts in two pound bags. I've also cut back on the olive oil and used dried herbs, which eliminates a special trip to the store to get fresh ones. This recipe is so easy and quick to make (about 30 minutes total) that you can cook it on a weeknight as a healthy side dish for a Sam's Club rotisserie chicken.
Roasted Brussels Sprouts with Medjool Dates
Serves 8
Ingredients:
2 pounds Brussels sprouts, trimmed and halved
4 tablespoons olive oil
1 teaspoon ground thyme
1/2 teaspoon salt
1/4 teaspoon pepper
12 large, soft Medjool dates, pitted and diced
1/2 cup freshly grated Parmigiano-Reggiano
Directions:
Preheat oven to 400 degrees F.
Toss the Brussels sprouts, olive oil, thyme, salt and pepper in a large bowl.
Placed sprouts on a rimmed baking sheet, cut side down.
Roast for 10 minutes.
Add the dates to the pan and mix in with the sprouts.
Roast 10 to 15 minutes longer until caramelized.
Transfer sprouts to a platter. Sprinkle with cheese.
Serve immediately.
Nutritional information
Calories 171
Calories from Fat 80
Total Fat 8.9g
Saturated Fat 2.1g
Cholesterol 6mg
Sodium 272mg
Total Carbohydrates 19.9g
Dietary Fiber 5.4g
Sugars 10.4g
Protein 6.6g
Weight Watchers POINTS = 3
Second healthy side dish, broccoli
This recipe is also from Radically Simple: Brilliant Flavors with Breathtaking Ease, which would make a wonderful Christmas present for anyone who loves to cook or drool over Quentin Bacon's gorgeous food photography.
What makes this dish so easy is that Sam's Club sells precut, washed broccoli florets in three pound bags. I also purchased a bag of sweet red onions and the blue cheese at Sam's Club.
My local club sells Salemville Amish Blue Cheese Crumbles that are, according to the package, "produced with sustainable agricultural practices." Any blue cheese will do, of course, like Mario Batali's Mountain Gorgonzola or a Maytag Blue – both of which are available at select Sam's Clubs. However, if you're not a blue cheese fan, you could substitute Athenos crumbled Feta Cheese that is sold at Sam's Club, too. (Your local store may carry different brands. Contact a club manager if you're looking for a particular brand of cheese.)
Broccoli leftovers can be used with healthy dips for New Year's Eve parties. You can also caramelize a large batch of the red onions and freeze for later. Finally, leftover blue cheese crumbles can be used on salads or on top of baked potatoes. Remember, use cheese as a condiment and not a main course to keep your portions – and calories – reasonable!
A few notes: The mint paired with the blue cheese in the original recipe is interesting, but may not appeal to kids or picky eaters. You can eliminate it or serve it on the side and let people sprinkle some on themselves. I've also cut back the amount of olive oil from the original recipe. You may also wish to caramelize the onions in a low saturated fat spread like I Can't Believe It's Not Butter instead of olive oil.
Steamed Broccoli with Blue Cheese, Red Onions and Mint
Serves 6
Ingredients:
1 1/2 pounds broccoli florets
2 large red onions
2 tablespoons olive oil
6 ounces blue cheese, crumbled
2/3 cup fresh mint leaves, coarsely chopped (optional)
Salt and pepper to taste
Directions:
Cut the onions in half through the root ends and thinly slice lengthwise.
Heat the oil in a large skillet. Add the onions and cook over high heat until soft, medium to dark brown and slightly crispy – about 15 to 20 minutes.
Bring a pot of water fitted with a steamer basket to a rapid boil. Add the broccoli to the steamer basket. Cover and steam 10 minutes until tender but still bright green.
Transfer the broccoli to a large bowl. Add the onions, cheese and, if using, the mint. Toss and sprinkle with salt and pepper.
Nutritional information
Calories 152
Calories from Fat 89
Total Fat 9.9g
Saturated Fat 4.5g
Cholesterol 16mg
Sodium 329mg
Total Carbohydrates 10.3g
Dietary Fiber 3.4g
Sugars 3.1g
Protein 7.6g
Weight Watchers POINTS = 3
___________
Disclosure: as a Sam's Club Food Ambassador I receive compensation for my time and efforts. Amazon links are affiliate links. A commission may be earned from a referred sale to their website.